NEA pumps up hydropower to stabilize grid
By LIU YUKUN | China Daily | Updated: 2022-08-15 09:02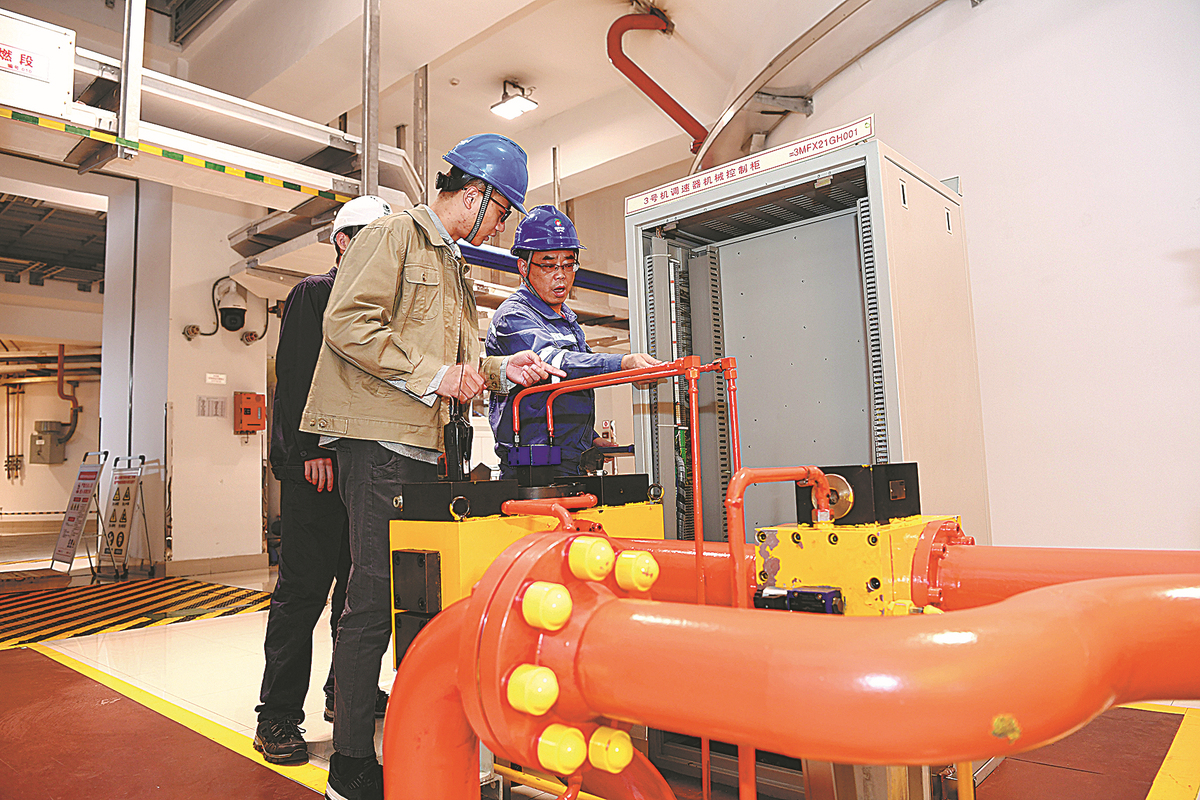 That's not a problem with power generated from fossil fuels like coal, as coal-fired power suppliers have centralized power dispatch systems that manage the need for power with the amount generated.
However, most renewables like solar and wind power are intermittent resources, which have rapid and random changes that make them irregular and inconsistent. When connecting to the grid, they can cause problems in power quality and dispatch control. As a result, intermittent smoothing approaches are needed, said Yi Yuechun, deputy director-general of the CREEI.
Pumped-storage hydroelectricity can abate the fluctuating output of intermittent energy sources as well as provide an energy reserve, which makes it a major approach to stabilize grid operations when transmitting power generated from new energies, Yi said.
With large amounts of massive wind and solar power projects to be installed in the Gobi Desert and other arid areas in Northwest China, the development of pumped-storage hydroelectricity is getting more prominent to stabilize grid operations, as areas with the highest power consumption are in Southeast China and require long-distance power transmission, he said.
Liu Changyi, deputy general manager of State Grid Xinyuan Co Ltd-a major pumped-storage hydroelectricity company in China-said that the industry will enter a new stage of development and usher in great opportunities during the 14th Five-Year Plan period.
Liu added that the company aims to actively tap the trend by having a batch of relevant projects to start, construct and put into operation, and will scale up investment in this field.
The company will invest over 20 billion yuan in pumped-storage hydroelectricity projects this year to tap the fast-growing market, help boost the regional economy and align with the government's call to contribute to energy infrastructure construction, Liu said.
As of the end of May, State Grid Xinyuan had 23 pumped-storage hydroelectricity stations in operation, with an installed capacity of 24.67 million kW, accounting for 61 percent of the nation's total. State Grid Xinyuan had another 31 pumped-storage power stations under construction, totaling 42.13 million kW in capacity and accounting for 77 percent of the nation's total.
The government has also released a series of policies to support the development of pumped-storage hydroelectricity.
Last April, the National Development and Reform Commission and the NEA suggested improving the price mechanism of pumped-storage hydroelectricity.
The NEA released in September a mid to long-term development plan (2021-35) for pumped-storage hydroelectricity, which includes measures to encourage technological innovation and promote small and medium-sized pumped-storage hydroelectricity projects.
The plan said China aims to have its installed capacity of pumped-storage hydroelectricity that is put into operation surpass 62 million kW by 2025 and 120 million kW by 2030.