Ugandan artist uses China stay to inspire students
Xinhua | Updated: 2022-08-17 08:33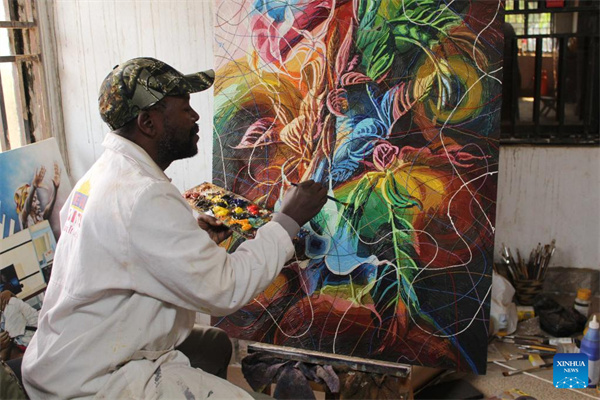 In one of his paintings, Edward Kamugisha Ssajjabbi tells a story about the Beijing Winter Olympics taking place as the world continued to combat the COVID-19 pandemic. The art piece also shows three people pushing the coronavirus into fire as a scientist does research. It shows a lamp, signaling the light of life, and modern buildings portraying Beijing. The Great Wall of China features in the background.
This is one of Ssajjabbi's canvas art pieces that portray the relation between China, Africa and the world.
Born in Kabale, a remote, hilly southwestern district of Uganda, Ssajjabbi has, through persistence, used his talent to reach an international audience.
On his journey, Ssajjabbi has faced hardship, and success. As a little boy, Ssajjabbi used to frequent his father's bar where a painter showcased his work.
"I admired the way he would create his paintings, and loved to assist him by passing him brushes and other items while he worked. When he eventually moved on, I started to frequent our bar with paper and pencils, and copied what he did," he says.
"This forced me into the discovery of how to make different colors, such as using sweet potatoes and bananas for white pigment, smashing batteries for black and even using earth for different shades. This is how I found myself getting into art," he adds.
Years later, he has been able to study, from diploma level, as a fine art teacher to now pursuing a doctoral degree in design and visual culture.
"I have done several art exhibitions, both solo and in collaboration with others, on local, national and international levels, which have continued ushering me further into the world of art and its benefits," he says.
Ssajjabbi not only teaches art at Kabale University in the southwestern part of the country, but also does canvas painting for commercial purposes. He does not have a proper art studio, but uses one of the rooms at his residence.
His paintings are mostly about tourism, life in rural Uganda and culture. Most of Ssajjabbi's clients are foreign tourists who flock to the region to see mountain gorillas.
Ssajjabbi has traveled the world because of art, and his first visit to China was in 2019, when he was invited to attend the eighth Beijing International Art Biennale.
The biennale, which has taken place since 2002, promotes global harmony through contemporary art. More than 100 countries are represented, with more than 5,000 artists showcasing their work.