Work rolls on for road robots in blazing conditions
By ZHENG CAIXIONG in Guangzhou | China Daily | Updated: 2022-08-17 09:16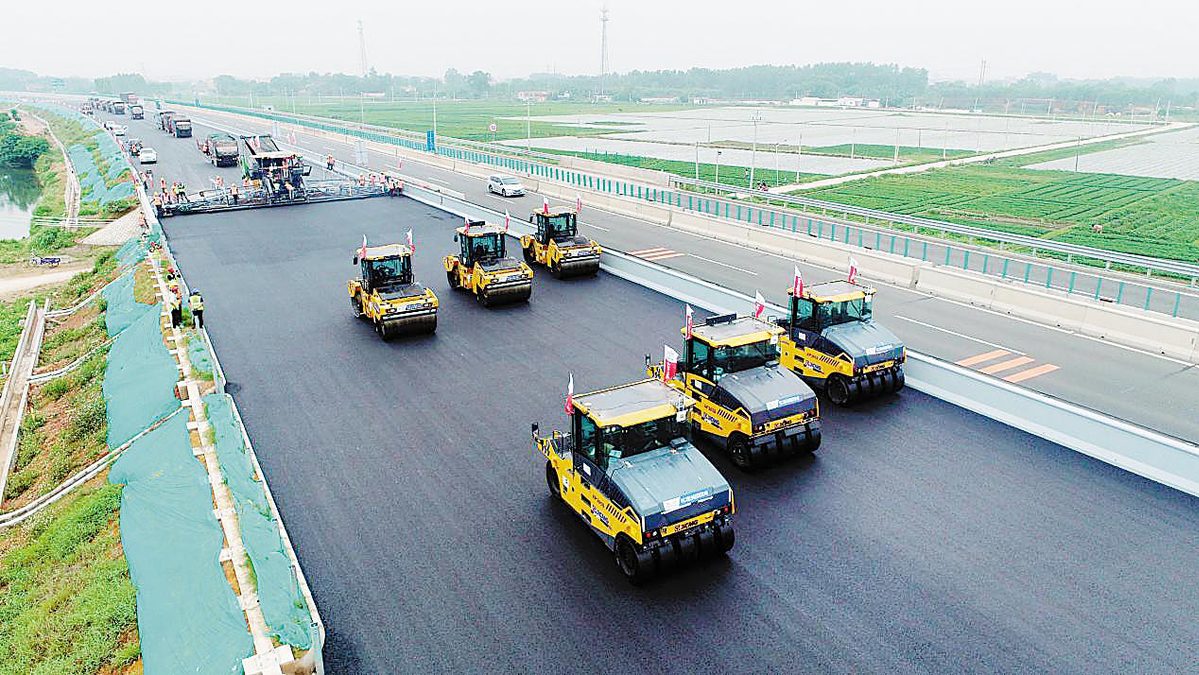 Despite the summer heat wave, the reconstruction and expansion of the Maoming-Zhanjiang Expressway, which links the two cities of Maoming and Zhanjiang in the western part of Guangdong province, is progressing according to schedule.
This is in part due to the use of six self-driving rollers and a paver during the hot spell, according to Chen Zhijiang, director of the highway's reconstruction and expansion project.
"The construction site is in full swing, despite the fierce daytime sun," said Chen.
As the large paver spreads hot asphalt evenly across the road surface, the six rollers neatly flatten it in its wake.
As none of the machines are manned, they are able to keep going even with temperatures as high as 40 C.
"It is the first time that self-driving pavers and rollers have been used in the construction of roads in Guangdong," he said.
"They operate autonomously and accurately, closely following specifications and ensure the quality of construction."
High-precision Beidou satellite positioning systems, inertial navigation and obstacle recognition systems and other intelligent technologies send the machines signals that keep them on course, ensuring they work in an automated, cooperative and coordinated manner, Chen explained.
"Construction personnel only have to input the direction, speed and other parameters and the driverless systems automatically and effectively control everything else," he said.
By relying on Beidou's high-precision positioning technology, the machinery is able to control the construction track down to an accuracy of two centimeters, resulting in even paving and rolling, and uniform compactness and flatness to the finished road surface.
The driverless rollers also have remote wake-up and sleep functions, which can be used for all-weather continuous construction to keep projects on track, and ensure the progress of construction while improving efficiency, Chen said.
"Previously, a rolling team required about 18 people, but only 5 to 8 auxiliary and coordination personnel are now needed to work on-site since the introduction of driverless pavers and rollers," he said.
In summer temperatures of 30 to 40 C, asphalt often heats up to more than 100 C during rolling.
"The use of the new technology not only reduces the number of construction personnel needed in such a high-temperature environment, but also makes human-computer interactions safer."
The driverless paver and rollers have been equipped with early warning systems, emergency parking and automatic obstacle avoidance, to ensure safety during construction.
The reconstruction and expansion of the 108.59-kilometer stretch, once finished, will permit travel at speeds of up to 120 kilometers per hour.
The Guangzhou-Linwu section should be opened to traffic before the end of the year, while the Linwu-Gaoyang section is scheduled for completion in 2023.
The expressway will play an important role in interconnecting cities in western Guangdong province with those in the prosperous Pearl River Delta area.
Qin Yifei contributed to this story.