Diverted power to ease shortage brought by heat
By TAN YINGZI,DENG RUI and HUANG ZHILING in Chengdu | CHINA DAILY | Updated: 2022-08-19 07:20
Chongqing, Sichuan adopt measures to guarantee electricity for domestic use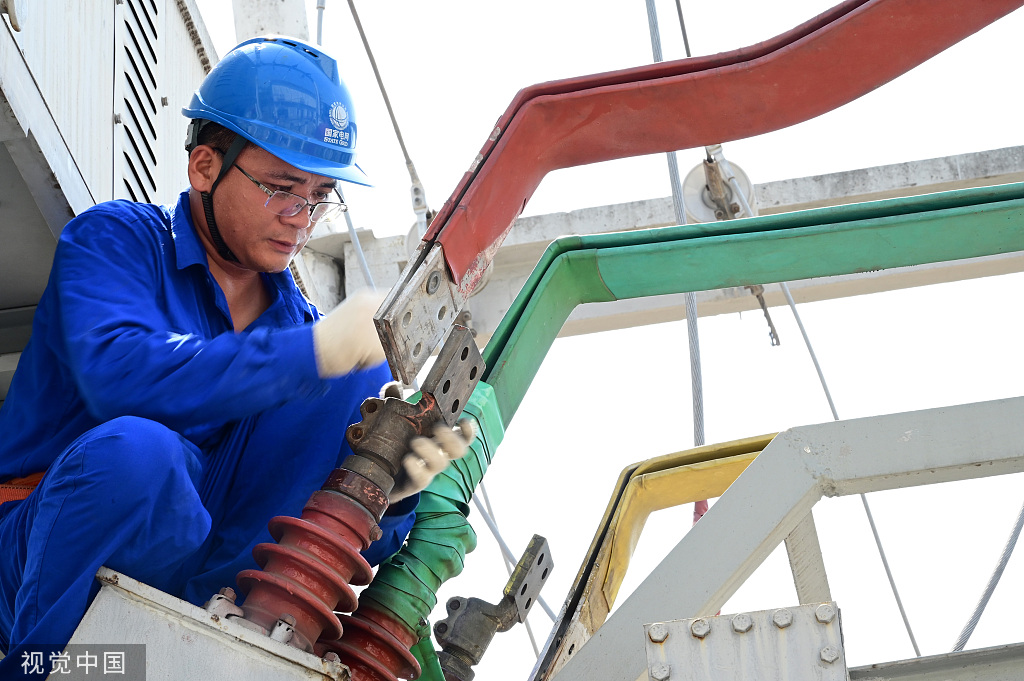 The power shortage in Chongqing and neighboring Sichuan province is easing as electricity is being sent from other parts of the country to help meet extra demand caused by the continuing heat wave.
According to the State Grid Chongqing Electric Power Co, Chongqing is now receiving energy from six regional and 15 provincial grids. For the first time, power from the Inner Mongolia autonomous region and Liaoning province has been diverted to the southwestern municipality.
It is also the first time that two state electric utility companies-the State Grid and China Southern Power Grid-have combined their systems to send electricity from southern provinces to Chongqing.
Extreme heat since July has intensified in the past few days. Chongqing's Beibei district experienced a daily high temperature of 45 C on Thursday, a record for China outside the Xinjiang Uygur autonomous region since 1961 when nationwide observation statistics began. Neighboring Sichuan province also logged a temperature of 43.8 C in its Xingwen county, a provincial record.
The lingering heat wave has caused energy demand to surge and dried up rivers and reservoirs, which has worsened the situation as the region relies on hydroelectricity to generate 80 percent of its power.
According to the local water resources bureau, as of Monday, areas in 33 districts and counties in Chongqing are experiencing varying degrees of drought and so far, 51 rivers and 24 reservoirs have dried up.
Vice-Premier Han Zheng has urged stronger policy support and efforts to ensure the provision of power during an inspection visit to the State Grid Corporation of China on Wednesday.
Efforts should be made to strengthen coordination across the country, secure the power supplies of key regions and their residents, the public service sector and key industries, and to prevent power rationing among them, Han said.
To meet increasing public demand for power during the heat wave, the Sichuan Economic and Information Department and the State Grid Sichuan Electric Power Co jointly issued an emergency notice on Monday limiting power consumption at companies.
All industrial power users in the province's 19 cities and prefectures, excluding Panzhihua city and Liangshan Yi autonomous prefecture, have ceased production and will take a six-day break from Monday to Saturday to ensure there is enough power to meet domestic needs.
Chongqing has enacted similar measures to ensure the domestic power supply. Chongqing Astronautic Bashan Motorcycle Manufacturing Co received a power rationing notice on Monday and has given its 400 employees leave to escape the heat.
"We fully support the decision to save power for domestic use, and the temporary cut will not affect production greatly," said sales manager, Zeng Heng. "Anyway, our employees should not work in such hot weather."
Chongqing authorities have also urged companies and residents to save every kilowatt-hour possible to ensure the continued supply of power.
"Our shopping mall has cut down lighting by 40 percent and is only running half the lifts and escalators. We have shut down the outdoor LED screen during the day and set air conditioning to 26 C," Wu Xun, property manager of the Evergrande Zhongyu Plaza in downtown Chongqing, said.
Chongqing residents received a text message from Chongqing's power company on Thursday suggesting they save energy.
"We have only one air conditioner for our 90 square-meter room and it's enough," said Jin Rang, 35, a furniture designer.
"To save energy, we usually set the temperature to 26 C first and later raise it to 28 C. We also unplug all electric appliances when we're not using them, and open the refrigerator less."