Asian Americans still live in fear of violence
By LIA ZHU in San Francisco | China Daily Global | Updated: 2022-08-22 10:00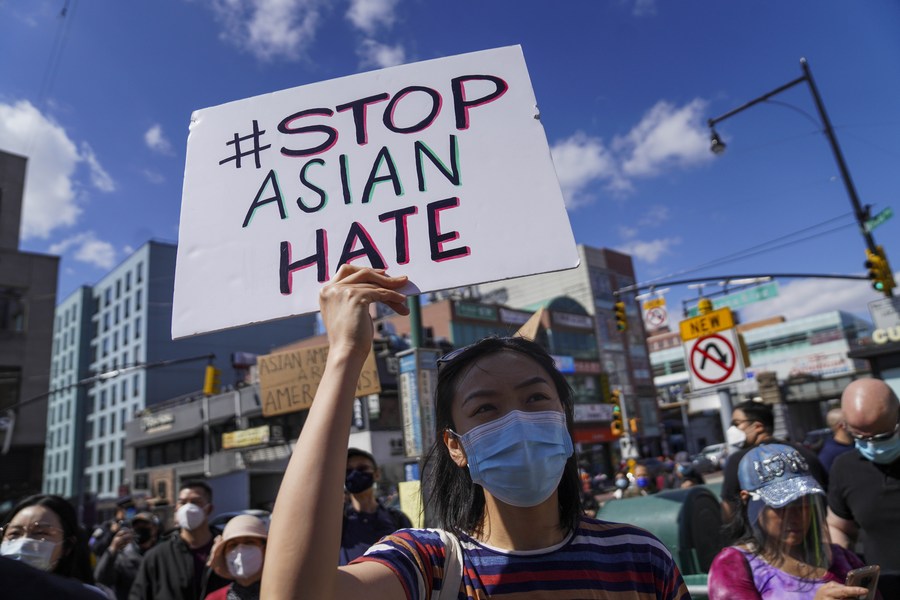 Almost two and a half years after the COVID-19 pandemic started in the United States and despite all their efforts to stop anti-Asian hate incidents, people of Chinese and Asian descent in San Francisco said they still live in fear.
Since being attacked on a bus and suffering a head injury in April, Amy Li, who lives in San Francisco's Chinatown, said she still sees the offender in her neighborhood almost every day.
"I've reported this case to the police and haven't heard anything," Li said at a town hall meeting last week. "Every day my son and I live in fear."
Several others in the audience shared the same concern, including Ethan Li, a 12-year-old resident of Chinatown. "Sometimes we're scared to go out at night!" he said.
The meeting, attended by San Francisco Police Chief William Scott and newly appointed District Attorney Brooke Jenkins, was a response to the demand of activists amid several recent violent attacks on Asian American seniors.
On July 31, a 70-year-old San Francisco woman, known as Mrs Ren, was brutally beaten and kicked in the face by four suspects trying to rob her inside her housing complex. The attack was caught on a surveillance video, which has become viral on the internet.
Two days later, former San Francisco city commissioner Greg Chew, also 70, was seriously injured after being attacked on the street near his home. He is hospitalized for his shoulder injury and bruises were all over his face.
Chew said he was just walking on the street, but the suspect "went after" him, not for money, but just personally "targeted" him.
Growing "tired of waiting for real-time solutions", Asian community activists held a march and rally on Aug 7, demanding Scott hold a town hall meeting on the issue within the next 10 days.
Scott said that since July 31, three elderly members of the Asian community have been "senselessly and brutally" attacked. In two of the cases, arrests have been made; a suspect has been identified in the third case.
Jenkins reassured the audience the arrests will send a message to criminals that attacks on Asian Americans won't be tolerated. She took office last month after the recall of her predecessor Chesa Boudin, who was criticized for the way he handled prosecutions involving Asian victims.
Community activists said city officials and media have been largely silent on those attacks, and they demand action from elected officials.
"We are extremely saddened and outraged by the continued violence and harassment against the Asian American community, including the recent attacks against Asian seniors," said the Committee of 100 in a statement.
"We once again call on our elected officials, law enforcement, and responsible media to bring due attention to these incidents and take immediate action to protect AAPI communities across the country against such racism, discrimination, and violence," said the organization.
In California, anti-Asian crimes have become a larger portion of the state's hate crimes involving race. The hate crimes against Asian Americans increased 177.5 percent from 2020 to 2021, according to the annual report of the state's justice department.
Since the Stop AAPI Hate, a national coalition addressing anti-Asian racism across the US, launched the platform in March 2020 for people to report hate incidents, the organization had received reports of nearly 11,500 anti-Asian hate incidents as of March 2022.
Two years later, Asian Americans across the US continue to experience hatred at alarming levels, said Stop AAPI Hate in its recent report, "Two Years and Thousands of Voices".
It receives reports of anti-Asian slurs, shunning, physical violence and or other forms of discrimination every day.
"Our self-reported data shows that if you're only watching the news, you aren't getting the full picture of what AAPIs are experiencing," said Russell Jeung, co-founder of Stop AAPI Hate and professor of Asian American studies at San Francisco State University.
He said the reported cases are "just the tip of the iceberg".
"Our national representative survey last year found that 1 out of 5 Asian Americans and Pacific Islanders experienced some form of hate in the past year," Jeung said.
"This surge of anti-Asian racism has been devastating and traumatizing," he added, calling it "a period of collective racial trauma".