Visionary comic
By Xing Wen | China Daily | Updated: 2022-09-21 07:58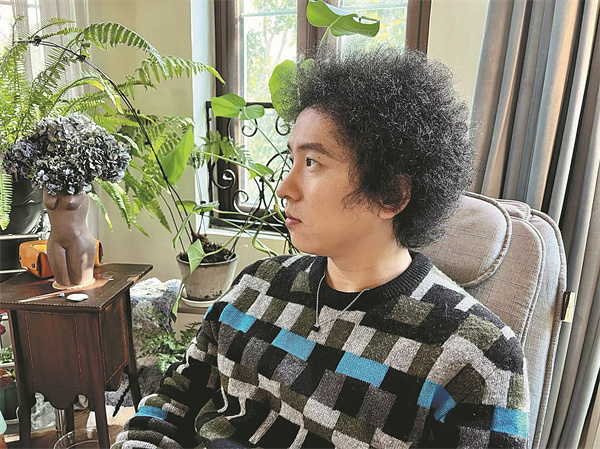 "It's a gradual process that I might be oblivious to most of the time. But there are moments of realization when suddenly I feel pushed to the verge of a breakdown," Gao says.
He was once about to take a business trip by high-speed train, but could not see the seat numbers properly.
"Six months before that when I had boarded a train, I could see the numbers," he says.
Suddenly realizing that his vision had worsened, he felt at a loss inside the carriage. "I had to spend several months after that dragging myself out of a low mood."
At other times, the realization would come to him when he stepped out of his office building during a summertime lunch break.
"The time my eyes needed to adapt to the glaring sunlight became longer and longer, from five seconds or so to half a minute," he says.
The increasing level of severity renews a sinking feeling for him from time to time. "It's like I pick myself up after being knocked down again and again."
Gao says he wants to use his personal struggle for jokes at comedy events, yet finds it hard to make the topic funny. "Anyway, I will try."
He says he will continue to connect his comedic sets to issues that affect him while living with the eye disorder.
By now, the WeChat account that Gao and his friends run has managed to attract more than 1,000 Stargardt patients and their family members. And some NGOs also have got in touch with them to see if they could provide help to the community.
"Stand-up comedy has saved me and enabled me to meet interesting people and do what is worth doing," Gao says.
A night when he performed in a Shanghai theater, which holds around 200 people, is his most unforgettable show in the past two years. His jokes met with unexpected audience excitement. "It was difficult to see anything in the dimly lit space, but I felt exhilarated hearing the prolonged laughs and applause," he says.
All members of the audience stood up to clap for him after his performance. He couldn't clearly see that. He later learned about it from some present there.