US intimidation fails to sway Solomon Islands: China Daily editorial
chinadaily.com.cn | Updated: 2022-09-25 18:24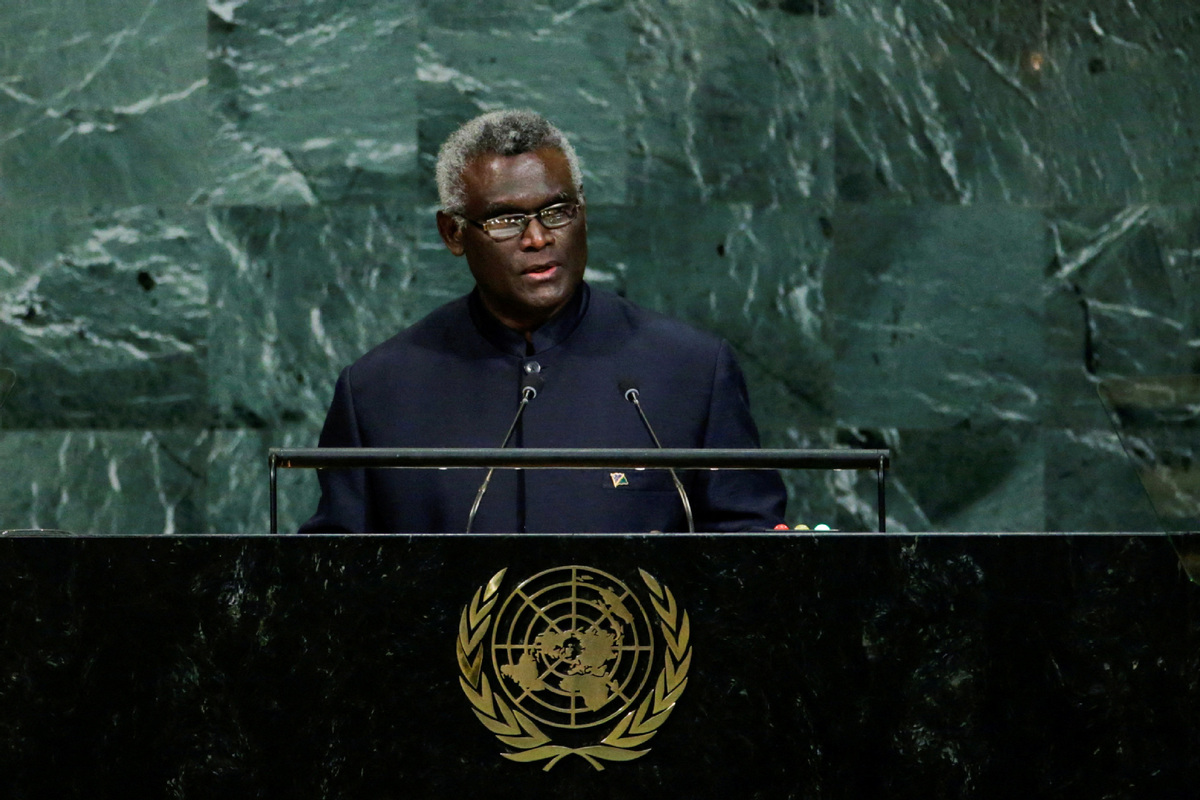 In his speech addressing the United Nations General Assembly on Friday, Solomon Islands Prime Minister Manasseh Sogavare said that his country has been unfairly targeted and vilified for its ties with China.
It showed courage for the leader of the relatively small Pacific Island nation to stand up to the West's "barrage of unwarranted and misplaced criticisms, misinformation and intimidation" and stress that "the right to establish diplomatic relations between sovereign nations is a universal principle shared by all members of the United Nations".
The United States and Australia in particular, have long deemed the Pacific Island region to be their sphere of influence. In their narrow-minded world view, there must be a strategic intention behind China's cooperation with the Pacific Island countries.
With the rolling out of its "Indo-Pacific strategy", the Pacific Island region has become an increasingly important part of the US' global strategic playbook. Driven by an outdated and exclusive global security outlook, the US and its allies are turning the South Pacific into a venue for geopolitical competition and confrontation.
Both the US and Australia have conducted high-profile intensive diplomacy in the region so far this year in an apparent aim to strengthen their own ties with the Pacific Island countries and disrupt China's, especially the security pact between the Solomon Islands, which has provoked unwarranted anxiety in Washington and Canberra.
Last week, US Secretary of State Antony Blinken hosted a meeting with foreign ministers from the Partners in the Blue Pacific, a group formed in June that includes the US, Australia, Japan, New Zealand and the United Kingdom, to shore up the US commitment to the Pacific Island countries in such areas as climate change, health and connectivity.
Both the PBP event and the upcoming summit US President Joe Biden plans to host with the Pacific Island leaders next week are widely perceived to be aimed at trying to exclude China from a region that has renewed strategic importance for the US, having been off its radar for a long time.
Although the US and UK owe a historical debt to the Pacific Island countries, having used the region as a site for their nuclear weapons tests after World War II, they have long ignored the Pacific Island countries' development needs.
For Pacific Island countries, the top priority is to address the challenges posed by climate change and COVID-19. If the US and its allies want to extend support to them rather than merely use them in their efforts to contain China, they should respect the right of the Pacific Island countries to conduct independent cooperation with all countries, rather than wrap up their geopolitical calculations with sugarcoated words or impose them on the Pacific Island countries by cowing them into submission.