Seaplane succeeds in water discharge
By ZHAO LEI | China Daily | Updated: 2022-09-28 09:10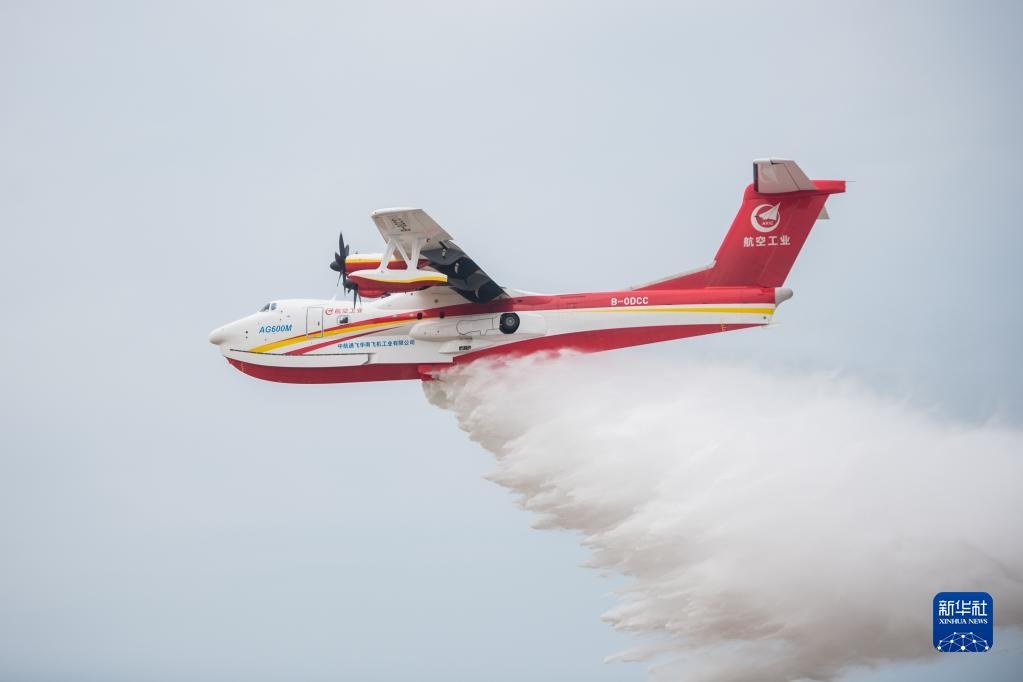 The AG600M, the fire-extinguishing variant of China's AG600 seaplane, underwent its first test collecting and discharging its maximum load of water on Tuesday, according to Aviation Industry Corp of China.
The State-owned aircraft maker said in a news release that the amphibious plane was piloted by a four-member crew and took off from the Zhanghe Airport in Jingmen, Hubei province, at 10:05 am. It carried 12 metric tons of water, the maximum amount allowed for the model.
The seaplane flew to designated airspace and then discharged the water in a mock fire-extinguishing operation before landing on the waters of Zhanghe Reservoir.
It sailed fast on the reservoir, collecting 12 tons of water within 15 seconds, and then took off from the waters to return to the same airspace and repeated the discharge process.
Upon completing all planned steps, the aircraft landed on Zhanghe Reservoir at 10:16 am, according to AVIC.
The company said the test verified that the plane is capable of putting out a blaze and was a big step forward in the development of the project.
The AG600M model performed its first land-based test flight in Zhuhai, Guangdong province, in late May. It carried out its first water-based test flight in Jingmen in late August.
It has a maximum takeoff weight of 60 tons. In a typical firefighting operation, it will collect 12 tons of water from a lake or sea within 20 seconds and use it to douse blazes over an area of about 4,000 square meters, designers said, adding that the plane can fly up to 4,500 kilometers each flight.
Airworthiness certification work will begin in 2024 while initial deliveries are expected to start before 2025, according to AVIC.
The original model — AG600 — is China's second model of amphibious aircraft, after the SH-5, which was developed in the 1970s for military purposes and has long since been retired from service.
With a length of 37 meters and a wingspan of 38.8 meters, the AG600 is roughly the size of a Boeing 737. These specifications make it the world's biggest amphibious aircraft, surpassing Japan's ShinMaywa US-2 and Russia's Beriev Be-200.
The aircraft is designed for both ground- and water-based takeoffs and landings. It is capable of rescuing 50 people during a maritime search and rescue mission.
He Shengqiang, deputy general manager of AVIC, said after the test that the AG600 family's service will tremendously boost China's emergency response and rescue capabilities.