Specialty drone maker sees sales, exports soar
By ZHANG LI and ALEXIS HOOI | China Daily Global | Updated: 2022-10-31 10:48
Guilin company's unmanned aerial vehicles are assisting in fields ranging from agriculture to surveying and mapping
Editor's Note: This series of stories looks at local enterprises in specialized sectors that have a share in global markets.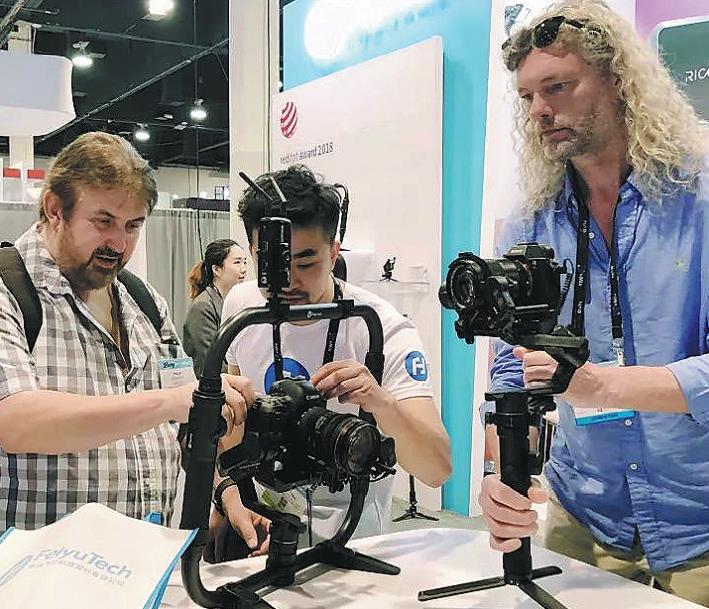 Deep in the heart of Malaysia's rubber estates, many farmers are getting a high-tech helping hand in the traditional pillar sector.
Above and amid the rubber trees that produce the natural latex sap that is tapped for products ranging from rubber gloves to car tires, a fleet of aerial survey drones assist in the detection and monitoring of pests and diseases that could harm the crucial crop.
The advanced devices are among the niche products of Guilin Feiyu Technology Inc, a Chinese high-end equipment manufacturer in the city of Guilin, Guangxi Zhuang autonomous region.
"Most of the drones in the industry are customized according to clients' specific needs," said Wang Xiuzhi, who heads the group's unmanned aerial vehicle section.
Feiyu started in the model aircraft industry. It has since expanded, maintaining its strong focus on research and development, Wang added.
The company, which was set up in 2007, is mainly engaged in the research and development, design, production and sales of civilian drones and hand-held camera gimbals — devices that allow a camera or smartphone to incline freely in any direction or that suspend it so it will remain level when its support is tipped — as well as sports and healthcare devices.
More than half of its major products are exported to over 120 countries and regions, with technology and communications enterprises ranging from Huawei to Tencent involved in long-term partnerships, according to the company.
Feiyu's drones, which focus on practical applications in fields such as geographic surveying and mapping, are exported to countries ranging from Indonesia to India. The export volume of the company's specialty drones has grown to nearly 20 million yuan ($2.76 million) in the past four years, with total output value for 2021 at 250 million yuan.
Recent orders from Guilin authorities have included seven state-of-the-art drones for the city's emergency services. These are customized to help deploy buoys during water rescues, with each device costing from 80,000 to 100,000 yuan, Wang said.
The company, which has nearly 400 employees and is based in a national-level high-tech industry park in Guilin, was built on the consistent focus on technological R&D led by its founder, Wei Chengyun.
Unlike many of his peers, Wei did not join a well-known company in a big city after graduating from a university in 2003. Instead, the electronic information engineering major started an R&D company in Guilin, tapping business incubator facilities in the city's high-tech zone.
"We have been developing UAV flight control systems since 2007.We can be regarded as one of the first UAV and related automation product startups in the industry," Wei said.
"In the field of UAV, we mainly deepen industry applications and strive to provide higher performance and better interactive experience for industry-level application scenarios, ranging from firefighting to land surveying."
The company made a major breakthrough in 2013 when it developed a two-axis gimbal to ride a growing trend in mobile recording technology that requires stability in movement.
Complex mathematical algorithms are required to measure, correct and maintain the horizontal and inclined state of devices, and previous experience and expertise in developing flight control systems helped in that regard, Wei said.
Building on its initial success, Feiyu's team went on to roll out firsts such as three-axis gimbals and other hand-held stabilizer equipment, he said.
In November 2015, Wei and his team rolled out a trailblazing hand-held stabilizer that made its way to tech giant Apple's stores worldwide, marking the first such cooperation of its kind, which gave Guilin's technology products a global presence, according to the company.
Feiyu's products have gone on to win industry praise at home and abroad, including acclaim among photography and broadcast media professionals who use its camera equipment, Wei said. The company has more than 200 domestic and foreign patents.
"With the growing requirements for the recording functions of mobile devices, the industry continues to offer much potential," he said.
Guo Hongxing, head of Qixing district, where Feiyu is based, said high-tech enterprises like the group inject vitality into local economic development.
"In the next few steps, the government will do more in its role to help emerging industries, such as industrial development planning and industrial layout optimization," Guo said.
"This includes cultivating emerging industries to improve the competitiveness of products such as hand-held stabilizers and motion cameras, and optimizing the consumer electronics industry represented by groups like Feiyu, to nurture leaders in their respective specialized fields."
To that effect, Feiyu is banking on its technological prowess to offer high-end healthcare and lifestyle products, to meet increasing consumer demand for health and fitness amid disruptions caused by the COVID-19 pandemic.
"We will further increase R&D investment to transform our technical advantages into products that can lead the high-end demand of the market," said Huang Huanjuan, Feiyu's assistant general manager.
Most of the company's products, including its drones and stabilizers, are "the transformation of our more than 10 years of technological precipitation in fields such as robotics and motor control," said Wei, the Feiyu founder.
"We will keep up with front-end market demand and quickly integrate technological expertise," Wei added. "We will also focus on branding, marketing strategies, talent, training and innovation."
Wang Yadong contributed to this story.
Contact the writers at zhangli@chinadaily.com.cn