Precipitating the big chill
Share - WeChat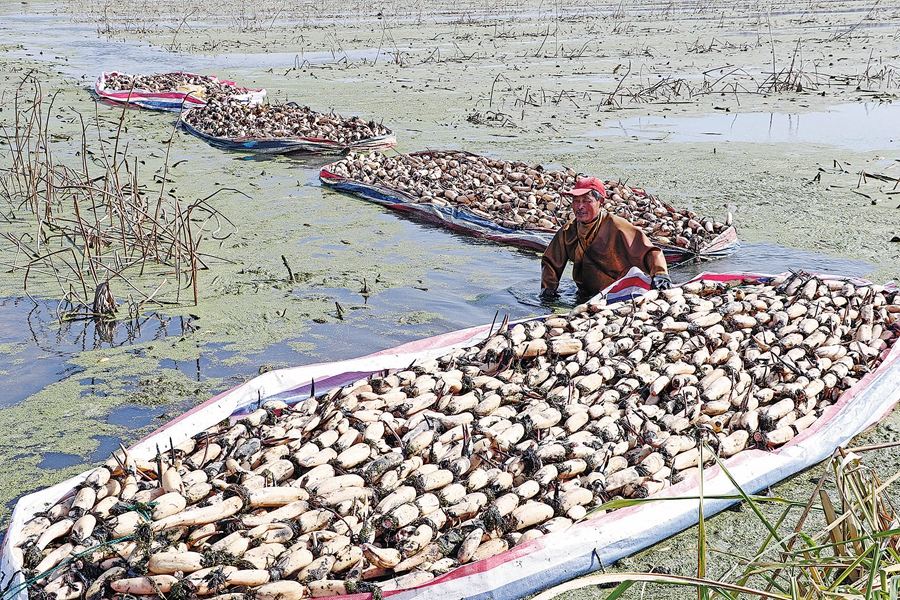 Customary behavior
In the Xinjiang Uygur autonomous region, the White Snow Festival is usually held around this time of the year, when family and friends gather to dine, sing and dance in celebration of the first snowfall and pray for a good harvest in the coming year.
The Uygur people have a kind of reverence for the color of white, as, to them, it symbolizes the rays of sun.
Out of their many customs, one of the most intriguing is the sending of "snow letters".
At the beginning of the snowfall, several friends will jointly write a "snow letter", and select one of them to "deliver" it to another friend's house. They congratulate the friend and his family in the form of poetry, and finally in the letter asks the recipient to host an evening of entertainment. The messenger must skillfully place the letter somewhere in the recipient's home that it will not be easily found. If the host finds the letter before the messenger leaves, the messenger will be forced to host the party.
Moreover, the intended recipient will smear coal on the face of the messenger and make him ride back home on a donkey. At the party, each participant must perform to praise the snow, or their pure friendship and peaceful life, like the snow, will melt away.
The party will enter a climax when everyone plays and dances with joy. The dances of the Uygur people are known for their fast and varied rotations. The young men and women at the party perform various dances one after another until late into the night.
The ancients divided xiaoxue into three equal minor terms, describing the climate change with three omens. During the first five days, rainbows are nowhere to be seen. In the second minor term the yang energy begins to rise and the yin energy will sink. The last term sees all things turn silent.
Xiaoxue signifies that winter has officially arrived. Everything loses its vitality as the ancients described.
However, in Beijing, one particular custom makes the solar term come alive.
"Beijing people have the traditional habit of growing daffodils at this time of the year, known as 'drying' daffodils," says folklore expert Gao Wei.
"On the day of xiaoxue, the potted plant should be taken out and bathed in the open air. In the early years, it was difficult to cultivate flowers in winter. As such, flower farmers cultivated some small and highly ornamental flowers that grow in greenhouses. Daffodils later became a favorite."
In northern China, around xiaoxue, farmers begin to prune the fruit trees, wrapping the trunks with straw-woven foil to prevent fruit trees from freezing, and storing cabbage for consumption in winter.