Cave treasures saved
By Fang Aiqing/Ma Jingna | China Daily | Updated: 2022-12-01 07:32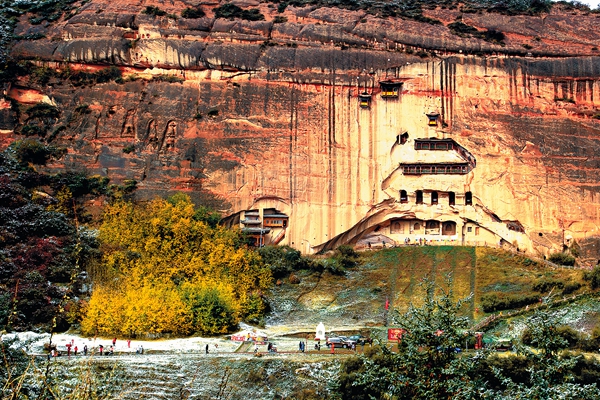 For 1,600 years, the Mati Temple has been holding its grotto grandeur inside bare cliffs that are almost vertical and some dozens of meters above land. The land around is lush though. The cliffs are part of the Qilian Mountains that have several peaks exceeding 5,000 meters above sea level in the province's Sunan Yugur autonomous county.
A drive to the grottoes is a climbing adventure to view the abundance of nature, from trees and bushes to grassland pastures and snow-capped peaks.
It was in such complex surroundings that ancient Chinese built the Mati Temple Grottoes on the Hexi Corridor, an artery of the ancient Silk Road, which shares the high aesthetic value of grotto art with the province's Yulin Caves, although less well-known than the latter site.
First built in the Eastern Jin Dynasty (317-420), the Mati Temple complex consists of seven Buddhist temples and over 70 caves with more than 500 painted sculptures and murals that span around 1,200 square meters.
As one of the earliest excavated Chinese grotto sites, it gave important clues on how Buddhist grotto art was localized and later cast its influence on the Yungang and Longmen grottoes, respectively in Shanxi and Henan provinces.
In its heyday, there were more than 300 monks living around the Mati Temple. Today, there are around 500 remaining stupas from the Yuan (1271-1368) and Ming (1368-1644) dynasties nearby.