Forum stresses efforts to tackle post-COVID challenges
By Zhang Yue | China Daily | Updated: 2022-12-03 07:03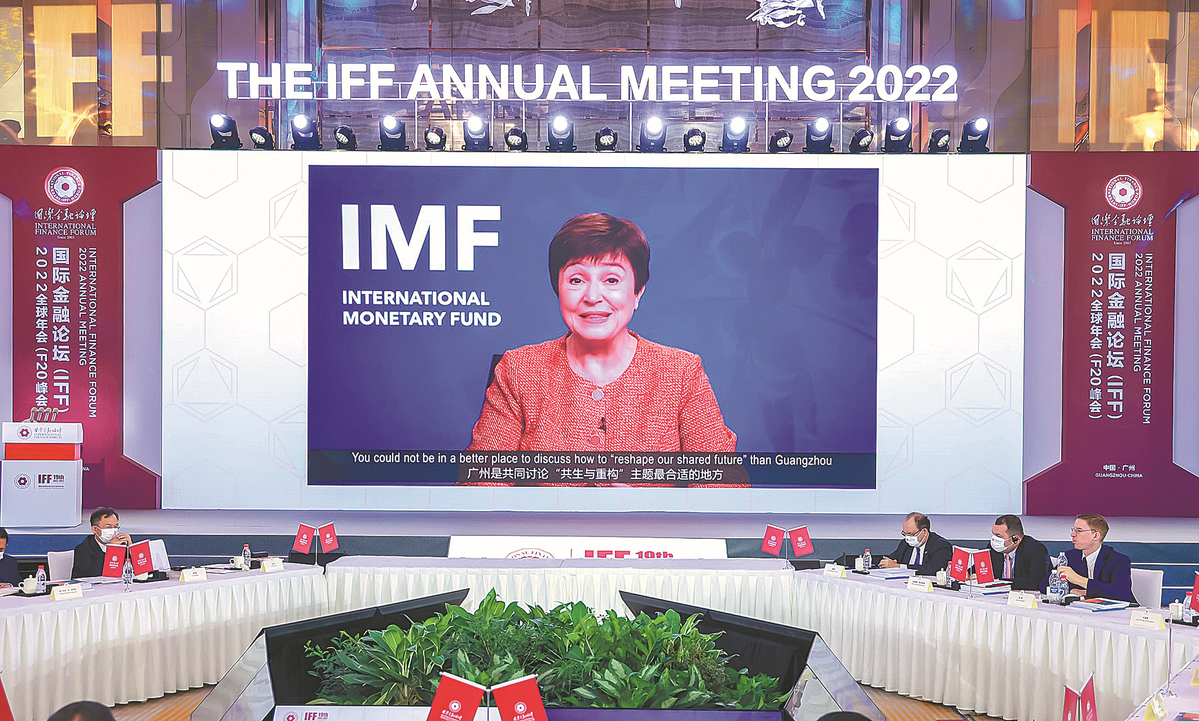 IMF MD, UN chief, ex PBOC head underline financial and climate goals
The world now stands at a "precarious moment" and joint efforts are required by all countries to address some crucial post-COVID challenges on the financial, developmental, growth and climate change fronts, to ensure healthy global growth, heads of international organizations and officials said on Friday.
Addressing the opening ceremony of the 19th International Finance Forum Annual Meeting via video, Kristalina Georgieva, managing director of the International Monetary Fund, said that the three years of COVID-19 shocks have pushed the prices of food and energy up and led to tightening of financial conditions.
The challenges for policymakers in most countries are that they need to formulate proper fiscal and monetary policies in an "ever-changing world", she said.
She said that the IMF projected the world economy to grow at 2.7 percent next year, but there is a 25 percent probability that growth may actually fall below 2 percent. In addition, at least one-third of the world economy is expected to be in recession in 2023.
Therefore, efforts must be made to act on challenges "where working together benefits us all", she said, particularly on more international cooperation to tackle food insecurity, reducing debt risks, and greater common efforts to address the climate crisis by reducing global carbon emissions and increasing resilience to climate shocks.
She noted that for most countries, currently, reducing inflation is a priority. Yet in China, the overarching inflation has remained subdued, and that leaves room for an accommodative monetary policy. At the same time, fiscal support to vulnerable households and strengthening social safety nets would promote consumption, which in turn can reignite growth.
"Recent measures in the property sector are also welcome," she said, referring to China's economic recovery. The IMF, she said, would also welcome more action at the central government level to further help safeguard financial stability.
China's economy continued with a mixed-bag recovery in October, with industrial production up by 5 percent year-on-year, while retail sales fell by 0.5 percent.
Zhou Xiaochuan, former governor of the People's Bank of China, the country's central bank, said at the forum that due to the mixed impact of negative factors like geopolitical risks, disruptions to global industrial chains, inflation, debt problems, energy and food crises, the downward risks for the global economy have intensified.
"Therefore, how to lead the global economy to the right track of recovery and growth, and realize development that is more balanced and resilient — that has become the focus of attention around the world," Zhou said.
Antonio Guterres, secretary-general of the United Nations, told the forum via video that concerted efforts shall be made globally to address long-term challenges on the climate change and financial fronts. Given that the window to prevent climate catastrophe is closing fast, living costs are high, interest rates are rising and a recession is looming, a sustainable development goals, or SDG, stimulus package can provide developing countries with adequate liquidity, a wider reallocation of Special Drawing Rights, and create effective mechanisms for debt relief and restructuring.
"Everyone must play their part and fully align their business models with the 2030 Agenda and climate goals. There is no room for any form of greenwashing," he said.