Shenzhou XIV astronauts leave space station
By ZHAO LEI | chinadaily.com.cn | Updated: 2022-12-04 11:42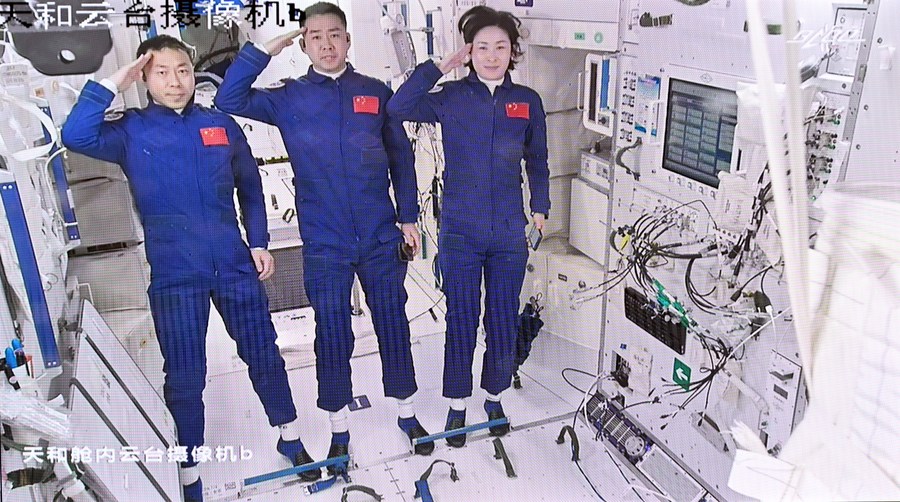 Astronauts on the Shenzhou XIV mission left the Tiangong space station on Sunday morning and are scheduled to return to Earth tonight, according to the China Manned Space Agency.
After a six-month space journey inside the Tiangong station, the crew members — Senior Colonel Chen Dong, the mission commander, Senior Colonel Liu Yang and Senior Colonel Cai Xuzhe — returned to their Shenzhou XIV spaceship after bidding farewell to their successors in the Shenzhou XV mission — Major General Fei Junlong, Senior Colonel Deng Qingming and Senior Colonel Zhang Lu, who arrived on Wednesday.
The spaceship departed from the gigantic outpost at 11:01 am and then began to fly in a reentry trajectory. It will reenter the atmosphere under ground controllers' guidance and then touch down on the Dongfeng Landing Site in the Inner Mongolia autonomous region, according to the agency.
This will become the first time for Chinese astronauts to return to Earth at night.
The freezing temperatures in the landing region — as low as minus 20 degrees Celsius — will be challenging to ground recovery personnel, who have rehearsed for most difficult possible scenarios for weeks.
The Shenzhou XIV team handed over on Friday evening the control of the Tiangong station to the Shenzhou XV crew.
Chen's crew is the third group of visitors to the Chinese station, one of the largest pieces of infrastructure mankind has ever deployed in Earth's orbit. The trio was launched from the Jiuquan Satellite Launch Center in the northwestern Gobi Desert on June 5 and arrived at Tiangong later that day.
During the crew's flight, they monitored the arrival of the Wentian and Mengtian space lab modules, which completed the Tiangong's in-orbit assembly. They also carried out three spacewalks and gave a science lecture to Chinese students.