For a Life of Contentment
China Daily | Updated: 2022-12-06 07:26
Chapter III
Exploring New Dimensions in Respecting, Protecting Human Rights
China is the largest developing country in the world and a vast country with an ancient history. Its novel ideas, measures and practices in terms of how to respect and protect human rights are a refreshing addition to the global human rights cause and to the diversity of civilizations. They may also offer inspiration for the rest of the world, especially for developing countries. By upholding the idea that the rights to subsistence and development should be taken as primary basic human rights, China has met the basic living needs for an extra-large population and finished building a moderately prosperous society in all respects. With a combined population of more than 80 percent of the world's total, developing countries are faced with similar tasks. In this sense, China's explorations and experiences are of great value for their reference.
American scholar Philip Lee Ralph wrote in the preface of World Civilizations that most of human progress thus far has resulted from the growth of intelligence and respect for the rights of man, and that therein lies the chief hope for a better world in the future. China is ready to share its experiences with the rest of the world, engage in joint explorations, and contribute Chinese wisdom and proposals to the global initiatives to advance human rights and build a better world.
— Determined leadership. When commenting on the incredible achievements that China has made in various fields over the past few decades, foreign observers are often impressed by its leadership, which is a distinctive feature of the country's experience in governance. This is best manifested in the top-level design that allows for blueprints to be translated into reality, the perseverance to hammer away until a job is done, and strong mobilization capabilities.
For developing countries, a strong leadership is of vital importance to their many endeavors ranging from national independence and liberation to economic growth and improvement of people's livelihood.
Taking as its original aspiration and mission the pursuit of happiness for the Chinese people and rejuvenation for the Chinese nation, the CPC has successfully united and organized the Chinese people in building China into a modern country, and made the people masters of the country, of the society and of their very own fate. During the past decades, the Party has been working hard to advance the modernization of the country, while ensuring people's well-being and raising their living standards. As China's fight against poverty entered its decisive stage between 2012 and 2020, President Xi Jinping personally planned and commanded the battle at the forefront, having visited 14 contiguous areas of dire poverty. Throughout the country, 255,000 resident working teams and more than 3 million first Party secretaries and officials stationed in poor villages fought poverty on the front line alongside nearly 2 million township officials and millions more cadres dispatched to villages. At a result, it only took China eight years to lift 100 million rural dwellers out of poverty, creating a miracle in the history of human rights.
The strong leadership of the CPC has provided clear strategic guidance for China's human rights cause, fostered efficient synergy capabilities, and unleashed the enthusiasm, initiative, and creativity of the people in a continuous manner. China has turned the abstract concept of human rights into a set of tangible rights and interests that the people could enjoy on the ground, such as the rights to subsistence, development, life and health. This has made human rights more concrete and appreciable, marking a major advancement of the human rights cause.
— Down-to-earth approach. For children living in war-torn regions, human rights are first and foremost defined as personal safety and being able to leave the refugee camps and return to their peaceful homes and classrooms. For women in underdeveloped countries, human rights might mean a water well near their doorsteps and sufficient, clean drinking water. For families mired in energy crises, human rights may refer to access to affordable modern energy that would allow them to have dinner in bright lamplight. For many racial minorities in the United States, human rights might come first and foremost as being free from systemic discrimination in life and at work and receiving equitable opportunities for personal and family development.
There are no two identical leaves in the world. Likewise, there is no single fixed model for the development of the human rights cause. China's experience suggests that a path that is based on the realities of the country itself and befits its own conditions is the only one that can work well, and win the support of its people. Countries vary significantly in national conditions, thus they ought to choose paths that conform to their circumstances and befit themselves. Paths imposed by others usually lead to nowhere, whereas blind imitation often backfires.
— Development-oriented. Human rights protection would not be possible without certain material prerequisites. Development is the pathway to people's well-being, and the driver for the advancement of the human rights cause. The Chinese government has always prioritized development, and kept expanding the economic pie to ensure a solid material foundation for human rights protection. To meet people's aspirations for a quality life, the government has pursued a development path that is of higher-quality, more efficient, equitable, sustainable and secure to keep up with the people's ever-growing needs for multifaceted rights, and facilitate all-round progress of each human right.
After securing the historic success of eradicating absolute poverty, which is considered the biggest obstacle to human rights, China has set its eyes on the undertaking of common prosperity, working to distribute the benefits of development among the people in a fairer way and provide them with a more robust, solid, and sustainable sense of gain, happiness, and security.
The world today is undergoing profound changes unseen in a century. The global human rights cause faces grave challenges. Against such a backdrop, development carries much more salient relevance. The Global Development Initiative that China has proposed aims to facilitate the implementation of the UN 2030 Agenda for Sustainable Development, so as to achieve more robust, greener and more balanced global development, and, in turn, better protect and enhance human rights.
— Legal guidance. Rule of law is an important political achievement of mankind, a basic way of modern governance, and an effective instrument to protect human rights. When advancing its human rights cause, China attaches great importance to strengthening of legal protection. China's Constitution serves as a fundamental document for safeguarding human rights, and sets basic terms in this regard. It not only establishes that the state shall respect and protect human rights, but also makes comprehensive and systematic stipulations to ensure that all citizens enjoy personal rights, the right to dignity, property rights, political rights, and economic, social and cultural rights. China has implemented a strategy to comprehensively advance the rule of law. It strives to build a system of socialist rule of law with Chinese characteristics to pursue coordinated progress in law-based governance, law-based exercise of state power and law-based government administration, and promote integrated development of the country, the government, and society based on the rule of law, so that the citizens' rights and interests are firmly ensured.
— Open-Mindedness. The modern concept, thinking and practices of human rights were born during the Enlightenment in Europe. Hundreds of years on, respecting and protecting human rights have become a fundamental principle of modern civilization and a great hallmark of the advancement of civilization. As the Universal Declaration of Human Rights has been translated into hundreds of languages and spread across the globe, human rights, a common undertaking shared by mankind, have been developed along diverse pathways in the world.
Given the differences in history, culture, social systems, and economic and social development, people from different countries of the world have different understandings of human rights and pursue different paths to seek human rights progress. China respects the diversity in the approaches to human rights development and holds that there is no such thing as a perfect "Utopia" for human rights. It opposes double standards in human rights, rejects attempts to politicize and weaponize human rights, and objects to interventions in others' internal affairs in the name of human rights. China advocates enhanced exchanges and mutual learning between civilizations, addressing the "governance deficit" of human rights, promoting fairer, more equitable, reasonable and inclusive global governance of human rights, and working together to build a human community with a shared future.
Conclusion
The quest to improve human rights never ends.
After decades of strenuous efforts, China has successfully blazed a human rights development path that conforms to the times and befits its own national conditions. As the largest developing country in the world, China will remain in the primary stage of socialism for a long time to come. There remains significant room for progress in its human rights cause. Now that the country has fulfilled its first centenary goal, China has embarked on a new journey to build itself into a modern socialist country in all respects.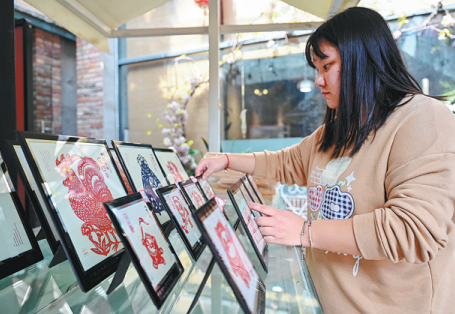 Standing at a new starting point in its development endeavors, China conforms to the people's aspirations for a better life and attaches even greater importance to respecting and protecting human rights. It is promoting coordinated progress in the economic, political, cultural, social and eco-environmental fields to meet the people's ever-growing need for multifaceted rights and beef up human rights protection in an all-round way.
In today's world, poverty, wars and environmental problems, among others, have posed grave threats to human rights protection. The world is faced with prominent "governance deficit" in terms of human rights. To address these challenges, countries need solidarity instead of confrontation, cooperation instead of disengagement, openness instead of blockade, and communication instead of sanctions.
It is the common aspiration of human society that every one should enjoy human rights in the full sense of the term. To this end, countries should base their efforts on equality and mutual respect, actively engage in human rights dialogues and cooperation, expand consensus while bridging differences, learn from each other and pursue common progress, so as to make global governance of human rights fairer, more equitable, reasonable and inclusive, and deliver real benefits to people of all countries.