Head inland to enjoy Thailand
By Yang Wanli in Surat Thani, Thailand | China Daily | Updated: 2023-01-26 10:17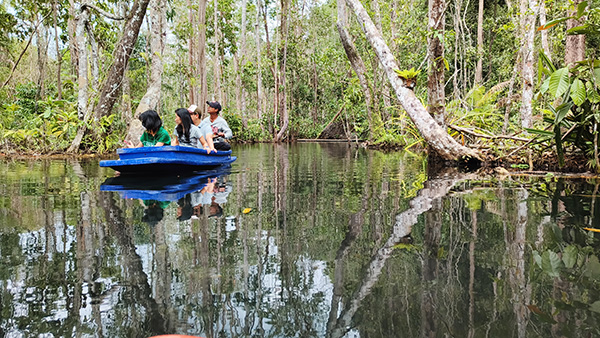 National Park
Surrounded by one of the oldest evergreen rainforests in the world, Khao Sok National Park will impress you with its huge limestone mountains, deep valleys, breathtaking lakes, exciting caves and wild animals.
Together with adjacent wildlife sanctuaries in Khlong Saeng, Khlong Yan and Khlong Naka, the combined area of the park is more than 3,500 square kilometers, making up an area more than half the size of Bali.
In the park, tourists can choose different ways to explore, such as personal elephant encounters, jungle trekking or canoeing.One of the most interesting areas is the beautiful Cheow Larn Lake in the heart of the national park, complete with floating raft houses and luxury tents.
On a limited budget, visitors have options to live in those small but cozy hotels or family stays at an acceptable price. It is convenient to book a tuk-tuk, the local motorcycle taxi, at the hotel to visit Cheow Larn Lake.
Among the Thai people, Cheow Larn Lake is famous for its landmark: three limestone peaks nicknamed mini Guilin. Guilin refers to the city in South China's Guangxi Zhuang autonomous region, which is known for its karst landforms and limestone peaks.
For travelers who are willing to explore wildlife, Khao Sok is unmissable.
Thailand boasts some of the most biodiverse regions on Earth, and Khao Sok is one of them. Thanks to it being relatively unchanged over millions of years, Khao Sok has become a haven for a variety of birds,insects, reptiles and mammals.
According to the Khao Sok National Park's official website, the park is home to 311 species of birds, 48 species of mammals,more than 30 species of bats, countless insects and reptiles, endangered tigers and an estimated 200 wild Asian elephants.
Moreover, there are around 200 species of plants per hectare in Khao Sok, with a combination of ginormous trees, trailing vines and exotic flowers. Some plants are unique to the rainforest. For example, the largest flower on Earth, rafflesia, can grow up to 90 centimeters in width.