Head inland to enjoy Thailand
By Yang Wanli in Surat Thani, Thailand | China Daily | Updated: 2023-01-26 10:17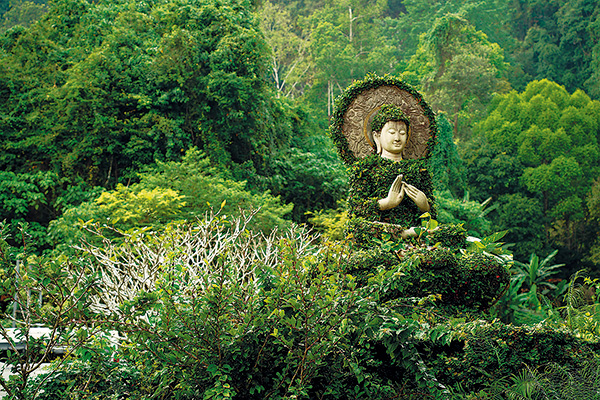 Jungle exploration
Nearby the Khao Sok National Park, there are two sites with jungle experiences. About 40 minutes by car from the Cheow Larn Lake, visitors can enjoy a breathtaking view of the Khao Na Nai Luang Dharma Park,especially in the early morning or evening with sunlight passing through the park's front arch.
The Khao Na Nai Luang Dharma Park consists a total of six pagodas in different shapes and colors from brick red to white and gold. The most impressive one to me is what local people called the "floating pagoda" with a small pond underneath it.
Both the pond and the pagoda are built on the top of a small mountain. Lotus and small fishes give the pond a sense of Zen. Religious text is written carefully in gold powder on the red bricks. Standing on the pagoda, an overhead view of the forest is an unforgettable moment.
After the soul baptism in the park, Ban Nam Rat Watershed Forest, which only takes 30 minutes by car, is a destination not to be missed. It offers crystal-clear waters of a flooded forest, consisting of a lake, various jungle canals and stunning lagoons.
"In the past, the forest used to be a small freshwater canal that looked like a peat swamp forest. This magical place, referred to as Khlong Rood by the locals, is a hidden gem and a true highlight of the region," an officer from the forest ticket office said.
The lake itself mirrors the various tree stumps and rocks that stick out of the surface, creating the illusion of no horizon. In the forest, visitors will see many species of plants, including water lilies, orchids and tropical pitcher plants.
You can kayak up the stream and explore breathtaking lagoons, surrounded by lush jungle greenery. You can have a fantastic end to the day by parking your kayak and taking a dip in the crystal-blue waters of the jungle among colorful fish.