Better seeds, better yields in northeastern granary
China Daily | Updated: 2023-02-01 10:19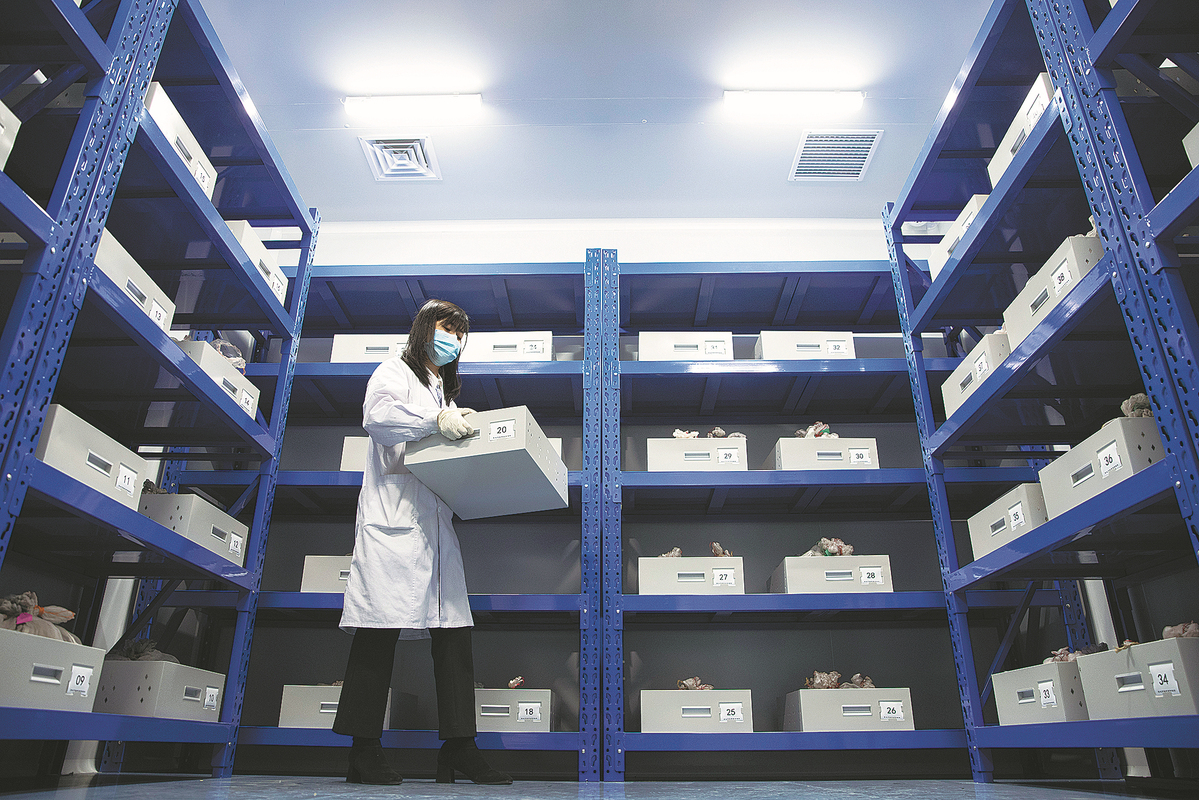 HARBIN — Every winter, like migratory birds, Li Yanhua and her team travel over 4,000 kilometers from the agroecological experiment center in Heilongjiang province to the southernmost province of Hainan to cultivate high-yielding bean seeds.
A soybean expert and researcher at the Northeast Institute of Geography and Agroecology of the Chinese Academy of Sciences, Li has selected and cultivated 15 high-yielding soybean varieties over the past 32 years, which are now planted in about a tenth of China's soybean fields.
Her dongsheng variety is rich in oil and protein and is good at resisting lodging (the permanent vertical displacement of crop stems as a result of stem buckling or root displacement), which has increased yields by more than a billion kilograms and raised incomes for farmers by more than 4 billion yuan ($560 million).
As China's major grain production area, Heilongjiang is home to the largest soybean-producing area in the country. Production reached 9.53 billion kg last year, accounting for 47 percent of the national total, with a year-on-year increase of 2.34 billion kg. The province has adopted advanced technology to grow generations of strong, sturdy varieties.
In Changxing village in Yilan county, Han Zhimin enjoys the fruits of Li's efforts. He is the director of the Chengxin corn planting professional cooperative. In the past year, his cooperative has planted about 533 hectares of soybeans, and yields can reach as much as 3,975 kg per hectare, the highest level in years.
"Every year, we plant small trial plots of four to five soybean varieties in advance to test their potential. That way we can decide whether to plant them on a large scale," Han said.
All across Heilongjiang, breakthroughs in seed breeding have been transferred from the test tube to the fields, from State-owned labs to local businesses.
Wuchang city is known for its high-quality rice in China. It is home to some 166,000 hectares of paddy fields and produces 700 million kg of rice a year. Local companies are working to revitalize a famous rice variety using the latest technologies as well as to develop new varieties that are stronger and more productive. Heilongjiang has also organized several rice festivals to promote the development of its rice breeding industry.
Last year, the province arranged funds of 300 million yuan to support innovation in the seed industry and accelerate the construction of 19 national breeding centers and 16 expert breeding demonstration centers for corn, soybeans, rice and other crops. Through such efforts, Heilongjiang is working to promote the use of high-quality seed varieties and consolidate the foundations of the modernization of its seed industry.
The province is home to the only cold climate crop germ plasm bank in China. Last year, the preservation capacity of germ plasm resources increased from 80,000 to 200,000 samples, a rise of great significance in efforts to protect China's cold climate crop germ plasm resources and national food security.
As China's major grain producer, Heilongjiang is a microcosm of the rapid development of its seed industry. The country attaches great importance to the creation of an independent seed industry to ensure food security.
Last April, the Ministry of Agriculture and Rural Affairs announced the results of national-level seed production counties and regional breeding centers, with the number of such production centers rising to 216 and covering most of the important crops.
During the 13th Five-Year Plan (2016-2020) period, 5 billion yuan was earmarked in support of the centers, which supply over 70 percent of seeds grown in the country and ensure national grain security.
China will continue to reward major seed-producing counties and perform upgrades to its seed industry with the aim of ensuring that national seed production centers are able to supply 80 percent of the country's seeds during the 14th Five-Year Plan (2021-2025) period.
XINHUA