Tianjin University at forefront of technological creation
By YANG CHENG in Tianjin | China Daily | Updated: 2023-02-03 07:42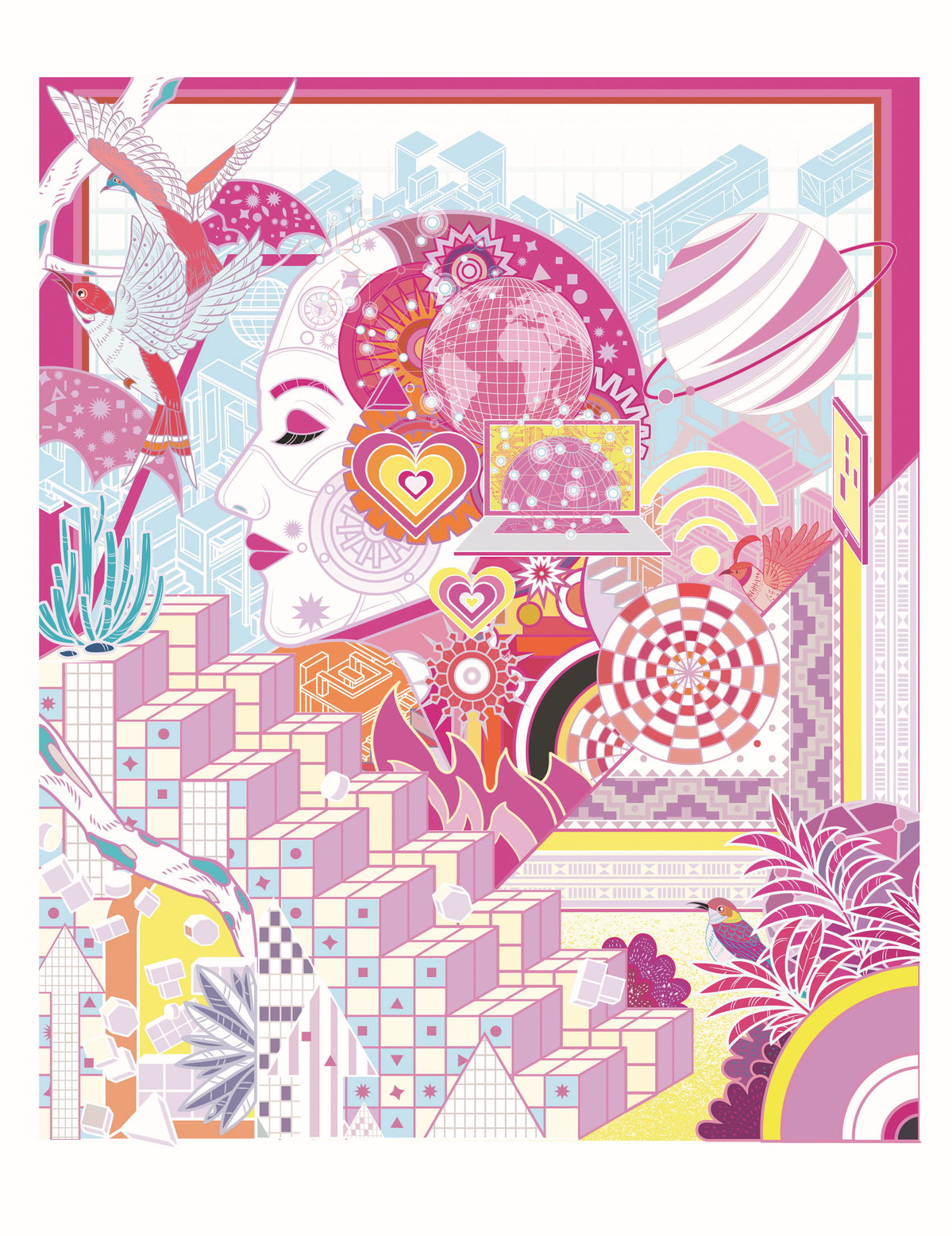 Institution's groundbreaking work translates brain signals into commands
A Chinese university is playing a leading role in creating technology for use in spheres ranging from medical rehabilitation and psychotherapy to the aerospace industry and computer games.
Developed by Tianjin University, the technology, known as noninvasive Brain Computer Interface, or BCI, is now at the forefront of such open-source information being shared.
For example, the university has developed a robotic additional finger, which is commanded by devices worn on the head. This finger can write words and even complete sentences based on the user's thoughts.
Liu Xiuyun, a professor at Tianjin University's Academy of Medical Engineering and Translational Medicine and the core member of Tianjin Brain Science Center, said BCI technology is the focus of the center's research.
BCI builds an "information highway" between electrical activity in the brain and an external device — typically a computer or robotic limb. This cutting-edge technology is considered vital for a new generation of human-computer interaction and human-machine integration.
According to PatSnap, a science and technology database headquartered in Singapore, BCI research is centered on China and the United States, and Tianjin University and the University of California are the most active players in this field.
In late November, Tianjin University launched China's first open-source platform for noninvasive BCI software. The MetaBCI platform comprises 376 classes and functions, and is compatible with 14 BCI public data sets. It also implements 16 data analysis methods and supports 53 brain computer decoding models, according to the center.
MetaBCI codes have been shared with the public on GitHub, the world's largest open-source programming and code-hosting website, along with an instruction manual. The project aims to provide professional and technical support for global BCI developers and scientists.
Xu Minpeng, technical director for the project and vice-dean of the academy, said: "Building a BCI system requires many key technical steps, but currently different publicized BCI software tool kits are usually focused on a single step, making the development costly and difficult. In light of this, we developed MetaBCI to provide one-stop information processing support for BCI research."
The platform is jointly developed by Tianjin University, China Electronics Cloud Brain Tianjin Technology Co and Suishi (Tianjin) Intelligence.
Direct connections
Explaining how the technology works, Xu said: "People's thoughts are usually expressed by the nerves' peripheral tissues or muscle tissues. BCI technology bypasses this usual path to build direct connections between the brain and computer."
In May 2019, at the third World Intelligence Congress in Tianjin, a volunteer wearing BCI devices "typed" a complete sentence — "Welcome to the 3rd WIC" on a screen without moving her fingers or thumbs.
The chip the volunteer used was the world's first BCI chip successfully developed by the university — the Brain Talker.
Liu Xiuyun, a professor at the academy, said: "It was the world's first chip dedicated to collecting and decoding human neural electrical signals. It took us a long time to develop the chip."
At Tianjin Hospital, a patient who experienced neural nerve damage during a stroke said he had been unable to move his hands, wrists and ankles.
But after three months' treatment, in which BCI devices formed a loop in the damaged central nerves, the patient regained full maneuverability, Liu said.
Liu Shuang, a senior researcher at the academy, said the university began research on "affective BCI" in 2016, aiming to help more than 200 patients with depression at Tianjin Anding Hospital and Second Xiangya Hospital of Central South University in Hunan province.
She said BCI research has been helpful in diagnosing depression.
"Current diagnosis tends to be quite subjective, involving strong personal intentions during the traditional question-and-answer methods in determining whether someone has depression," she said. "Our research is filling this gap in diagnosis, and is being extended to the treatment of depression."
As a growing number of patients, particularly teenagers, are experiencing depression, "our priority is to offer more precision in treating the disorder," Liu Shuang said.
Xu said the robotic research has also helped treat some 3,000 patients who have apoplexy.
Liu Yuan, vice-dean of the academy, said that in 2014 the first BCI ideology-controlled human neural rehabilitation robotic system was developed at Tianjin University to help enhance maneuverability among disabled patients. In the following years, upgraded versions were promoted, attracting attention from global research communities.
In 2021, Tianjin University created China's first BCI exoskeleton product, Shenjia, which featured BCI and neural electronic stimulation on a wearable device.
Since 2014, more than 3,000 patients have taken part in experiments involving wearable robotic "skeletons", which support the movements of the body.
Liu Yuan said researchers are also experimenting with the "Lingxi finger", a wearable robotic digit commanded by the brain.
In addition, neuroscience researchers are strengthening efforts to produce convenient wearable devices that offer precision treatment for high-risk patients.
"In promoting more innovative medical devices, we have received widespread support from the Tianjin government," Liu Yuan said.
Liu Xiuyun has high hopes for more collaboration among researchers, doctors and patients, but she said that more work is still needed on this.
"Improving signal processing speed, extending chip memory, accelerating data transmission speed, and improving model mobility are still big challenges," she added.
Xu said the team will strengthen research for decoding electroencephalogram signals, better identification of neural intentions, and quicker brain-computer communications.
"We expect to enhance China's core competence globally, and will continue to promote the next generation of BCI technologies," he said.
Rapid development
Cheng Longlong, data scientist at China Electronics Corp and general manager at China Electronics Cloud Brain (Tianjin) Technology Co, which is partnering with Tianjin University in developing BCI, said, "We try to foster an open environment for BCI developers to strengthen widespread cooperation.
"We expect China's BCI research to enhance the nation's international influence and promote the rapid development of the new BCI generation worldwide."
One of the world's most sought-after technologies, BCI is poised to become a cash bonanza for investors.
According to a white paper released in 2021 by the China Electronics Standardization Institute, the value of the global BCI market reached $1.2 billion in 2019, and the figure is expected to rise to $3.7 billion in 2027.
Global management consultant McKinsey indicates that in the next 10 to 20 years, global BCI industrial output is expected to reach $200 billion, while data provider PitchBook Platform, which is based in the US, noted that in 2021, global BCI investment stood at $568 million.
A recent report from the China Academy of Information and Communications Technology said that BCI projects mainly focus on the medical sector, while neural replacement and control products are expected to be market pioneers.
Noninvasive BCI is likely to be applied to the rehabilitation, education, entertainment, smart lifestyle and manufacturing sectors, the report said.
In October, the Shanghai municipal government announced a policy aimed at furthering innovation in noninvasive BCI technologies, chips and neural research to help patients.
Xin Wen contributed to this story.