Harry Styles, Lizzo, Bonnie Raitt win top prizes at 65th Grammy Awards
Xinhua | Updated: 2023-02-06 22:02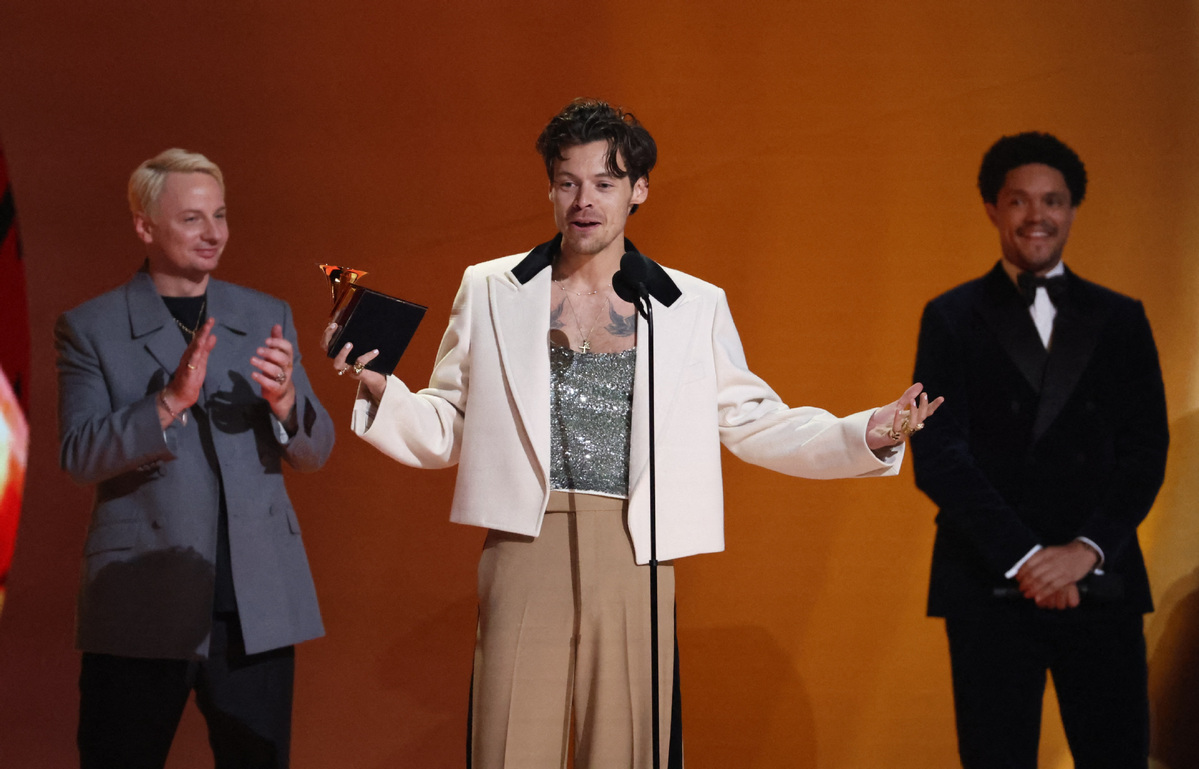 LOS ANGELES - British pop singer Harry Styles and American singers Lizzo and Bonnie Raitt won top prizes at the 65th Grammy Awards held in Los Angeles on Sunday, walking away with Album of the Year, Record of the Year and Song of the Year, respectively.
Styles, 29, won Album of the Year for "Harry's House". The third studio album by Styles, released in May 2022, beat out "Renaissance" by Beyonce, "Voyage" by ABBA, "30" by Adele, "Special" by Lizzo and other strong competitors to win the biggest prize of the night.
Styles also won a Grammy for Best Pop Vocal Album.
Lizzo won the Record of the Year award for "About Damn Time." She dedicated the award to the late American singer and songwriter Prince. "When we lost Prince, I decided to dedicate my life to making positive music," Lizzo said in her acceptance speech.
"Just Like That" by the 73-year-old blues singer Bonnie Raitt won Song of the Year. It is the title track of Raitt's 2022 album "Just Like That..."
The Rock and Roll Hall of Famer also took home Best American Roots Song for "Just Like That" and Best Americana Performance for "Made Up Mind."
Album of the Year, Record of the Year, Song of the Year and Best New Artist are the "big four" Grammy categories.
American jazz singer Samara Joy won Best New Artist. The 23-year-old, being touted by some news outlets as the "first Gen Z jazz star," saw her first two Grammy nominations this year and won both. She also took home Best Jazz Vocal Album for "Linger Awhile."
After winning four trophies this year for a career total of 32 wins, American singer Beyonce made history as the artist with the most Grammy Awards ever.
American contemporary worship music collective Maverick City Music also won four Grammy Awards this year. Other multiple winners included Brandi Carlile and Kendrick Lamar, with three wins each.
The US music's biggest night returned to Los Angeles this year. The show, usually held in Los Angeles and New York, relocated to Las Vegas, Nevada, in 2022 due to the COVID-19 pandemic.
As the only peer-selected music award, the Grammy Awards are voted on by the Recording Academy's membership body of music makers, who represent all genres and creative disciplines, including recording artists, songwriters, producers, mixers and engineers.