Green option draws viewers
By Xu Fan | China Daily | Updated: 2023-02-07 08:19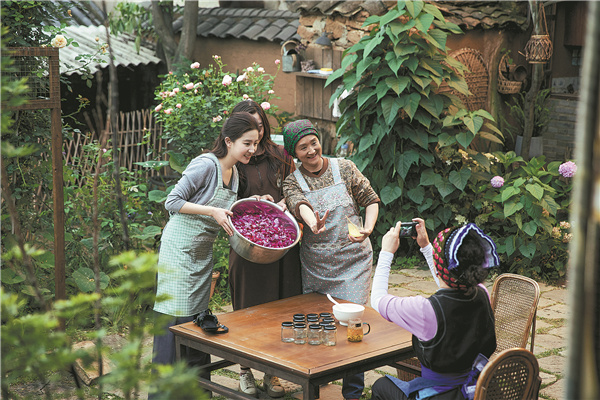 She quits the job, wrapping up all her belongings to move to a remote village called Yunmiao in Southwest China's Yunnan province. Although Xu originally plans to stay there for three months, she stumbles upon Xie Zhiyao, a former venture capitalist who returns to the village, his hometown, to launch several businesses including a horse ranch and a dye workshop.
As she delves into the lives of locals and befriends more people who left the hustle and bustle of big cities to seek inner peace for different reasons, Xu decides to settle in the village and embarks on a new journey.
Prepared and produced in three years, the TV series was shot for 162 days in five towns and counties surrounding Dali in Yunnan, as well as locations in Beijing.
"We have conducted two systematic investigations to seek the proper filming sites and traveled to most of the ancient villages in Yunnan," director Ding Ziguang tells China Daily.
Unable to find an ideal compound to use as You Feng Xiao Yuan (A Small Courtyard with Breeze), where the protagonist lives, the crew decided to build a courtyard and its neighboring architecture on a barren piece of land in Fengyangyi, a millennia-old ethnic Bai village on the Tea-Horse Road, an ancient trading network dating back 2,000 years.
"We hope the courtyard feature is a taste of a time gone by. Following a construction rule to use old materials as much as possible, the fine art department staffers purchased most of the items, like wood, from flea markets or locals' houses," adds Ding.
Born in Beijing in 1985, Ding started directing in the mid-2010s, with most of his works centering on romances or coming-of-age tales. Wishing to shoot more beautiful landscapes in China, Ding was hooked up by producer Long Ya's suggestion to make a slow-paced drama in a pastoral area.
After confirming that actress Liu and actor Li Xian, who plays the village celebrity Xie, would lead the cast, Ding required them to live and think like their characters, to fully immerse themselves in the part.
"They are excellent and professional performers. They have properly handled many romantic scenes with restrained, delicate emotions in their eyes," says Ding.