Grad embraces growing grain in her hometown
China Daily | Updated: 2023-03-20 09:18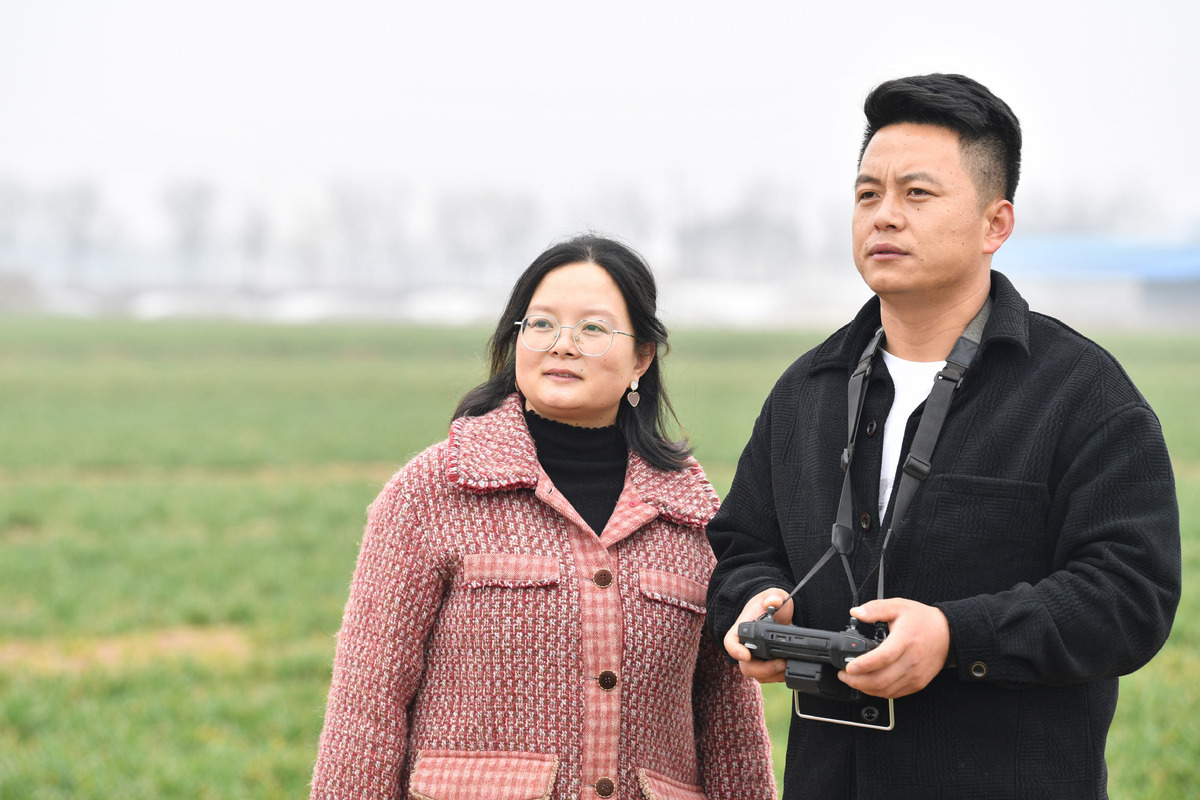 XI'AN — A little over four years ago, Qi Yeye decided to quit her job in the city and return to her rural hometown in Northwest China's Shaanxi province, a decision that caused her husband some confusion.
She explained her reasons for the move by saying that there were fairly good opportunities in her hometown, and she would also be able to work closer to her family.
After graduating from Xi'an Shiyou University, Qi worked for quite some time in developed coastal areas before taking up the farming life in 2018.
"As a child from the countryside, going to college doesn't have to mean leaving the countryside, it can also mean building a better hometown," the 32-year-old said.
Currently, she and her brother, Qi Kun, work 53 hectares in Qixi village in Baoji city and manage another 2,000 hectares in the surrounding area.
On the family farm, many tasks once done by hand are now being performed efficiently by modern technology. This includes computer-controlled integrated systems for irrigation and fertilization, as well as an intelligent internet of things platform to monitor pests and diseases.
"Our land is contiguous and suited to large-scale farming, and we've bought 70 agricultural machines, which has greatly improved efficiency," Qi Kun said.
Since 2019, he has spent 150,000 yuan ($21,840) on purchasing three agricultural drones and has learned to operate them, improving the efficiency of pesticide spraying. In 2021, he even won a local agricultural drone competition.
"They can spray 20 hectares in an hour, while self-propelled sprayers can only manage 2.67 hectares in the same amount of time," Qi Kun said.
"But farming is still hard work. For example, you have to harvest wheat in the peak of summer, and it still involves working with the soil," he added.
Zhao Haibin, director of Baoji's bureau of agriculture and rural affairs, said that the further promotion of rural vitalization will require attracting fresh talent who understand agriculture and enjoy life in rural areas.
"College students are young, energetic and well-educated, quick to learn and accept new technologies," Zhao said. "When they return to their hometowns and devote themselves to agriculture, this can drive improvement among farmers and is conducive to accelerating agricultural modernization."
In 2021, Qi Yeye and Qi Kun received certificates issued by Shaanxi's Department of Agriculture and Rural Affairs, recognizing them as a new kind of senior-level farmer.
"You can make a difference if you take up agriculture," Qi Kun said. "The government is heavily subsidizing large grain growers, which makes me even more convinced that I should stick to agriculture and do a good job."
Xinhua