Feedstock role of coal still key amid CO2 goals
By ZHENG XIN | China Daily | Updated: 2023-03-21 09:02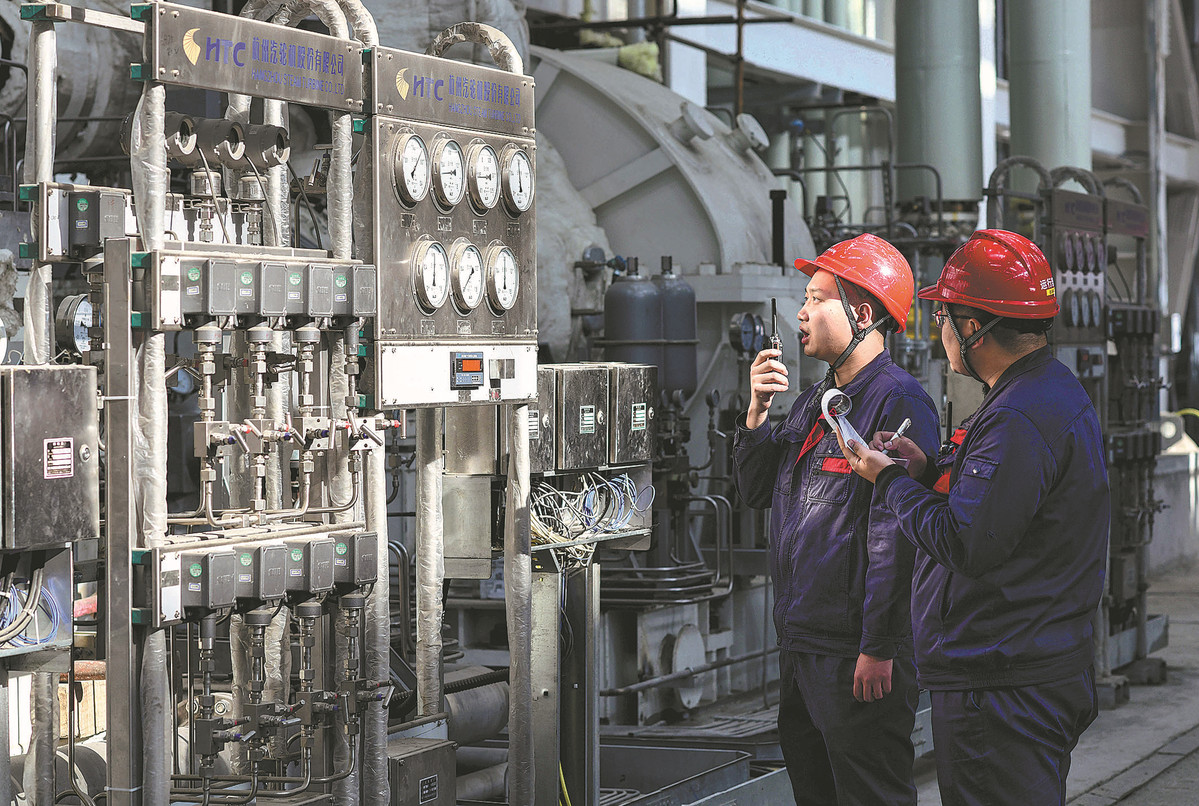 Replacement of outdated coal capacity has been accelerating this year in China, as the government has vowed to shut down outdated production facilities while relying on advanced units to ensure sufficient energy supplies amid the country's green transition, said industry experts.
China has been taking orderly steps to increase advanced coal production in recent years to ensure sufficient power supply during peak hours and extreme weather, aiming to have coal play a larger role as an emergency backup power supply as the country is on the track to peak carbon emissions by 2030 and achieve carbon neutrality by 2060, said Lin Boqiang, head of the China Institute for Studies in Energy Policy at Xiamen University.
"As many of the country's small coal-fired power plants built during the last century have become outdated and energy-consuming, it is necessary to replace them with units boasting better safety and efficiency levels. However, the exit process should also be prioritized. If local heat and electricity supply cannot keep up with demand for a while, then it should be delayed for a while," Lin said.
Statistics released by Chinese financial media outlet Yicai revealed that by March 9, provinces including Hunan, Heilongjiang, Anhui, Shaanxi, Shanxi, Shandong and Hubei have shut down more than 90 coal power units amid plans to phase out coal-fired power plants from 2022 to 2023.
Most of the outdated capacity are smaller-scale units, it said.
On the other hand, by the end of 2022, the nation's installed power generation capacity was 2,564.05 million kilowatts, 7.8 percent higher than that at the end of 2021, among which installed thermal power generation capacity was 1,332.39 million kilowatts, up by 2.7 percent, with most of the newly installed capacity being advanced coal-fired units, said the National Bureau of Statistics.
China's power generation rose 0.7 percent year-on-year to 1.35 trillion kilowatt-hours in the first two months, with thermal power generation edging down 2.3 percent year-on-year during the period, the NBS said.
Coal-fired power additions will not be the biggest capacity increases in China in 2023, as solar and wind will also see massive growth in capacity increases this year, said Luo Zuoxian, head of intelligence and research at the Sinopec Economics and Development Research Institute.
Luo said China should work on accelerating the transformation of coal power generation and developing relevant technologies to promote its clean and efficient use so as to ensure energy security and achieve green development.
Newly approved coal-fired projects are mostly large coal-fired generating units that will meet demand brought about by future growth in electricity needs and large-scale access to new energy sources, while focusing on advanced technologies to reduce coal consumption, energy conservation and carbon reduction, he said.
Song Hailiang, chairman of China Energy Engineering Group Co Ltd — who is also a member of the 14th National Committee of the Chinese People's Political Consultative Conference — said coal will nevertheless play a bigger role as an emergency backup power supply rather than a basic support power supply, with the share of new energy in the power generation sector increasing rapidly over the past few years.
Song suggested innovations of relevant design standards and pricing mechanisms for coal power, together with advancing technological research and development.
The government has said it will continue strengthening the basic supporting role of coal and take steps to increase advanced coal production, while working faster to develop new energy systems to support the country's green transition.
The latest Government Work Report, revealed during the two sessions, emphasized that coal has continued to play its role as a primary energy source in China over the past year.
Advanced coal capacity has been added to further support power generation and heating supply enterprises so as to ensure reliable energy supplies, it said.