Attempting to build a future for his craft
By Zhang Yu | China Daily Global | Updated: 2023-03-24 08:34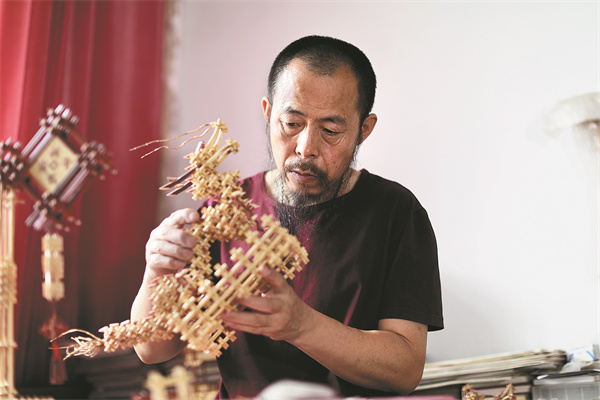 Sorghum stalks are used either as fodder, fertilizer or firewood in China's northern rural areas. But in the eyes of artisans, they are precious raw materials for making delicate handicrafts.
As you walk into the studio of Zhao Runsheng, your eyes are filled with all kinds of objects made with sorghum stalks, some placed side by side on his sofa and a nearby desk, while others hang on the wall.
Leaning against the wall in a corner are bundles of sorghum stalks of three colors — dark red, light red and yellowish white — in differing length and thickness.
Beside them sits the main stage in theater of creativity — a desk, covered by a red cloth upon which lies an uncompleted artwork, together with some stalks, a palette knife and a graver.
On a normal day, Zhao would sit at the desk and conjure up exquisite handicrafts by whittling, weaving, cutting or engraving the stalks.