Tsai losing 'allies' as she is in violation of intl norm: China Daily editorial
chinadaily.com.cn | Updated: 2023-03-26 19:26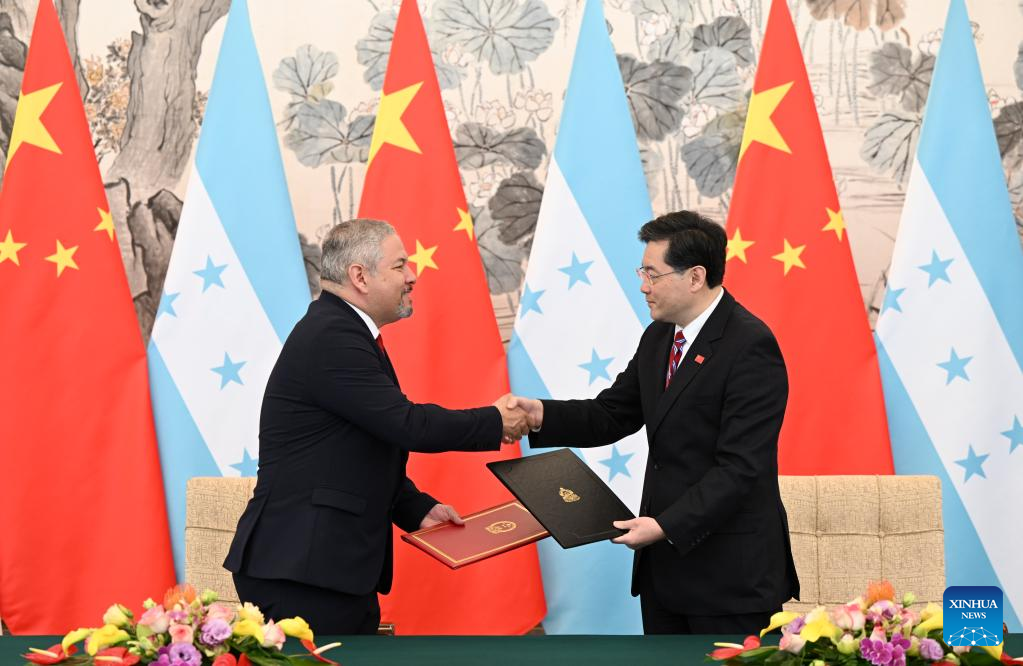 The visit that United States Special Presidential Advisor for the Americas Christopher Dodd paid to Honduras about 10 days ago, which was a last-gasp effort by Washington to try and help Taipei retain its "diplomatic ally" in Latin America, proved to be futile.
In a statement issued on Saturday, the Honduran government declared it was severing "diplomatic relations" with Taipei, which makes the Central American country the ninth "diplomatic ally" the Tsai Ing-wen administration has lost since it took office in 2016, and reduced the number of states that Taipei has "diplomatic relations" with to 13.
State Councilor and Foreign Minister Qin Gang and his Honduran counterpart Eduardo Enrique Reina met in Beijing on Sunday and signed the Joint Communique on the Establishment of Diplomatic Relations Between the People's Republic of China and the Republic of Honduras.
That the Honduran government established diplomatic relations with Beijing just prior to Tsai setting off on a trip to Central America, which includes a transit stay in the United States on each leg, means that she will no doubt try her best to come up with something to save face.
In its statement, the Honduran government said it recognizes that the government of the People's Republic of China is the only legitimate government that represents all of China, and that Taiwan is an inalienable part of Chinese territory. That's something some politicians and media outlets should be reminded of. Not only is that recognized by the United Nations General Assembly Resolution 2758, it is also a prevailing consensus of the international community and a universally recognized norm governing international relations.
Yet whenever Taipei "loses" a "diplomatic ally" to Beijing there are always some who make irresponsible remarks insinuating that Beijing is squeezing the island's "international space". However, their "criticism" smacks of colonial condescension as if they are in the position to dictate these countries' diplomacy.
In fact, it is the great lengths to which the pro-independence Tsai administration has gone to bet the island's future on Washington's risky geopolitical game since taking office that has effectively shrunk the island's "international space". More and more of Taipei's "diplomatic allies" have opted to jump ship after realizing that as they have become disillusioned with Washington's bullying diplomacy.
In that sense, it has been the complicity between Taipei and Washington that has long isolated the "diplomatic allies" of the island from the broad international development initiatives, programs, platforms and mechanisms championed by Beijing.
Taipei treats the limited funding it provides to its "diplomatic allies" as a patronizing gift in exchange for the latter's faithfulness, a diplomatic practice the Tsai authorities have picked up from the US.
The move by Honduras brings it into line with the consensus of the international community and with the UN system. It is only a matter of time before the remaining 13 states follow suit and step onto the right side of history.