Canada should be wide-eyed to being led astray: China Daily editorial
Xinhua | Updated: 2023-03-26 19:43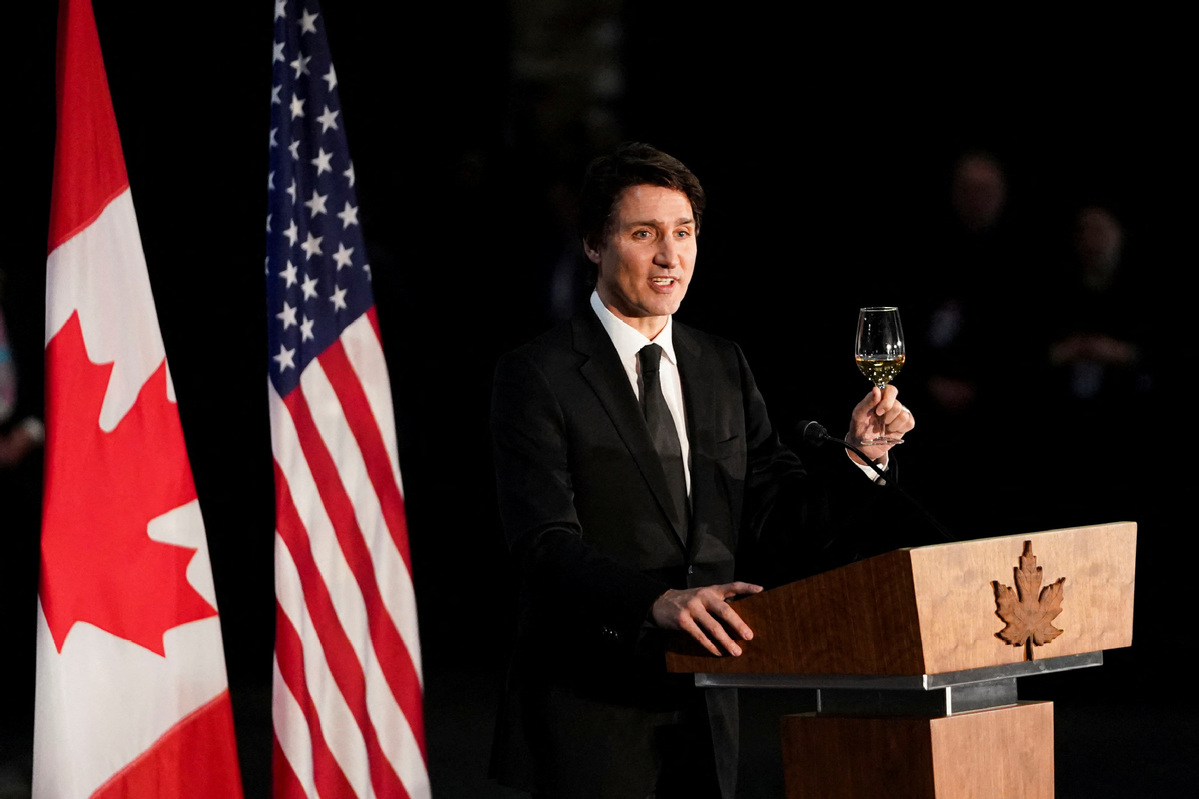 Canadian Prime Minister Justin Trudeau and United States President Joe Biden celebrated the close, "inseparable" relationship between their two countries during the latter's two-day visit to Canada, his first as president.
"We have to stick together," Trudeau said. "We have to continue to face down authoritarian threats, both at home and abroad. We have to continue to defend what is right. This is not the time to compromise on our values."
But it transpired what he was referring to was the need for the US and Canada to work together to address China's growing economic power and alleged "aggression", which he portrayed as an existential threat to both countries.
The two neighbors have "to be wide-eyed and clear about the threat that China poses and wants to pose to the stability of our democracies", he said in an interview with CNN.
Trudeau and Biden certainly need to keep their eyes wide open as they can't seem to see the wood for the trees. As a spokesperson for the Chinese embassy to Canada said on Saturday, China is a constructor of world peace, contributor to global development and defender of international order. It pursues peaceful development and promotes openness and inclusiveness, and cooperation for win-win results.
One has to wonder what alternative reality the Canadian leader is living in if he actually believes what he said.
It is the US that is aggressively trying to curb China's development. And Trudeau is eager that Canada be an active partner in that endeavor.
On Friday, Canada announced that it was planning an investment of up to $250 million to "improve North American competitiveness and supply chain resiliency, help cut pollution, and foster economic and national security"; words that could have come from mouths in Washington.
While it may sound highly principled, he is just fishing for economic benefits from the US and trying to prop up Trudeau's support at home.
Trudeau has been facing growing pressure from those hyping up the unfounded allegation that China "intervened" in the 2021 Canadian election to keep his Liberal Party in power.
Canada has also been left out of the US clique-building efforts targeting China, which has lowered Trudeau's profile on the world stage, reinforcing domestic perceptions of him as a weak leader. To remedy this, he has reportedly proposed a second QUAD comprising Canada, the US, Japan and the Republic of Korea.
Trudeau, it seems, wants to give substance to the suggestion that Canada is the 51st state of its southern neighbor.
Actually, Canada has many interests in common with China. Currying favor with the US and doing Washington's bidding will only further sour Canada's ties with China, its second-largest trade partner, and end up undermining its own interests.