Wenzhou ancient port named China's new archaeological discovery of the year
ezhejiang.gov.cn | Updated: 2023-03-29 15:14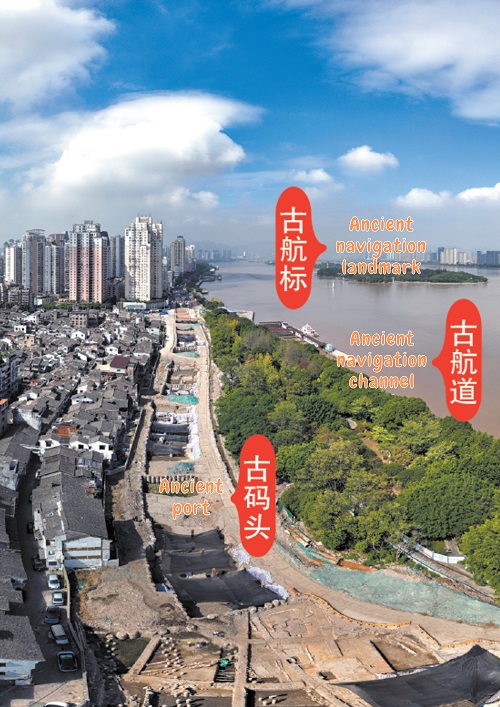 The archaeological ruins of the Shuomen Ancient Port in Wenzhou were named one of China's top 10 new archaeological discoveries of 2022 on March 28, local media outlets reported.
The site, connected by both land and water, was praised by judges as one of the most important archaeological discoveries, as an ancient port serving the Maritime Silk Road.
The port, located in modern-day Lucheng district, was once located outside Shuomen Gate, or the north gate of the ancient city of Wenzhou, and opposite the twin towers of the world-famous ancient navigation landmark, Jiangxin Islet, across the river.
Archaeological work on the site began in October 2021 and ended late last year. An excavation area of approximately 50,000 square meters revealed important remains related to the city and its ports, including eight docks, two sunken ships, and a large amount of stacked porcelain fragments. The cultural relics date from the Northern Song Dynasty (960-1127) to the Republican of China period (1911-49).
The judges said that the Shuomen Ancient Port in Wenzhou involves a complete system of city, port, and navigation landmarks. The docks, sunken ships, and a large amount of commercial goods constituted the core elements of the commercial port, while the various remains provided a complete chain of evidence for Wenzhou's role as an important node city on the Maritime Silk Road.