China's tech firms, govt require more cooperation
By CHENG YU in Boao, Hainan | China Daily | Updated: 2023-03-30 09:13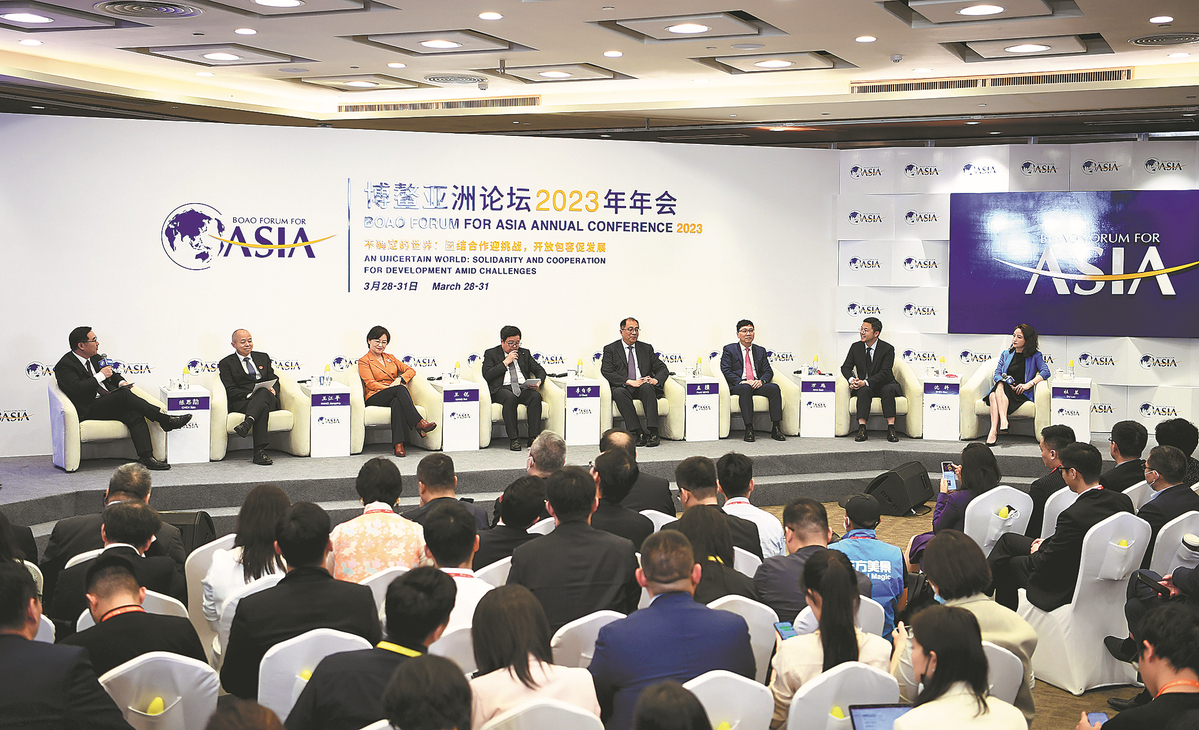 More joint efforts are needed from the Chinese government and tech companies to develop independent large model artificial intelligence platform, promote data flow and boost computing power so as to gain a lead in global tech competition amid the ChatGPT frenzy, said leading tech company executives and industry experts at the ongoing Boao Forum for Asia Annual Conference 2023 on Wednesday.
"China needs to speed up its own large model AI construction. As a private company, we urgently need the government to jointly develop such an independent and controllable base platform that integrates AI software and hardware," said Du Lan, senior vice-president of Chinese tech firm iFlytek.
"Many of the AI and data resources are relatively fragmented. We expect the government to take a lead in building some computing power platforms," she said.
Shen Dou, executive vice-president of Baidu Inc, said that insufficient data flow is also a problem restricting the development of tech companies and it is now relatively hard to drive the free flow of data among companies.
Shen said: "Also, now almost all tech firms are investing in ChatGPT.But what if one day local companies, especially smaller businesses, cannot buy chips?"
Baidu recently launched its own Ernie Bot, similar to ChatGPT.
They made the comments as a large group of Chinese tech companies are jumping on the ChatGPT bandwagon amid opportunities brought by the rapid development of China's digital economy.
A white paper released by the China Academy of Information and Communications Technology, a government think tank, showed that the market scale of China's digital economy reached 50 trillion yuan ($7.2 trillion) last year, up 10 percent year-on-year.
Zhu Min, vice-chairman of the China Center for International Economic Exchanges, said in an interview with China Daily that driving the integration of the digital economy and the manufacturing sector is crucial for China's economic recovery this year.
Amid global economic uncertainties, Zhu said that a 5 percent growth target is "prudent and sustainable".
To help achieve the goal, China needs to stabilize its property market, improve the revival of consumption and greatly boost the quality of manufacturing, he said.
"To improve manufacturing quality, one important thing is to integrate the digital economy, including AI, into the development of the manufacturing sector," Zhu said, adding that the level of digitalization in the sector is far from sufficient.
At the forum on Wednesday, a group of industry experts also called for more global efforts in cooperation in the tech and digital economy sectors.
Carl Fey, a professor at BI Norwegian Business School in Norway, said: "Chinese companies are more vibrant in development strategies and technological environment while the United States is better at applying technologies into more areas. The trend of cooperation in recent years has been curbed. We firmly believe that globalization will give birth to winners."