Hearing-impaired baristas embrace complexity of coffee
XINHUA | Updated: 2023-04-12 09:03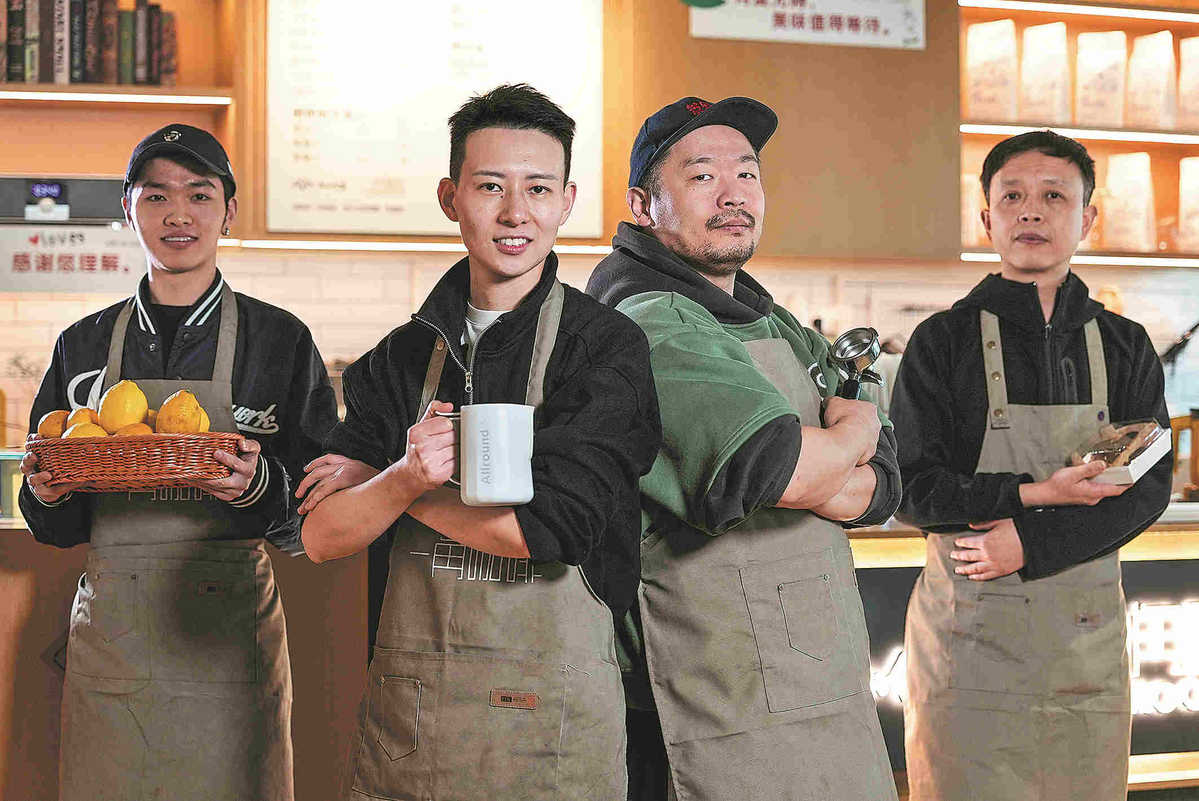 CHONGQING — For many people, the taste of coffee is rather ordinary, while for others it seems sour or bitter. But for hearing-impaired barista Zeng Zheng and his peers in Chongqing municipality, coffee presents a rich and pleasing variety of taste experiences.
There is even some variety in the different forms of sweetness on offer, according to Zeng, with some hitting the palate from the start, while others initially seem bitter but finally resolve into sweetness.
To some extent, this reflects Zeng's life experience, with the bitterness of losing his hearing giving way to something more positive, thanks to his new career. Together with several hearing-impaired colleagues, he works at an inclusive coffee shop named Yijiao Cafe, located at Songshan General Hospital.
It is one of two branches with the same name, which translates as One Corner Cafe. The name was inspired by a famous children's book called The Missing Piece by Shel Silverstein.
The story centers on a circular creature that is missing a wedge-shaped piece of itself. It starts out on an adventure searching for the missing piece, and is eventually successful. However, having filled the gap, it realizes it can no longer enjoy some of its favorite activities, such as singing. At the end of the story, it gently puts the piece down and continues happily on its way.
The moral of the story is that one can find happiness by accepting one's personal quirks and imperfections.
Zhu Jiayun, head of a charity for people with disabilities in Chongqing's Yuzhong district, founded the brand in May 2022, hiring several hearing-impaired people to work as baristas.
"Actually, everyone has a missing corner," said Zhu. "Some people may feel they are lacking in love, and some people may have a career goal that is hard to attain. However, our life should not be about pursuing perfection, but about accepting our own imperfections. You should enjoy your life."
In Zhu's cafe, the hearing-impaired baristas pass a writing pad to the customers who then write down their orders. The more experienced customers often use simple sign language to say thank you.
One thing that binds the customers and staff together is the intense aroma of coffee in the place, complete with the array of additional flavors.
Standing behind the counter during a quiet moment, Zeng takes the time to savor a cup of coffee brewed by one of his colleagues. He jots down his impressions in a little notebook, then shares his findings with others using his phone.
"Lemon, citrus and a little bit of white champaca. Have you tasted them yet?" he typed.
The 40-year-old goes to various places in the city searching for different tastes and fragrances, with flower and fruit markets his favorite spots.
"Previously, I had neglected fragrances and made do with a simple existence. But coffee has changed my life," he said.
Zeng often invites his hearing-impaired peers to drink pour-over coffee at his house. The guests include Zheng Yi, 52, who has also fallen in love with coffee thanks to his new career.
In September 2022, Yijiao launched a free-of-charge barista training program for the hearing-impaired. The program attracted Zeng, Zheng and others who used to scrape by with various low-skilled jobs.
Four out of the 15 trainees were then employed by Zhu after a stringent entry examination. In the same month, the first Yijiao Cafe outlet, located in Yuzhong district, opened its doors.
In February this year, the second outlet opened in Songshan General Hospital. In just a month, the new outlet sold more than 3,700 cups of coffee. For every 10 yuan ($1.45) earned by the store, 0.1 yuan is donated to public welfare funds, said Zhu.
The design team of the Yijiao Cafe brand is also composed of hearing-impaired staff.
"Over the past few years, the career options for hearing-impaired people have no longer been restricted to factory work. Many of them are now lawyers, designers, teachers and tour guides," said team member Wang Yuan.
In the city's business incubation base for those with developmental disabilities, where the team is located, there are more than a dozen startups founded by disabled people. They operate in various fields, such as floriculture and e-commerce livestreaming.
With his first two outlets now thriving, Zhu plans to open three more coffee shops this year.
"I hope that Yijiao Cafe is more than just a coffee shop, and can also serve as a model space, where the able-bodied and those with disabilities can make coffee, drink coffee, or live and work together," Zhu said.