Cyber, data security top focus to safeguard infra, supply chains
By MA SI | CHINA DAILY | Updated: 2023-04-24 07:01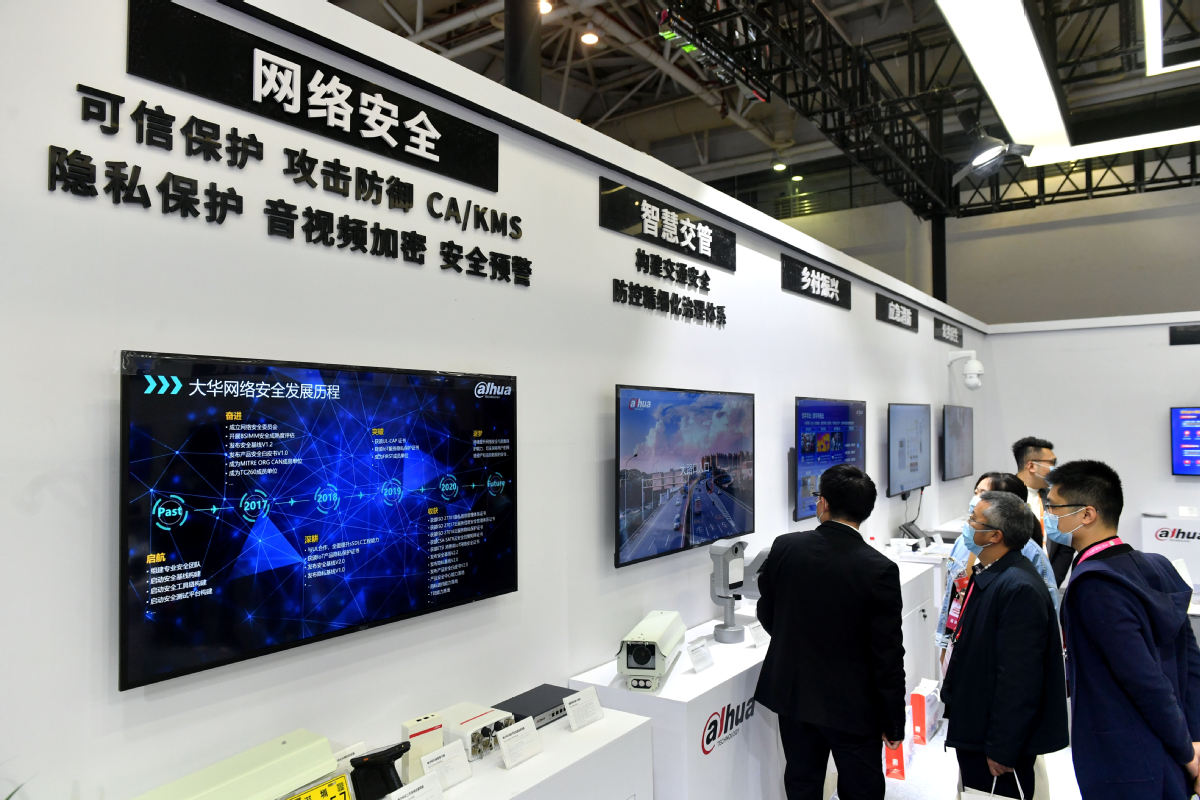 Moves to push industry development, tech as SMEs at greater risk of attacks
Safeguarding data security is of great importance to the healthy development of China's digital economy and more efforts are needed to combat rising cyberattack risks that target critical information infrastructure and supply chains, industry experts and company executives said.
Their remarks came as China aims to increase the market size of its data security industry to over 150 billion yuan ($21.8 billion) by 2025, with a compound annual growth rate of more than 30 percent, according to a government guideline.
Du Guangda, deputy head of the Cybersecurity Administration at the Ministry of Industry and Information Technology, the country's top industry regulator, said at a recent forum that data security has become an important part of national security and more efforts are needed to bolster the ability to fight against data risks.
In January, 16 ministries — including the Ministry of Industry and Information Technology — unveiled a guideline to promote the development of the data security industry, which is designed to support the orderly opening and in-depth utilization of data.
Specifically, the guideline underlines aspects including developing core technology products, expanding data security services, constructing a system of industry standards, and strengthening international exchanges and cooperation.
The move is the latest push by China to better activate the value of data elements and inject fresh impetus into economic growth.
By 2025, China also aims to build three to five national data security industrial parks and 10 pioneering zones for the innovation and application of data security technologies, the guideline said.
Zhou Hongyi, founder of cybersecurity company 360 Security Group, said as a wide range of industries embrace digitalization, the digital economy is becoming a new engine to drive the high-quality development of China's economic growth.
But faster digital transformation also comes with more digital security risks, Zhou said, adding that data security companies should shift from being product-centric to service-centric and it is of great importance to build security systems that can help clients "see "data security risks and focus on offering services to them.
As digital transformation accelerates, small and medium Chinese enterprises are facing increasing data security risks, according to a report jointly released by 360 Dipper Research, the company's think tank, and organizations including the China Association of Small and Medium Enterprises.
More than 85 percent of small, medium-sized and micro enterprises surveyed in the report have encountered digital security problems and have suffered more cyberattacks than before. About 77 percent said they could not effectively deal with digital security risks.
"Many cyberattacks against large enterprises and critical infrastructure are realized by first attacking small, medium- and micro-sized enterprises along the supply chains. But small and medium-sized enterprises generally lack the capital, talent and technologies to increase their digital security capabilities," Zhou said.
To solve the problem, the senior executive suggested establishing a mechanism to help SMEs cope with cybersecurity challenges, which will help China build a shield for digital security and safeguard the digital economy.
Wu Hequan, an academician at the Chinese Academy of Engineering, said critical information infrastructure has become a major target of cyberattacks and cyber threats on supply chains are rising.
Amid rising risks, countries worldwide are ramping up regulatory measures to better govern and protect data assets.
Wang Xiujun, president of the Cyber Security Association of China, said China has made progress in beefing up its legal framework for cybersecurity in the past five years. Meanwhile, new internet technologies, applications and business formats are continuously popping up and raising fresh challenges.
Against such a background, China's cybersecurity-related spending on hardware, software and services is forecast to reach $21.46 billion in 2025 from $10.26 billion in 2021, according to market research company International Data Corp.