First panoramic images of Mars released
By ZHAO LEI and ZHU LIXIN in Hefei | chinadaily.com.cn | Updated: 2023-04-24 22:59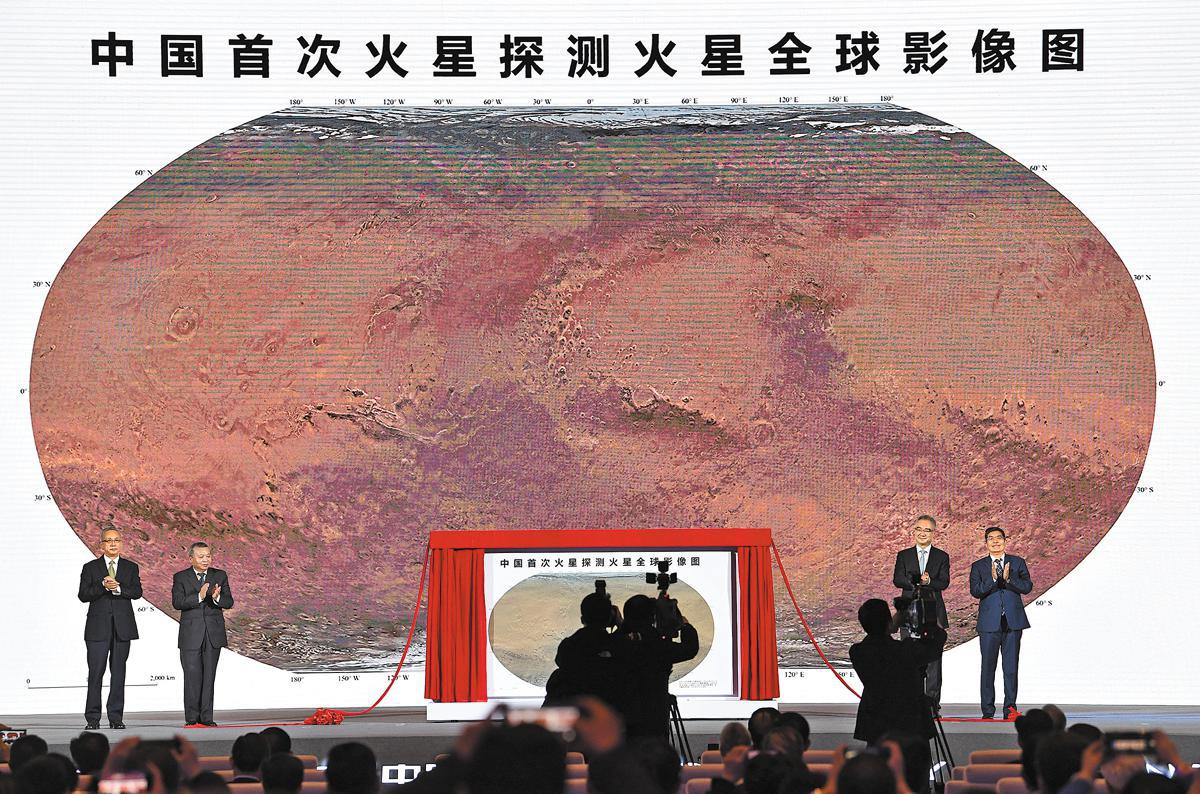 China published on Monday the first global panoramic images of Mars taken by the country's Tianwen 1 mission.
The color images include the Robinson projection, Mercator projection, azimuthal projection and orthographic projection of the eastern and western hemispheres of Mars, with a spatial resolution of 76 meters.
The images were jointly released by the China National Space Administration and the Chinese Academy of Sciences at a ceremony in Hefei, capital of Anhui province, marking the launch of the Space Day of China activities this year.
China celebrates April 24 as its Space Day every year in honor of the first Chinese satellite launched on the date in 1970.
The panoramas were created by processing 14,757 images taken by the mid-definition camera mounted on the Tianwen 1's Martian orbiter during its 284 remote-sensing maneuvers from November 2021 to July 2022.
They are expected to provide better base maps to scientists and engineers around the world to facilitate research and planning for future expeditions to Mars, the space administration said.
Zhang Rongqiao, chief designer of the Tianwen 1 mission, said that in order to produce the panoramas, the orbiter had to fly around Mars with a very high level of orbital accuracy.
"The panoramas were created by piecing together many separate images, so we must avoid gaps or unnecessary overlaps. That means we had to ensure excellent performance in the orbiter's trajectory control," he said. "In addition, we tried many methods to figure out how to guarantee the correct colors on the images."
Zhang pointed out that the panoramas have put an end to China's dependence on foreign base maps of Mars, and they will help the international science community a lot in its research on Mars. He added that the mission's entire scientific data will be available to scientists, as well as members of the public, around the world.
Named after an ancient Chinese poem, Tianwen 1 was launched on July 23, 2020, and it became the country's first independent interplanetary exploration endeavor.
The spacecraft traveled about 475 million kilometers and carried out several trajectory maneuvers before entering the Martian orbit in February 2021.
The Mars rover, Zhurong, named after the god of fire in ancient Chinese legend, touched down on the planet in May 2021 and then began to travel across the Martian surface for scientific tasks.
Zhurong and Tianwen 1's orbiter, which is traveling around Mars to relay signals for the rover and also conducting other scientific operations, have transmitted around 1,800 gigabytes of raw data back to Earth. Zhurong has moved 1,921 meters on Mars and is now in dormancy.
After studying the images and data from Tianwen 1, Chinese scientists have spotted and identified many geological bodies surrounding its landing site and have named 22 of them after Chinese villages that are steeped in historical and cultural heritage.
In another development, China has gifted lunar samples retrieved by the Chang'e 5 mission to Russia and France to boost their lunar research, according to the national space administration.
On Monday, the administration announced that 1.5 grams of lunar samples were presented to Russia during President Vladimir Putin's visit to China in February 2022. In return, Russia gave China a reciprocal amount from the 1970 Soviet Luna 16 mission during President Xi Jinping's visit to Moscow this March.
During French President Emmanuel Macron's visit to China earlier this month, 1.5 grams of lunar samples were gifted to the European nation, which has cooperated with China on space exploration for several decades.