World's biggest ship for gas transport unveiled
By WANG YING in Shanghai | China Daily | Updated: 2023-04-26 09:21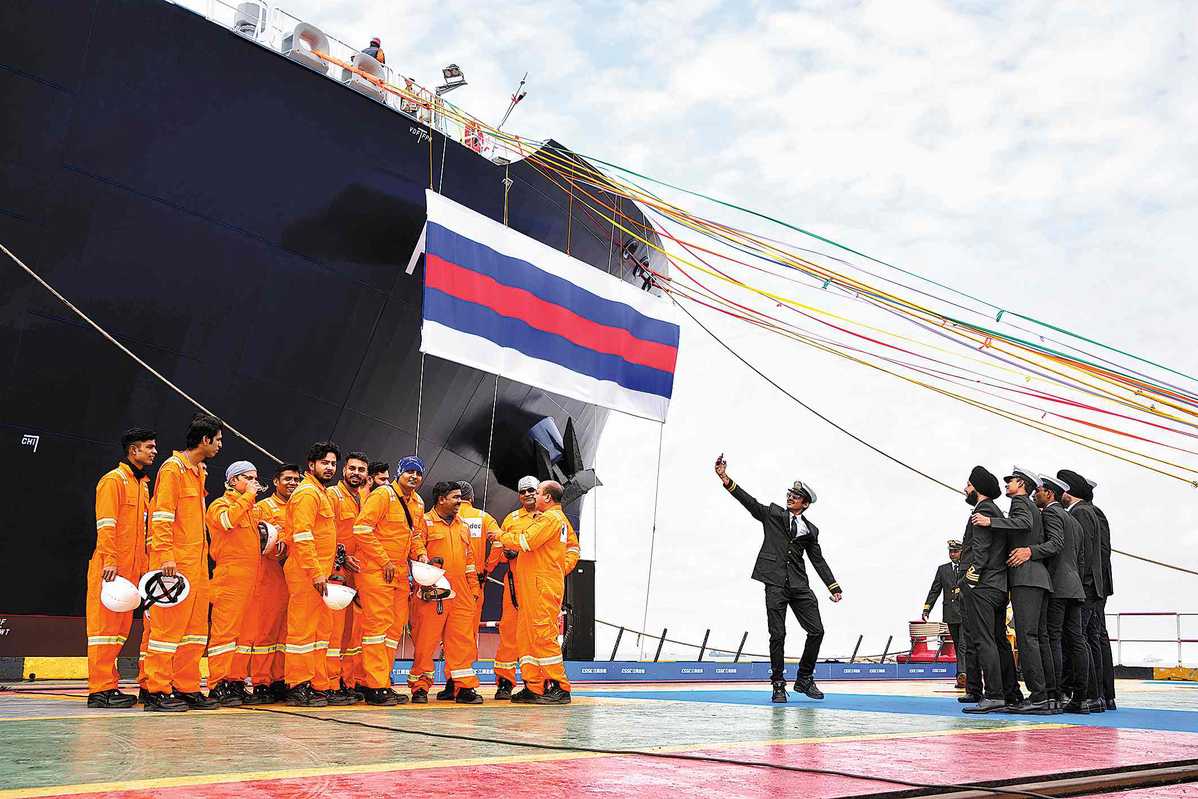 The world's biggest Very Large Gas Carrier was unveiled on Tuesday in Shanghai, a day ahead of its delivery to Singaporean owner Petredec Global by Chinese manufacturer Jiangnan Shipyard.
The vessel, capable of carrying up to 93,000 cubic meters of liquefied gas, complies with the latest regulations and requirements on emissions in light of eco-friendly concerns, according to Jiangnan Shipyard, subsidiary of the world's largest shipbuilder China State Shipbuilding Corp.
Named Harzand, the vessel is 230 meters long and 36.6 meters wide. It is the first of the fourth-generation VLGC-type ship independently developed and designed by Jiangnan Shipyard. In addition, it is the world's largest dual-fuel liquefied petroleum gas powered VLGC, according to Dong Sanguo, chief designer for the VLGC.
"The construction of this vessel proves that we are taking the lead in building VLGC ships, and that is expected to help us win more orders from customers," said Wei Xiaoyong, chief builder of the VLGC.
Since receiving its very-first VLGC ship order in 2012, Jiangnan Shipyard has received orders for 52 such vessels to date, including 14 of the 93,000 cubic meter ones.
Holding a 24.7-percent share of all VLGC orders worldwide, the Shanghai-based shipyard is leading the global VLGC market that was previously dominated for a long time by shipbuilding companies in Japan and South Korea, according to Wei.
"Especially in the past few years, as a latecomer Jiangnan Shipyard has caught up to its peers, and become a leader in building VLGC ships," Wei said.
The VLGC vessel due for delivery on Wednesday is the 17th ship to be delivered by Jiangnan Shipyard to Petredec, with five more on the way, Philip Harwood, global fleet director of Petredec Global, revealed at the naming ceremony.
"In the past, modest domestic shipbuilders always seemed to accept the superiority of foreign engineering, manufacturing and managerial prowess, but Jiangnan refused to do so," Hu Keyi, chief of corporate technology at Jiangnan Shipyard, said during the ceremony.