Giant panda Ya Ya begins journey home from US
By LI HONGYANG in Beijing and MINLU ZHANG in New York | chinadaily.com.cn | Updated: 2023-04-27 05:21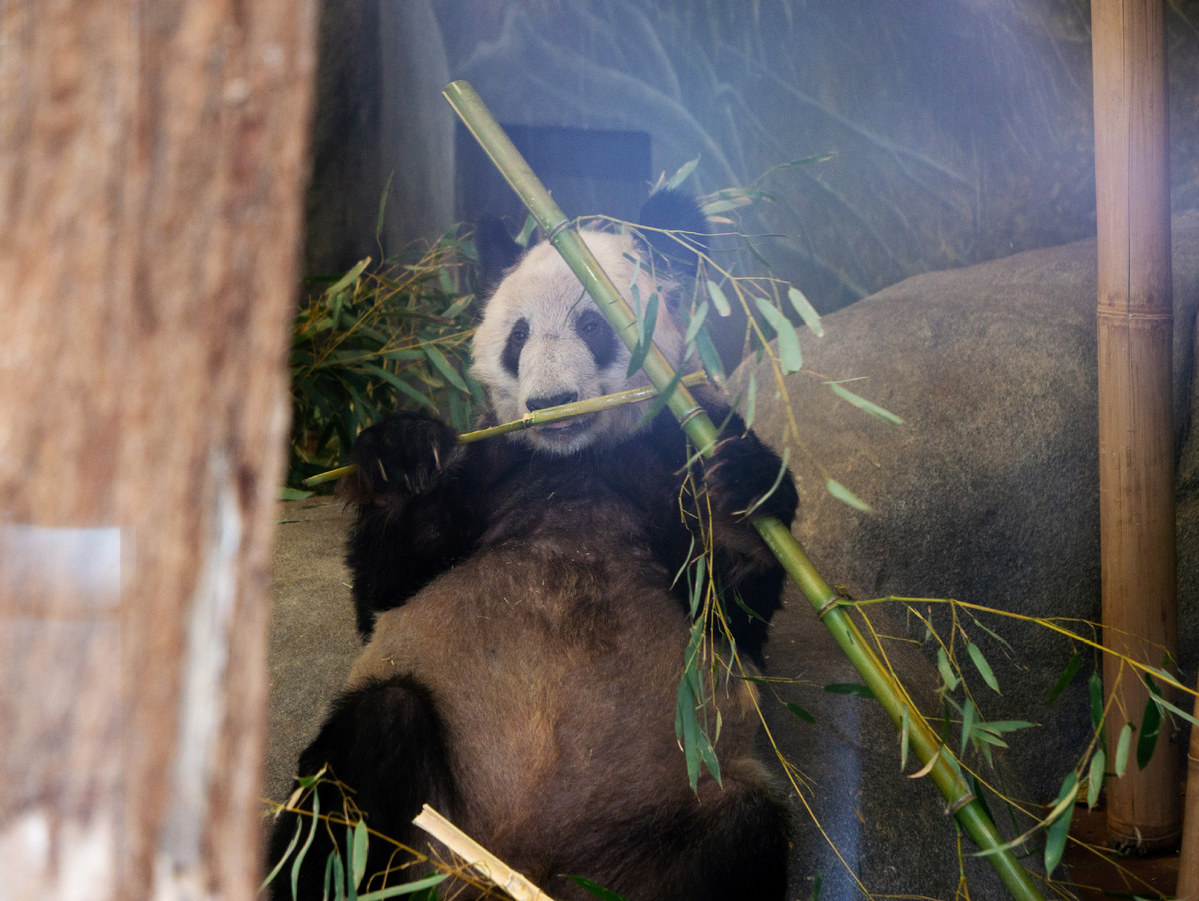 After spending more than two decades at the Memphis Zoo, giant panda Ya Ya left Tennessee on Wednesday to embark on her journey home to China.
In a statement, the Memphis Zoo confirmed that Ya Ya "began her journey back to China" and "is accompanied by Memphis Zoo's senior veterinarian and Chief Zoological Officer".
"After 20 years, Ya Ya has become like family, and she will be sorely missed by the Memphis Zoo staff and the local community. We wish her the best of luck in her new home," the zoo said in the statement Wednesday.
Ya Ya was scheduled to take FedEx Flight FX9759, leaving Memphis International Airport at noon on Wednesday, with landing scheduled for Thursday afternoon at Shanghai Pudong International Airport after a 16-hour flight, according to Beijing Youth Daily.
In December, the Memphis Zoo announced that it would return Ya Ya, who arrived in the US in 2003.
Le Le, a male giant panda who arrived with Ya Ya in 2003, died on Feb 3 at 25 years old. The Memphis Zoo said previously a preliminary report on the death of Le Le indicated he died of heart disease.
The initial agreement for Ya Ya's stay in the US was for 10 years. It was extended for another decade in 2013.
The zoo hosted a farewell party for the 23-year-old female panda on April 8, and hundreds of people attended the event, Xinhua reported.
China has prepared to welcome back Ya Ya, and experts from the Beijing Zoo arrived in the US in March to learn about her habits and feeding situation from zoo staff members.
Ya Ya is eating biscuits provided by China while waiting for the return so that her digestive system can adapt. At the same time, the breeders have trained her to adapt to the environment in the transport cage for a smooth journey, Xinhua reported.
In January, Chinese netizens showed their concern for Ya Ya, saying she looked skinny.
In response, the Chinese Association of Zoological Gardens said in an announcement that Ya Ya had been well cared for since being lent to the Memphis Zoo, and no signs of neglect were found, based on videos of the panda, monthly health reports and annual physical examinations.
In 2006, Ya Ya began to lightly shed fur, and the situation worsened in 2014. Experts from the Memphis Zoo and China adopted many treatment options but didn't get good results.