Make a splash at the Lijiang River Source Grand Canyon
China Daily | Updated: 2023-04-29 09:35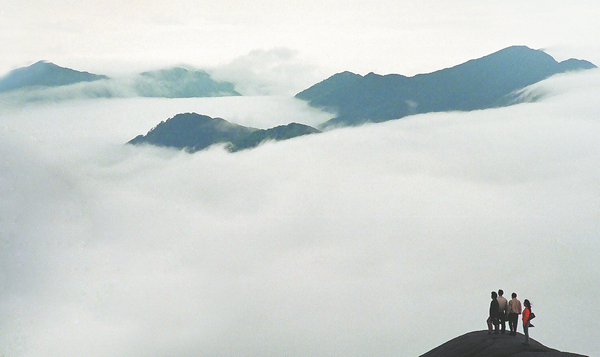 Nestled at the foot of the Mao'er mountain, the Lijiang River Source Grand Canyon is flanked by green hills. The source of the river, it's a renowned tourist attraction as well.
The water forms a series of cascades 6 kilometers long as it plunges from a height of 2,000 meters above sea level to 500 m. In the lush primeval forest, a combination of white water, rocks, mountain streams, and ravines make for a magnificent and graceful landscape, known as "the tenmile canyon". It culminates in a deep lake set in a girdle of bamboo groves where one can enjoy recreational activities such as diving and underwater photography.
The giant salamander, which wails like a baby, is the largest and rarest amphibian in the world. In Guilin, one gets the chance to take a close look at the 35-kilogram giant salamander, which people prefer to call "infant fish". The place also presents a daily stunt show at a high altitude where performers ride bicycles on a tightrope.
Whitewater rafting is another recreation worth a try. The place offers you a river rapids ride along a 2-km course with over 80 meters of drop. Enough to remind you that romance and adventure can go hand in hand.
The nearby Go-cart Theme Park boasts of the first international go-cart track in Guilin. Surrounded by a bamboo grove, this 1-km track has 180-degree hairpin turns, making it a perfect place for a "fast and furious" drive at 60 km/h. As a wholesome sport that can sharpen one's brains and eyes and make them more agile, karting builds courage.
Different from the Mao'er mountain scenic area, which is situated right within the national nature reserve, the Grand Canyon at the foot of the mountain is accessible to foreigners and definitely worth a visit.