Washington should demonstrate genuine sincerity to stabilize ties with Beijing
Xinhua | Updated: 2023-05-14 07:31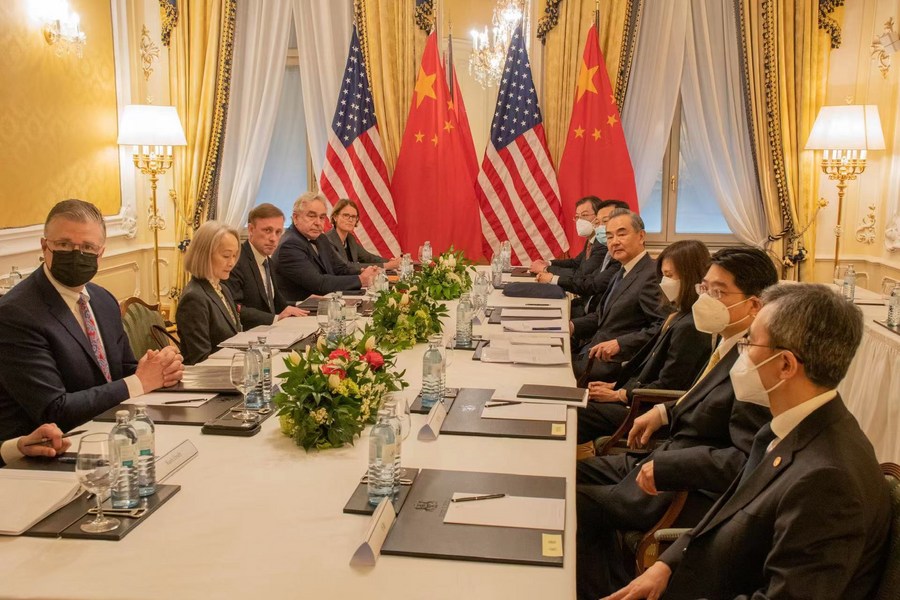 BEIJING -- On Wednesday, Wang Yi, director of the Office of the Foreign Affairs Commission of the Communist Party of China Central Committee, met with US National Security Advisor Jake Sullivan in the Austrian capital of Vienna.
Their discussions were candid, in-depth, substantive and constructive, and have been the highest-level encounter between the two sides in recent months.
Communication is necessary when China-US relations are growing increasingly precarious, particularly after the United States shot down a stray Chinese weather balloon earlier this year. Prior to the Vienna meeting, a string of senior US officials like Secretary of State Antony Blinken and Secretary of the Treasury Janet Yellen have expressed their desire to either visit China or to keep lines of communication open with Beijing. And according to some media reports, Washington is complaining that their willingness to talk was met with China's cold shoulders.
To set the record straight, China and the United States have maintained contact. In addition to Wang Yi's meeting with Sullivan, Chinese State Councilor and Foreign Minister Qin Gang and Commerce Minister Wang Wentao have lately met respectively in Beijing with US Ambassador to China Nicholas Burns.
Yet talk for the sake of talk will do little to remove the obstacles in the path of a sound relationship, which entails Washington's concrete steps to demonstrate complete sincerity, and deliver on its promises.
In recent years, Washington's duplicitous practice of double-dealing in key areas concerning China's core interests has been draining mutual trust.
Take the Taiwan question, which is at the very core of China's core interests, and the first red line that must not be crossed in China-US relations. On various occasions, US President Joe Biden and many other senior officials of his administration have publicly pledged to stay committed to the one-China policy and not to support "the Taiwan independence."
But Washington has been bent on stirring up tensions across the Taiwan Straits, not least by sending warships and fighter jets to the region, boosting arms sales to the Chinese island and, most recently, arranging the so-called "transit" of Taiwan leader Tsai Ing-wen through the United States. Those deliberate provocations are eating into the political foundation of the China-US relationship, and turning the region into a dangerous flashpoint.
How Washington deals with China's rise also attests to its two-faced ploy. The United States, on the one hand, claims that it is not seeking to decouple from China and has no intention of obstructing China's development, while on the other it squeezed its tech ties with China by imposing many rounds of chip bans on Chinese firms under the pretext of national security, rushed to encircle China in the Asia-Pacific by mustering such Cold-War style groupings as the AUKUS and the Quad alliances, and coerced regional countries into picking sides.
Washington's duplicity stems largely from the mounting anxieties over China's rise among many of the decision-makers in the United States. Burning in their self-centered paranoia, they stubbornly believe that China must be brought down in order to keep America ahead. They call it "competition."
History is the best textbook. The past 50 years of exchanges between China and the United States have testified that the duo gain from cooperation and lose from confrontation. And the world as a whole has largely profited from sound and stable China-US ties.
And in this age of hyper-interdependence, a steady China-US relationship is even more imperative for the world's collective fight against pandemics and climate change.
China-US relations should not be a zero-sum game where one side out-competes or thrives at the expense of the other, Chinese President Xi Jinping told Biden in their meeting in Indonesian island of Bali late last year. Xi also urged the two countries to have a sense of responsibility for history, for the world and for the people, explore the right way to get along with each other in the new era, and put the relationship on the right track.
Beijing, as always, welcomes exchanges with Washington and has no intention of breaking down what is broadly recognized as the world's most important bilateral relationship.
But if the United States is obsessive about playing its Janus-faced game, then no means of communication can call a halt to the downward spiral of its relations with China.