Prehistoric 'sea monster' fossils dug up in Himalayas
China Daily | Updated: 2023-05-24 09:04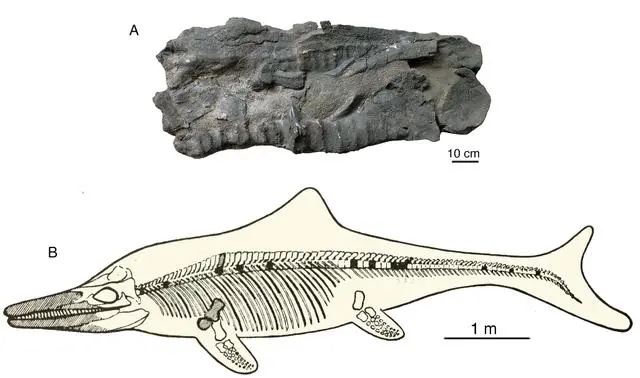 LHASA — Chinese scientists have discovered fossils of the Himalayasaurus, a prehistoric deep-sea predator, approximately 4,000 meters above sea level in the Tibet autonomous region.
Two Himalayasaurus fossil samples were found near Gangkar town in Dingri county, about 100 kilometers from the mountaineering base camp of Mount Qomolangma, also known as Mount Everest in the West, the world's highest peak.
This latest discovery will further understanding of the largest known prehistoric animal found on the Qinghai-Tibet Plateau, and will contribute to the study of the evolution of life in the region during the Mesozoic Era (252-66 million years ago).
The Himalayasaurus is a reptile that dominated the sea 210 million years ago, before dinosaurs ruled on land. With a long snout, sharp teeth and a length of more than 10 meters, these giant reptiles were fast swimmers and mainly fed on fish and other invertebrates.
Chinese researchers first found fossils of the species in the 1960s during an investigation in the Qomolangma area, which rose from the deep sea due to a collision of tectonic plates.
The most recent discovery was made earlier this year by an expedition team consisting of scientists from the Institute of Vertebrate Paleontology and Paleoanthropology of the Chinese Academy of Sciences.
The fossils contain well-preserved vertebrae and ribs, which were rare in previous finds, said Wang Wei, an associate research fellow at the institute.
The cross-section of a human vertebra is about the size of a coin, while the cross-sections of the recently discovered vertebrae are about the size of a baseball cap, Wang said.
"How did the Himalayasaurus get so big? What kind of habits did it have? Which part of the globe was it most closely related to during its time? These questions will be the focuses of our research," Wang said.
"The Qinghai-Tibet Plateau is like a huge laboratory for the observation of the evolution of life, and our goal is to reconstruct as completely as possible the history of life on the plateau over the past 200 million years," said Deng Tao, head of the institute.
In the last decade, a series of new discoveries on the plateau has been helping paleontologists comprehensively examine the important role the plateau played in influencing the evolution of biodiversity in the Cenozoic Era (66 million years ago until today).
Xinhua