International grape, wine expo opens
By ZHU BAOXIA, YAN DONGJIE and HU DONGMEI in Yinchuan | China Daily | Updated: 2023-06-10 06:54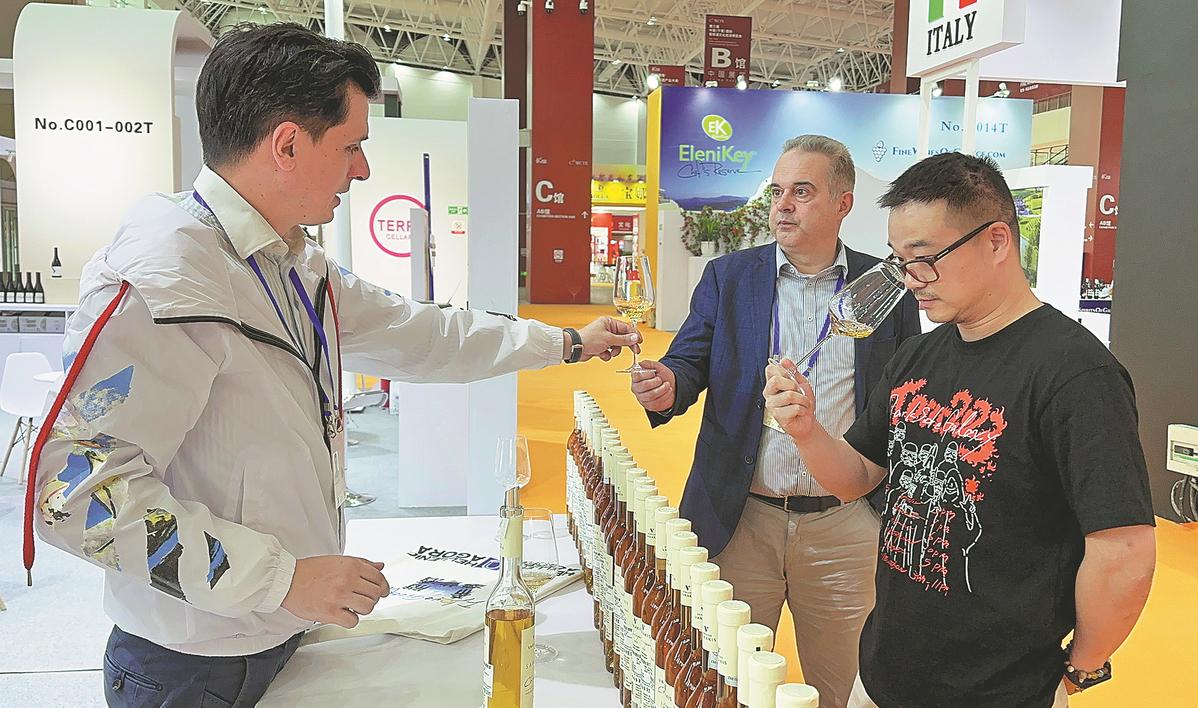 Experts, officials from around world gather in Ningxia for industry exchange
Wine experts, officials and delegates from wine-producing regions around the world gathered in Yinchuan, Ningxia Hui autonomous region, on Friday, for the 2023 International Conference on Grape and Wine Industries.
The event, welcoming participants from over 40 countries including delegates from France, Spain, Germany, Chile and other major wine-producing regions, is expected to facilitate the exchange of best practices in wine production and development, thus helping to beef up innovation and growth of China's domestic wine industry.
The conference is the first of its kind hosted in China — a fast-growing newcomer in the world of wine — and is co-hosted by the Ministry of Agriculture and Rural Affairs, the Ministry of Industry and Information Technology, the Ningxia government and the International Organisation of Vine and Wine.
Panel discussions will focus on nature, innovation, culture and ecology using the acronym "NICE".
Vice-Premier Liu Guozhong attended the opening ceremony, and said he hopes the grape and wine industry can be a medium to promote cultural exchanges between countries, promote the healthy development of trade, strengthen technical exchanges and promote extensive people-to-people contacts.
"We hope that through exchanges and cooperation in all aspects, we can benefit people everywhere and provide long-term sustainable development for the grape and wine industry and cultural tourism industries," Liu said.
The event will deepen exchanges and collaboration among wine-producing regions, and boost integrated development of the wine, culture and tourism industries, said Liang Yanshun, Party secretary of Ningxia.
"With wine as the common platform, we invite friends from all over the world … Welcome to Ningxia and to communicate more about the wine industry and the culture," Liang said.
The conference opened in conjunction with the third China (Ningxia) International Wine Culture and Tourism Expo — the first national exhibition focusing on the wine industry in China — and was hosted by the Ministry of Agriculture and Rural Affairs, the Ministry of Culture and Tourism, the Chinese People's Association for Friendship with Foreign Countries and the Ningxia government.
When Xi Jinping, general secretary of the Communist Party of China Central Committee, visited Ningxia in 2016 and 2020, he stressed that "the development of grape cultivation not only develops the industry, but also improves the ecology, and turns waste into treasure, which is worth encouraging" and "with the continuous improvement of people's living standards, the wine industry has great prospects".
Parts of the Helan Mountains in Ningxia are recognized as one of the most suitable places in the world for growing wine grapes and producing high-end wines. Ningxia's wine grape planting area accounts for about 35 percent of China's total planting area, and it has 228 winery and planting enterprises with an annual output of 138 million bottles. More than 60 wineries have won thousands of awards in international competitions, and exported their products to more than 40 countries and regions.
Anton Vavulkov, a representative of Caves & Domaines de France, a French wine producer and dealer, said he has witnessed the wine industry grow in China, and a greater number of wineries are producing wine with great quality.
"It's my first time to Ningxia, and in addition to introducing the wines from France to more people from around the world, I'm very happy that we get to communicate with Chinese wineries, too," Vavulkov said.
Tocan Radu, a representative of Maurt, a winery from Moldova, said that he traveled 25 hours for this international wine conference and expo, and expects to introduce wines from Moldova to the Chinese market as well.
"We would like to learn more about Chinese customers' flavors, and produce the wines that they like, as we see huge potential in this market," he said, adding that although Maurt specializes in sparkling wines, it can adjust to local Chinese tastes and introduce various kinds of red and white wines.