Experts share views on China's economy
China Daily | Updated: 2023-07-31 07:05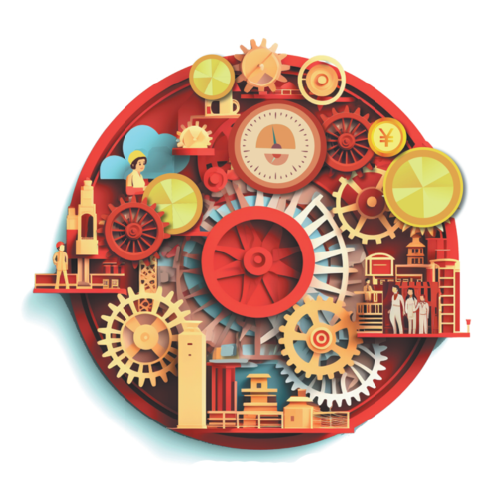 Editor's note: China's economy picked up in the first six months of 2023, mainly driven by the secondary and tertiary industries, which include the manufacturing services sectors. Powered by favorable consumption policies and the release of service consumption potential, consumption is expected to maintain its moderate recovery. Four experts share their views on the issue with China Daily.
Boosting exports challenging, not impossible
By Su Qingyi
The share of China's foreign trade in the global market increased even during the COVID-19 pandemic thanks to its successful prevention and control policy and rapid production recovery. However, the outlook for China's foreign trade has weakened since the second half of 2022. In the first half of this year, for instance, China's exports declined by 3.2 percent year-on-year in US dollar terms, putting pressure on the authorities to take measures to stabilize exports.
The difficulties China faces are evident in the decline of shares of some key products exported to some countries. The United States, for instance, adopted a "near-shore outsourcing" and "ally-shore outsourcing "policy during the Donald Trump administration which the Joe Biden administration has been following. Amid the ongoing China-US trade friction, the US has not only imposed trade sanctions on Chinese entities and sought to attract manufacturing back to the country, but also implemented policies to shift its trade dependence from China to allies and neighbors.
According to US Department of Commerce data, US imports of goods from China declined from 21.1 percent in 2016 to 15.04 percent in January 2023. In contrast, imports from Canada, Mexico, the European Union, and ASEAN member states substantially increased during the same period.
The shares of export orders for leather goods, textile raw materials and finished products, footwear, wigs, furniture and toys to the US have dropped significantly, with that for leather goods and bags declining by 29.13 percentage points over the past five years.
Efforts to stabilize China's exports face challenges on both the demand and supply sides. On the demand side, a main challenge is how to deal with transfer of orders. Chinese enterprises have been receiving fewer orders because some buyers are reducing their orders to mitigate geopolitical risks and some competing countries have resumed production.
On the supply side, the challenges stem from domestic production. Some enterprises face supply chain disruptions due to Western sanctions and/or shortage of intermediate goods caused by the Russia-Ukraine conflict, which in turn has affected their production. So they need to find new suppliers or independently develop intermediate goods.
Stabilizing exports requires several measures. First, China should expand into new markets, manufacture new products and adopt a new approach to global trade. It should intensify efforts to retain its shares in traditional markets such as the EU, the US, Japan, the Republic of Korea and Australia while exploring emerging markets like ASEAN member states.
Also, it could consider organizing a series of exhibitions to promote buyer-to-buyer relations between Chinese and foreign enterprises, and facilitate travel for businesspeople by simplifying the visa application process, offering immigration facilitation services including visa issuance and extension, and residence permits, and take measures to attract more foreign buyers. And while promoting the manufacturing of "new products" such as energy vehicles, it should focus on producing goods such as lithium batteries and solar panels in larger quantities to further increase their export volumes.
In the first quarter of 2023, the exports of "new products" such as electric vehicles, lithium batteries and solar panels to the top five markets (the EU, the US, ASEAN, the ROK and the UK) increased by 88.7,88.1, 103.5, 121.7, and 118.2 percent, respectively, accounting for 71.6 percent of the total exports' value of these products.
Moreover, given the growing demand for talents in cross-border livestreaming and cross-border e-commerce operations due to the increasing use of cross-border livestreaming by many foreign enterprises to obtain orders and the digitalization of foreign trade, China should intensify the cultivation of talents in cross-border digital marketing to tap the potential of this emerging means for expanding exports.
Second, there is a need to localize the industry chains and strengthen supply chain security in order to ensure undisrupted production. For that, however, the authorities have to encourage enterprises to replace imported intermediate goods with domestically produced ones or find alternative sources in other countries. Specifically, industries such as aviation engine, gas turbine, large aircraft building, and semiconductor manufacturing are, to varying degrees, dependent on imported high-end products because of lack of expertise in some advanced technologies, bottlenecks in material supply chains or inadequate industrial support or all three reasons.
Third, China should promote the use of the renminbi to settle foreign trade deals and increase investment in projects in foreign countries, in order to boost imports and exports. It should, for example, continue to promote renminbi swaps, a crucial step in the internationalization of the Chinese currency, and encourage the use of the renminbi to settle cross-border e-commerce deals too, while promoting cross-border mobile payments and allowing domestic third-party payment settlement platforms to provide overseas mobile payment services.
By implementing these policies, the authorities can drastically reduce China's dependence on imported goods and services, maintain the stability of the supply chains, promote the internationalization of the renminbi, and contribute to the sustainable development of foreign trade and economic growth.
The author is a researcher at the Institute of World Economics and Politics, Chinese Academy of Social Sciences. The views don't necessarily represent those of China Daily.