Mo Yan encourages more Chinese to explore Africa's potential
By WANG XIAODONG | Updated: 2023-08-14 00:19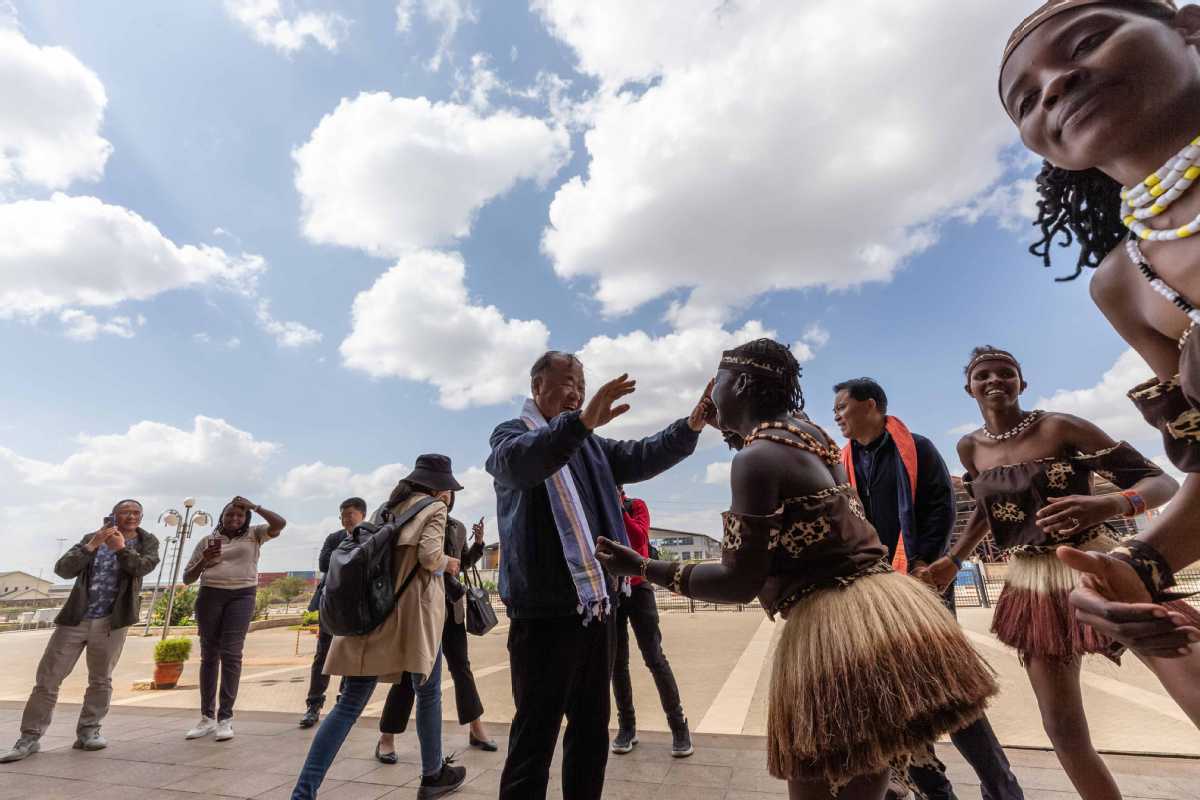 China's Nobel laureate Mo Yan has spoken highly of his first visit to Kenya, and called for more Chinese to "go into Africa" to get a better understanding of the continent and contribute to bilateral friendship and cooperation.
"Africa is an amazing continent with great potential, and I think we should go into Africa, whether you are engaged in culture, tourism or business," Mo said in Nairobi on Sunday afternoon, citing the famous novel Out of Africa by Danish author Karen Blixen.
In addition to being an ideal sight-seeing destination, Africa also offers rich cultural diversity and a wealth of business opportunities, Mo said, after arriving at Nairobi SGR Terminal Station from the port city of Mombasa.
At the railway station, Mo was received by John Chirchir, CEO of the Kenya Tourism Board, and officials from the Chinese Embassy in Kenya.
Mo arrived in Kenya on July 28, and over the past half month has toured some famous tourist attractions such as the Masai Mara National Reserve and the Great Rift Valley of East Africa. He also took the opportunity to visit major infrastructure projects constructed by Chinese companies. This included a journey from Mombasa to Nairobi on the Mombasa-Nairobi Standard Gauge Railway.
Mo, the 2012 winner of the Nobel Prize in literature, said a highlight of his trip was when he saw the statue of Zheng He, the ancient Chinese navigator who visited East Africa more than 600 years ago, at the Mombasa terminal of the Mombasa–Nairobi SGR.
Drawing a parallel with the renowned explorer Zheng He, who greatly facilitated exchanges between Africa and China, today's economic collaborations continue to bridge these two cultures, he said. This is evident, he noted, in the endeavors of Chinese companies building railways and ports in Kenya, which also serve to spread Chinese spirit and culture.
Mo said his trip altered his perception of Africa, noting the natural environment in Kenya is stunning, and that both the food and accommodation experienced exceeded his expectations.
"In the past many people would think of diseases, drought or hunger at the thought of Africa, but the reality is far from that," Mo said.
"I think we should go into Africa to experience a culture entirely different from that of China," he added.
While a few African nations, including Kenya, have seen a rise in Chinese tourists amidst the easing COVID-19 pandemic this year, the majority of Africa remains off the typical list for Chinese outbound tourists.
Of the top 20 outbound tourism destinations for Chinese in the first half of the year, none of them are African countries, according to a report by China Tourism Academy.
China was the biggest source of outbound tourists in the world before the COVID-19 pandemic, with 155 million overseas trips made in 2019.
Chirchir stressed that China is a key source of tourists for Kenya. He stated the Kenya Tourist Board's intention is to foster greater cooperation with China to effectively promote Kenya and attract more Chinese visitors.