Researchers enrich SW China regional climate history with tree ring data
Xinhua | Updated: 2023-08-16 14:18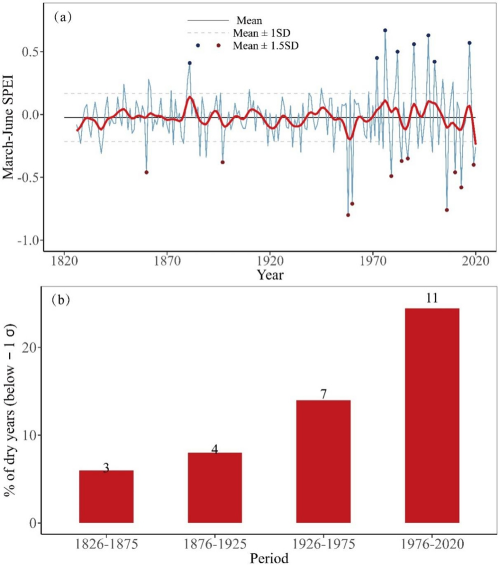 BEIJING -- Chinese researchers have provided new insight into the regional climate history in Southwest China's Yunnan province through scientific analysis of the annual rings of trees in that region.
The study was recently published in the journal Palaeogeography, Palaeoclimatology, Palaeoecology.
The researchers from Xishuangbanna Tropical Botanical Garden (XTBG) under the Chinese Academy of Sciences, collected samples of Tsuga dumosa, one of the oldest local tree species, from the Wuliang Mountain area in central Yunnan.
The researchers then constructed the tree ring-width chronology of Tsuga dumosa, and analyzed its correlation with climatic factors. They found that moisture availability during the spring-to-early summer season was the key factor that limited tree growth of Tsuga dumosa in the Wuliang Mountain region.
Based on the analysis, the study reveals drought fluctuations at both inter-annual and inter-decadal scales in central Yunnan, along with an increased occurrence of extreme dry or wet events in recent decades.
Moreover, 11 extreme drought years were identified in this region over the past two centuries, with most of them confirmed by historical evidence.
"The study helps us to gain a deeper understanding of the trends and patterns of regional climate change on a 100-year scale," said Fan Zexin, a researcher at XTBG.
"Our study also highlights the dendroclimatic potential of conifer tree species growing in subtropical regions and their ability to capture regional hydroclimate signals," said Fan, adding that the study provides crucial information for evaluating long-term climate change in this region.