110 projects undertaken aboard Tiangong station
By ZHAO LEI | chinadaily.com.cn | Updated: 2023-08-18 21:41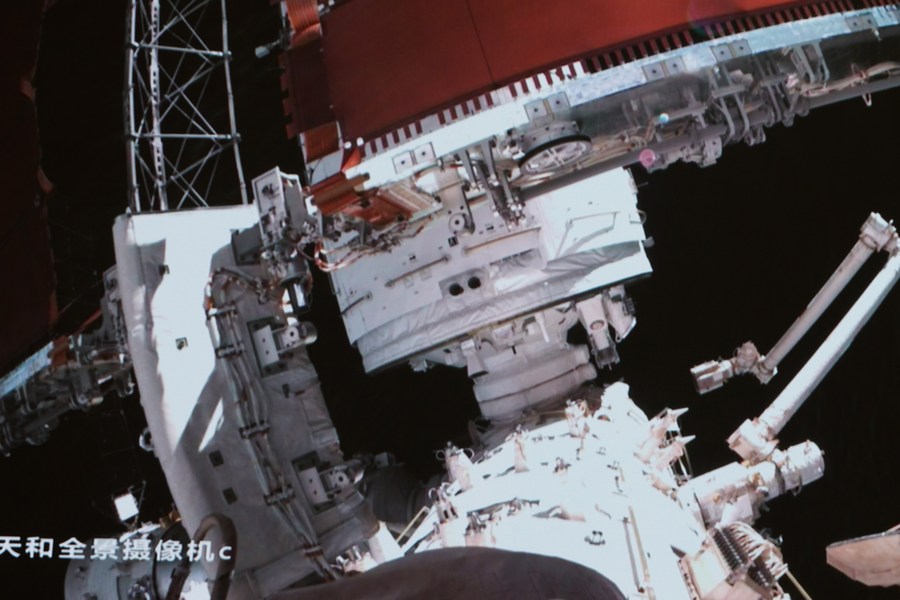 A total of 110 science and technology projects are being undertaken on board China's Tiangong space station and some of them have made substantial progress, a space official said on Friday.
Lin Xiqiang, deputy director of the China Manned Space Agency, said at a news conference in Beijing on Friday afternoon that the projects cover a wide range of research fields, including life science, microgravity physics and material science.
"By now, scientists and engineers have received nearly 100 terabits of raw experimental data and about 300 experimental samples," Lin said. For instance, scientists have realized the full life-cycle for rice paddy cultivation, and their research findings in functional gene modifications are likely to accelerate the development and improvement of new paddy types, he added.
In the field of space medicine, studies carried out inside the Chinese space station have included the effects of weightlessness and cosmic radiation during long-term space flights on astronauts' health, activities and capabilities. Scientists have made new findings on the functions of astronauts' cardiovascular and skeletal systems and have used such findings to devise new technologies and methods to safeguard crew members' health, Lin said.
In addition, it is worth mentioning that the operation of the country's Stirling thermoelectric converter realized in-orbit verification on board Tiangong. The heat-to-electricity convertor showed an internationally advanced conversion efficiency during its smooth operation, and the test's results will be helpful in preparation for China's future manned expeditions to the moon and deep space, he added.
Wang Qiang, deputy head of the Technology and Engineering Center for Space Utilization under the Chinese Academy of Sciences, said on Friday that Chinese scientists have made many world-class achievements in their research spheres thanks to the opportunities for space-based experiments and tests on board Tiangong.
"For example, scientists carried out the first induced differentiation of human embryonic stem cells into spermatogonium and follicle-like cells, which greatly helps in the research of the effects of microgravity environments on stem cell lineage differentiation. Researchers also discovered the dynamic mechanism of rapid eutectic growth of niobium silicon alloys," he said.
China began to build its permanent space station in April 2021 by launching the first, and central component of the massive station, the Tianhe core module.
Orbiting Earth about 400 kilometers above the ground, Tiangong now weighs nearly 100 metric tons and is expected to operate for at least 10 years as a national space-based laboratory.