Auto sector firms rush to gain access to center
By CHEN MEILING and YANG JUN | China Daily Global | Updated: 2023-08-23 09:48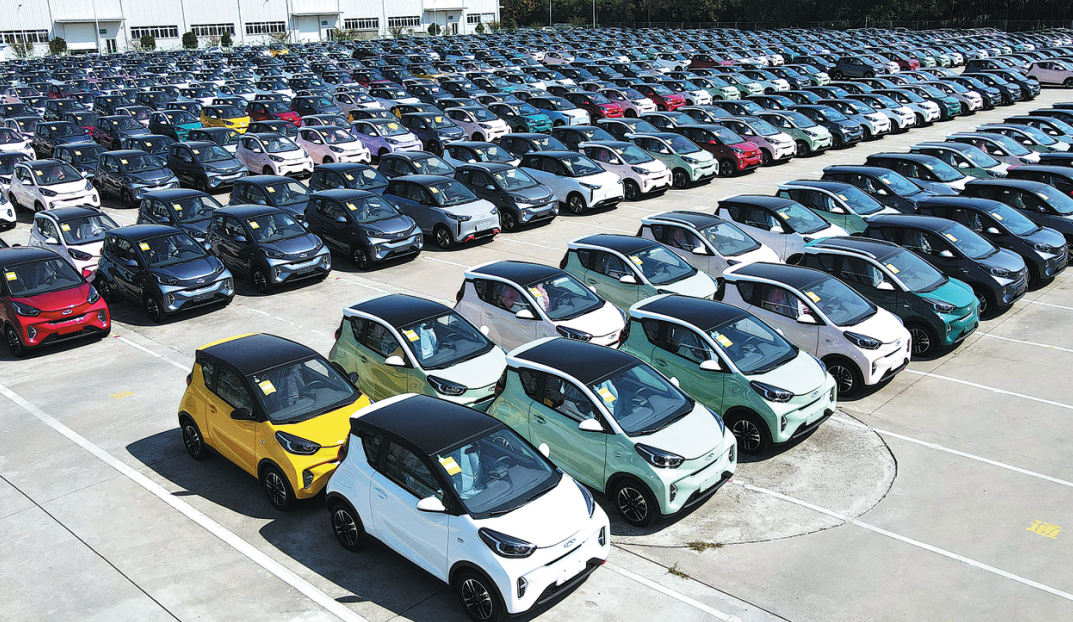 The great potential of the new energy industry is illustrated by Gui'an New Area, Guizhou province, which has attracted a number of major manufacturers of electric cars and batteries to build factories in the facility.
As China aims to peak carbon dioxide emissions before 2030 and achieve carbon neutrality before 2060, green development has become the only path for manufacturing companies, with an emphasis on energy conservation and emissions reductions.
Thanks to its rich phosphate rock resources and lower costs for energy and labor, Gui'an has become a fresh investment hub for companies in the new energy sector to expand their production and business.
Pure electric trucks are being produced at the industrial base of Chery Automobile in Gui'an, mainly for use in urban and rural areas, mines and ports nationwide.
This year, sales are expected to reach about 15,000 trucks, and the company has already obtained orders in the southern African and Southeast Asian markets.
"Compared with traditional gasoline-powered trucks, electric ones have lower costs for drivers, not to mention that they are environmentally friendly," said Zhang Qinguo, deputy general manager of Guizhou Changjiang Automobile, which cooperates with Chery to produce electric trucks at the base.
"Moreover, electric trucks facilitate driving operations as advanced technologies can be introduced to provide functions such as intelligent automatic emergency braking and remote automatic inspection. Drivers can also check the state of their truck on their smartphone and the demand for transportation of goods in nearby areas."
On Dec 30, Guizhou Changjiang Automobile obtained a production license for pure electric trucks approved by the Ministry of Industry and Information Technology.
With the support of an intelligent production system, the trucks can be completed within two hours from assembly to delivery, enabling the company to reduce costs and improve efficiency, Zhang said.
At the factory of FinDreams Battery in Gui'an, workers are producing blade batteries for the BYD Seagull, the most-recent new energy model from China's largest new energy vehicle maker BYD, FinDream's parent.
Good sales of the BYD Seagull prompted FinDreams to expand its battery production lines, so it decided to build a new factory in Gui'an New Area. The factory produces 300 battery packs a day.
The blade battery, a BYD innovation, differs from conventional pillar-shaped lithium ion phosphate batteries because of its high energy density and good safety performance, according to Song Zhe, project manager at FinDreams Battery.
"In a collision, the blade battery will not start a fire or explode, so it's safer for drivers," he said, adding that it takes 40 minutes to achieve an 80 percent charge of the battery if high-voltage equipment is used.
The maximum distance per charge is about 400 kilometers, and the service life is about 10 years, he said.
After signing an agreement with the new area in late April last year, with total investment of 2.5 billion yuan ($343 million), the first FinDreams Battery production line was put into operation in October.
Annual production is expected to reach 10 gigawatt-hours, with an output value of 4 billion yuan.
About 80 to 90 percent of the factory's approximately 2,000 workers are employed locally, mainly for transportation of products and equipment maintenance, as most of the production process is automated, Song said.
One of the reasons the company chose Gui'an was that the local government offered an established vacant plant, so it didn't have to start from scratch. In addition, the government provides subsidies and good services, he added.
Great potential
New energy industries such as NEVs have developed rapidly in recent years as China works to reduce carbon emissions, and as some countries in Europe and the Americas seek new sources of energy as upstream and downstream industries benefit from the trend and see obvious growth potential.
For example, demand for the basic materials for power batteries has surged.
As of late 2020, Guizhou had 4.89 billion metric tons of phosphate rocks, a major material for lithium batteries, ranking third in China at the provincial level, according to data from the provincial natural resources department.
The output value of the lithium battery material industry is expected to surpass 100 billion yuan by 2025, according to a document to promote the sector's high-quality development released by the provincial government in 2021.
Many companies have settled in Guizhou to take advantage of the complete industry chain and boost business.
Gui'an New Area, a national new area close to Guiyang, the provincial capital, is naturally a major investment location as many preferential policies have been introduced to attract investors, such as those related to taxes, rent, subsidy, power and water use, and labor.
For Xiong Kezhen, deputy director of the Gui'an New Area industrial development service center, there are many advantages in Gui'an developing the new energy industry.
For one thing, there are many application scenarios for new energy equipment, he said. "Guizhou has many mines, so electric trucks are in great demand for transportation," he added.
For another, the costs of human resources and electricity are relatively low. "Producing batteries requires a large amount of energy, so electricity costs can be saved here," he said, adding that the 10 colleges in Gui'an's Huaxi University Town offer a talent pool for companies to hire new employees.
Gui'an aims to develop into a core area for the new energy battery and material industries, based on its leading projects, such as the manufacture of BYD blade batteries, and companies such as major battery maker CATL, which plans to build a manufacturing base for power and energy storage batteries with an annual production capacity of 60 GWh.
That's according to a June news conference by the Guiyang government and the Gui'an New Area Administrative Committee that was held to promote its high-quality development.
Benefiting from the Chery vehicle manufacturing base, related industries such as electric motor controls, automotive parts, and charging and swapping equipment will also be promoted.
Efforts will be made to nurture a cluster zone for battery materials and raw materials represented by ternary cathode materials, phosphate battery materials and electrolytes.
By 2025, the output value of the new energy vehicle industry is expected to reach 7 billion yuan, while that of the new energy battery and material industry will reach 14 billion yuan, according to the local authorities.