Panda dad Tian Tian's 26th birthday celebrated in DC
By YIFAN XU in Washington | China Daily Global | Updated: 2023-08-28 11:04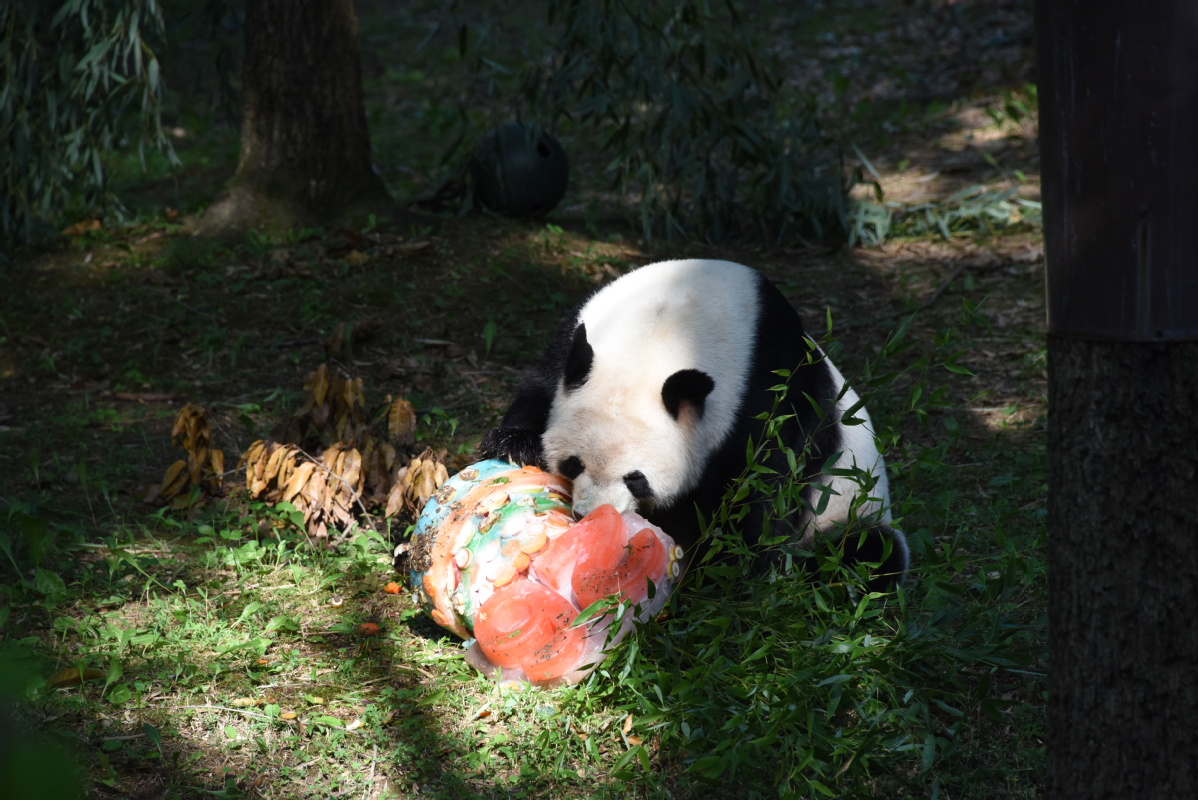 Crowds joined a special birthday party this weekend at the Panda House at the Smithsonian's National Zoo and Conservation Biology Institute.
They flocked there to celebrate the 26th birthday of Tian Tian, a male giant panda living at the zoo in Washington DC.
At 9 am Sunday, keepers served Tian Tian a special panda-friendly fruitsicle birthday cake in his outdoor enclosure. The keepers carefully decorated the three-tier cake: The number "26" was made from frozen diluted apple, with pineapple juice at the top.
Tian Tian left the cake aside, focusing instead on licking a box smeared with honey. He then turned around to the three-layer cake, clutched it, and devoured it. The cake, coated with mashed sweet potatoes and honey, also contained apples, carrots and bamboo sticks, which are the panda's favorite delicacies.
Some visitors sang Happy Birthday in unison. Many more panda lovers joined the festivities through the zoo's 24-hour live Panda Camera.
It was Tian Tian's final birthday at the zoo. He and Mei Xiang, 25-year-old, and their cub Xiao Qi Ji, 3, will leave in December and return to China, their home country.
According to the zoo's website, there will be a grand farewell event for the family of Mei Xiang, Tian Tian and Xiao Qi Ji from Sept 23 to Oct 1.
Pam, 52, a nurse living in Tysons Corner, Virginia, told China Daily that she got up early and drove to celebrate Tian Tian's birthday. "I must come because they will go back to China soon," she said, "I always came to see the pandas with my son when he was little. I hope they could come back someday."
An influencer, "DC Panda Girl", told China Daily that she goes to the zoo nearly every weekend to visit the pandas. She took lots of videos and photos and updated them on her YouTube channel.
"It will bomb me up. I do not know where to go after they are gone," she said.
"I feel sad, and my sister will be the saddest," said Charlotte, 7, talking about the pandas leaving and pointing to her sister, Lucy, almost 3, who was smiling and holding a panda doll tightly.