Creativity paints a vibrant rural art scene
By Yang Feiyue | CHINA DAILY | Updated: 2023-09-18 08:00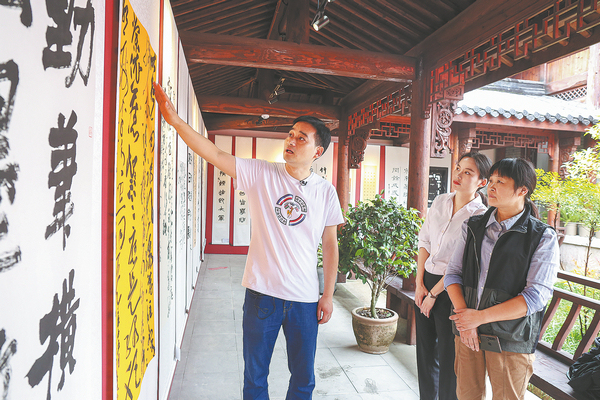 The village's buildings add traditional craftsmanship to the artistic atmosphere.
"The exterior of the visitor center is wrapped in bamboo, and blends traditional craftsmanship with modern design," Lin says. "It is both aesthetically pleasing and environmentally friendly."
Within walking distance, a design-themed library created inside a disused auditorium enables visitors to appreciate the process of embroidery, lacquer art, woodblock carving and natural dyeing, and to develop a good understanding of the beauty of traditional crafts.
Two of the village's many old buildings have been transformed into art spaces, thanks to a group of craftsmen, artists and curators, who have settled in Qingshan village over the years.
One of the groups, from the Rongsheji craftsmanship workshop, is dedicated to incorporating traditional materials and construction techniques into village buildings.
"We found a lot of creative inspirations in the village," says Zhang Lei, who is in charge of the workshop's operations, and who has been living in Qingshan village for the last five years. "Over the years, team members have come and gone, but in the end, those who have stayed are the ones who truly enjoy rural life."
Efforts by local authorities to improve infrastructure and the rural environment — especially water quality — since 2014, and the encouragement of multi-sector development such as rural tourism, have attracted designers and artists from all over the country.
Zhang has also helped around 30 villagers create woven bamboo artwork, to help increase their incomes.
He is one of many artists to have settled here to get villagers involved in traditional crafts, Lin says.
The handicrafts the artists and villagers have produced together have been shown at exhibitions at home and abroad, including at the Milan Design Week and the Design Shanghai.
"They have also been sold on the market, where they have made twice the profit of similar competitive products," Lin says.
Yu Caiyong, a local embossing artist, says he has been greatly inspired by the incoming artists.
Thanks to their guidance, his bamboo fans, which incorporate paper-cutting elements, stood out at the Hangzhou souvenir creative design competition earlier this year.
With the inflow of experienced artists to Qingshan, its traditional crafts have been given a boost, and the growth of the village's design industry has accelerated the integration of culture and tourism, which has been bringing in around 30,000 visitors a year. Its collective annual income has now risen past 1.5 million yuan ($204,900).