Hangzhou Games showcase for the Asian Spirit: China Daily editorial
chinadaily.com.cn | Updated: 2023-09-24 20:19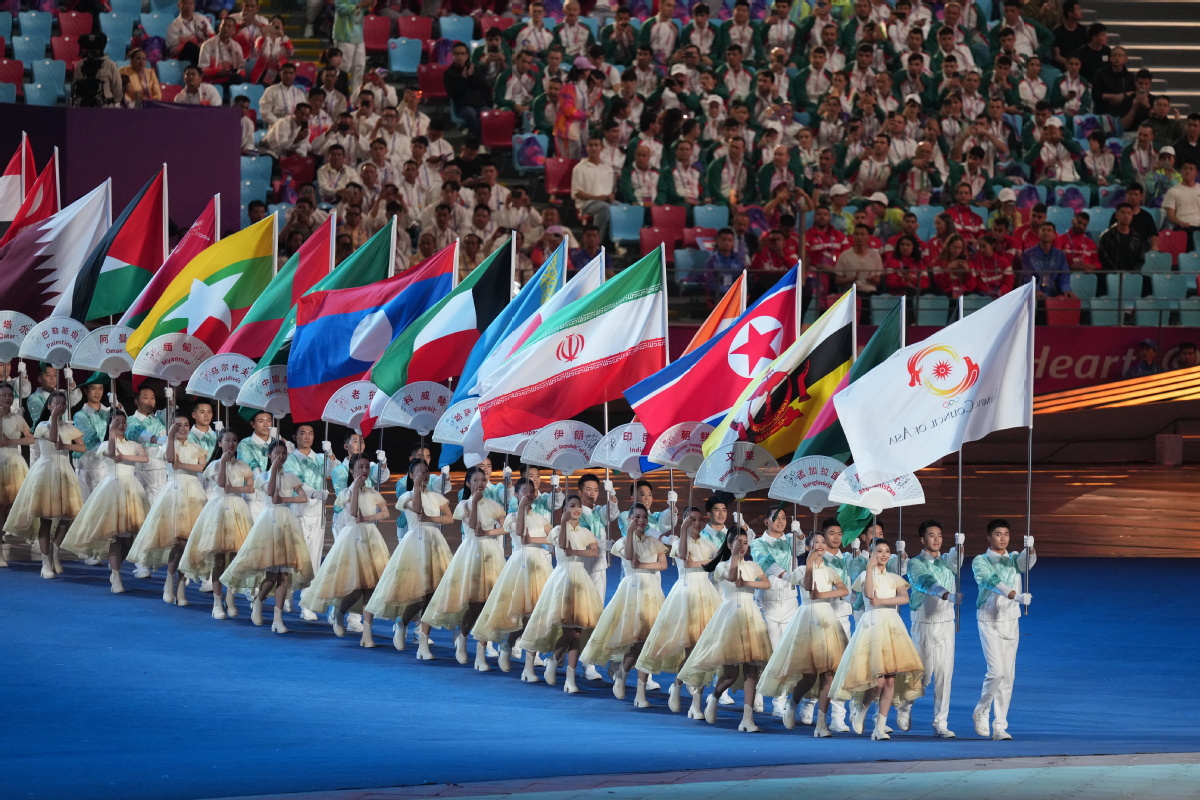 The 19th Asian Games commenced on Saturday night in Hangzhou, East China's Zhejiang province, presenting not just another China-hosted sports gala to the world, but also an opportunity for Asian countries to shore up peace, solidarity and inclusiveness through the spirit of good sportsmanship.
State leaders and dignitaries from Asian countries and international organizations attended the opening ceremony at the Hangzhou Olympic Sports Center Stadium, which was a display celebrating the depth of Chinese culture and history and emphasizing unity in diversity in different countries and regions.
China has earnestly fulfilled its commitments to deliver "a great event that is distinctly Chinese, uniquely Asian and spectacular", and made every effort for the preparation of the Games.
With the 45 members of the Olympic Council of Asia sending over 12,000 athletes to the Games, the Hangzhou Asiad is the largest and most comprehensive Asian Games in history. As well as sporting powerhouses such as Japan and the Republic of Korea, nations with a small population such as Mongolia and countries suffering from wars such as Syria, have sent large delegations to Hangzhou, for many it is their largest sports delegation ever.
The Hangzhou 19th Asian Games, which was postponed for a year due to the COVID-19 pandemic, is the third time China has hosted the Asiad, after Beijing in 1990 and Guangzhou in 2010.
Over the past eight years, the organizers have prioritized hosting a green and smart event. Of the 56 competition venues for the Asian Games and Asian Para Games in Hangzhou, only 12 are newly constructed, with the remainder being renovated or temporarily erected.
Hangzhou's meticulous preparation work and the impressive opening ceremony have won wide recognition, and the Games will also enable the city to showcase its appeal as a picturesque cosmopolis and its role as a thriving business and innovation hub.
Beyond highlighting sports' role in fostering unity, friendship and cooperation, the Hangzhou Games are also significant as they provide a venue for deepening mutual learning among different civilizations and mutual understanding among nations with different social backgrounds and cultures.
In recent years, in contrast to other crisis-ridden regions, Asia has largely maintained peace and stability and achieved eye-catching achievements in economic development. The ongoing Asian Games can help reinforce the spirit of unity and cooperation that is a hallmark of the region.
From Sept 23 to Oct 8, the Hangzhou Games will feature 40 sports, 61 disciplines, and 481 events. It is our sincere hope that participating athletes will display good sportsmanship and do their best to jointly promote Asian sports to a higher level, and that the Games will help build an Asian community with a shared future.