White paper elaborates on global vision
By Zhang Yunbi | China Daily | Updated: 2023-09-27 07:04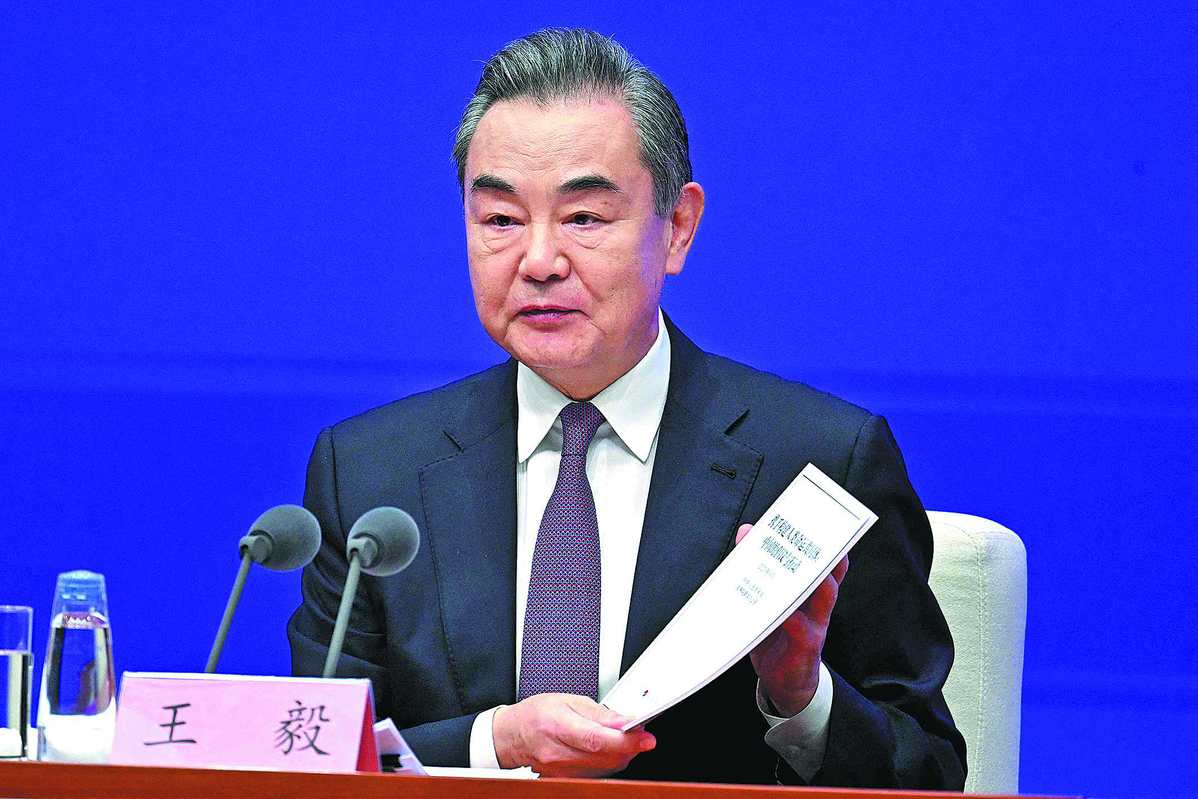 World community needs multilateralism, growth for shared future, officials say
China issued a white paper on Tuesday about building a global community of a shared future, a grand vision put forward by President Xi Jinping in 2013. The document elaborates on the nation's calls for building an open, inclusive, clean and beautiful world that enjoys lasting peace, universal security and common prosperity.
At a news conference in Beijing on the release of the white paper, titled "A Global Community of Shared Future: China's Proposals and Actions", Foreign Minister Wang Yi said that by putting forward the creative idea at a pivotal moment in history, President Xi has shown the correct path for the world, building a strong consensus for international cooperation.
Wang, who is also a member of the Political Bureau of the Communist Party of China Central Committee, said that over the past decade, Xi has systematically expounded on the vision on numerous international occasions, helping the international community deepen its understanding of the vision.
The white paper, issued by the State Council Information Office, called on all countries to practice genuine multilateralism, oppose bloc-based confrontation and boost common prosperity while working together for a global community of a shared future.
China published the document to introduce the theoretical base as well as the practice and development of the vision. The goal is to further improve understanding and expand consensus in the international community and reinforce global efforts to realize the vision.
Ten years ago, President Xi raised the vision of building a global community of a shared future when addressing the Moscow State Institute of International Relations.
With partners across the globe, Beijing has enriched the vision steadily over the past decade, making it an encompassing vehicle that shores up growth and unity and offsets unilateralism and hegemony, officials and experts said.
At the news conference, Wang defined the vision as "a core concept of Xi Jinping Thought on Diplomacy" and "an overall goal relentlessly pursued by the (country's) major-country diplomacy with Chinese characteristics".
He said the vision is being enshrined in various aspects of China's diplomacy and actions, including advancing the Xi-proposed Global Development Initiative, Global Security Initiative and Global Civilization Initiative, as well as jointly building the Belt and Road.
"China has been action-oriented in advancing a global community of a shared future, and its major actions include co-building the Belt and Road and further implementing the three major global initiatives," said Wang Wen, executive dean of Renmin University of China's Chongyang Institute for Financial Studies.
Over the past decade, the vision has been widely acclaimed and recognized by an increasing number of countries, and has been endorsed by official documents of leading international organizations including the United Nations, Wang said.
"Not only is it part of China's contribution to exploring a better future for the world, it also represents Chinese wisdom for resolving global challenges," he added.
This year also marks the 10th anniversary of the Belt and Road Initiative proposed by Xi. Next month, China will host the third Belt and Road Forum for International Cooperation.
Wang, the foreign minister, said Beijing is willing to work with parties to "deliberate on future plans for common development".
Zhao Fengtao, vice-chairman of the China International Development Cooperation Agency, said that the BRI "has mobilized nearly $1 trillion in investment" and helped lift 40 million people out of poverty worldwide over the past 10 years.
Responding to allegations by some Western politicians, Cong Liang, deputy head of the National Development and Reform Commission, said that when it comes to whether BRI projects are green, "the countries co-building (the BRI) know best and the local people are in the best position to speak".
Meanwhile, speaking on the world situation, Foreign Minister Wang said that "there should be no superiority or inferiority among civilizations" and that "values should not be used as a weapon for confrontation".
Noting that the world is facing great changes unseen in a century, he warned that "the lessons of the two hot wars and one cold war are not far behind us, and there is no future for zero-sum games".
The foreign minister also called for nations to resolve differences through dialogue and consultation, and to "oppose the reckless expansion of military alliances that squeeze the security space of other countries".
China's role in multilateralism and multilateral diplomacy was also in focus at the news conference, with a reporter asking whether China would attend the APEC Economic Leaders' Meeting hosted by the United States in San Francisco in November.
Wang responded that China is a responsible country and never misses important multilateral forums in which it has usually participated.
"Regarding the arrangements for attending APEC, we are maintaining communication with various parties and will make an official announcement in due course," he said.
He noted that this year's APEC meeting "should become a big stage for promoting cooperation and not a gladiators' arena for stirring confrontation".
China is willing to play a constructive role in the success of this year's APEC, he said.
"Of course, we, along with all parties, also expect the US side to honor its duty as a host, show due openness, fairness, inclusiveness and sense of responsibility, and create better conditions for the success of the meeting," he added.
Xinhua contributed to this story.