Nuclear power highlighted for carbon goals
By ZHENG XIN | CHINA DAILY | Updated: 2023-09-27 07:44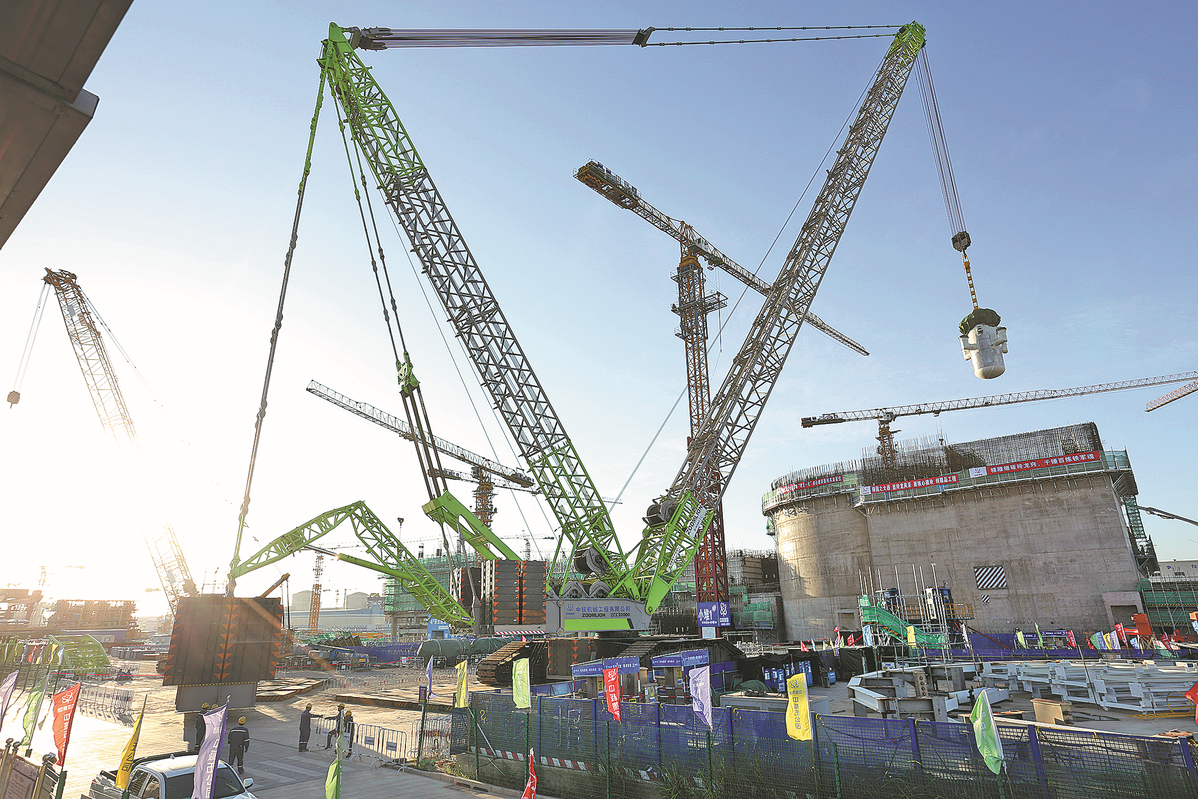 Experts expect bigger role of such energy in nation's green transition
Nuclear power will be playing a more prominent role in helping achieve China's carbon neutrality goals, with its proportion in the country's total electricity generation to further climb in the years to come, according to an industry association.
China's nuclear power generation will account for 10 percent of the country's total electricity generation by 2035, said Wang Binghua, head of the nuclear energy public communication committee of the China Nuclear Energy Association, during an event in Shenzhen, Guangdong province, on Monday.
Amid China's ambitious target of achieving carbon neutrality before 2060, the country's installed nuclear power capacity is estimated to reach approximately 400 million kilowatts by then, accounting for around 18 percent of total electricity generation. The country is also expected to maintain a construction pace of six to eight nuclear power units per year in the foreseeable future, he said.
Considering the comprehensive utilization of nuclear energy for purposes including heating and powering vehicles, the carbon reduction contribution of nuclear energy is expected to reach approximately 25 percent by 2060, he added.
Figures released by the association reveal that the cumulative electricity generation of operating nuclear power units nationwide reached 211.89 billion kilowatt-hours during the first half of this year, accounting for 5.08 percent of total national electricity generation.
Compared to coal-fired power generation, it is equivalent to a reduction of 59.64 million metric tons of standard coal burned, a decrease in carbon dioxide emissions by 156.2 million tons, it said.
An analyst said that nuclear power is a more stable and reliable type of clean energy compared with solar and wind power, which are more intermittent due to changing weather conditions.
China, which has become a notable player in the global nuclear power landscape, has been actively developing nuclear power capacity in recent years, contributing to a more diversified energy mix to meet its growing energy needs amid the green energy transition, said Lin Boqiang, head of the China Institute for Studies in Energy Policy at Xiamen University.
"Nuclear power will have more application scenarios in the years to come apart from power generation, serving as a fundamental power source in the large-scale development of clean energy and playing a key role in boosting the utilization of nuclear power in more energy-intensive sectors, from petrochemicals to steel," he said.
It has so far been applied in heating, seawater desalination and isotope production, as China goes full throttle into its green energy transition, Lin said.
Wang said China has approved the construction of 21 nuclear power units since the beginning of the 14th Five-Year Plan (2021-25) period and nuclear power project construction has also been steadily advancing.
According to the plan, the government aims to have 70 gigawatts of installed nuclear capacity by 2025.
The association said that so far there are 55 nuclear power units in operation on the Chinese mainland, with a total installed capacity of approximately 57 million kW. The country has 24 nuclear power units under construction with a total installed capacity of approximately 27.8 million kW, with the combined total of nuclear power units in operation and under construction in China ranking second in the world.
As a clean, low-carbon and efficient base-load energy source, nuclear power plays an important role in helping achieve China's ambitious goals of a carbon dioxide peak before 2030 and carbon neutrality before 2060. It is also an important option for China to secure its energy supply and optimize the energy mix, it said.
The State Council, in a meeting held on July 31, approved six new nuclear power units in Ningde, Fujian province; Shidaowan, Shandong province; and Xudapu, Liaoning province.
CITIC Securities said in a report that the accelerated approval of nuclear power projects will lead to the growth of China's related industrial chain and aid in reducing carbon emissions sooner. It estimates that the value of investments in new nuclear power plants will hit 231 billion yuan ($31.6 billion) by 2025.