China's first suspended monorail line launched
By LIU KUN in Wuhan and ZOU SHUO | chinadaily.com.cn | Updated: 2023-09-28 00:40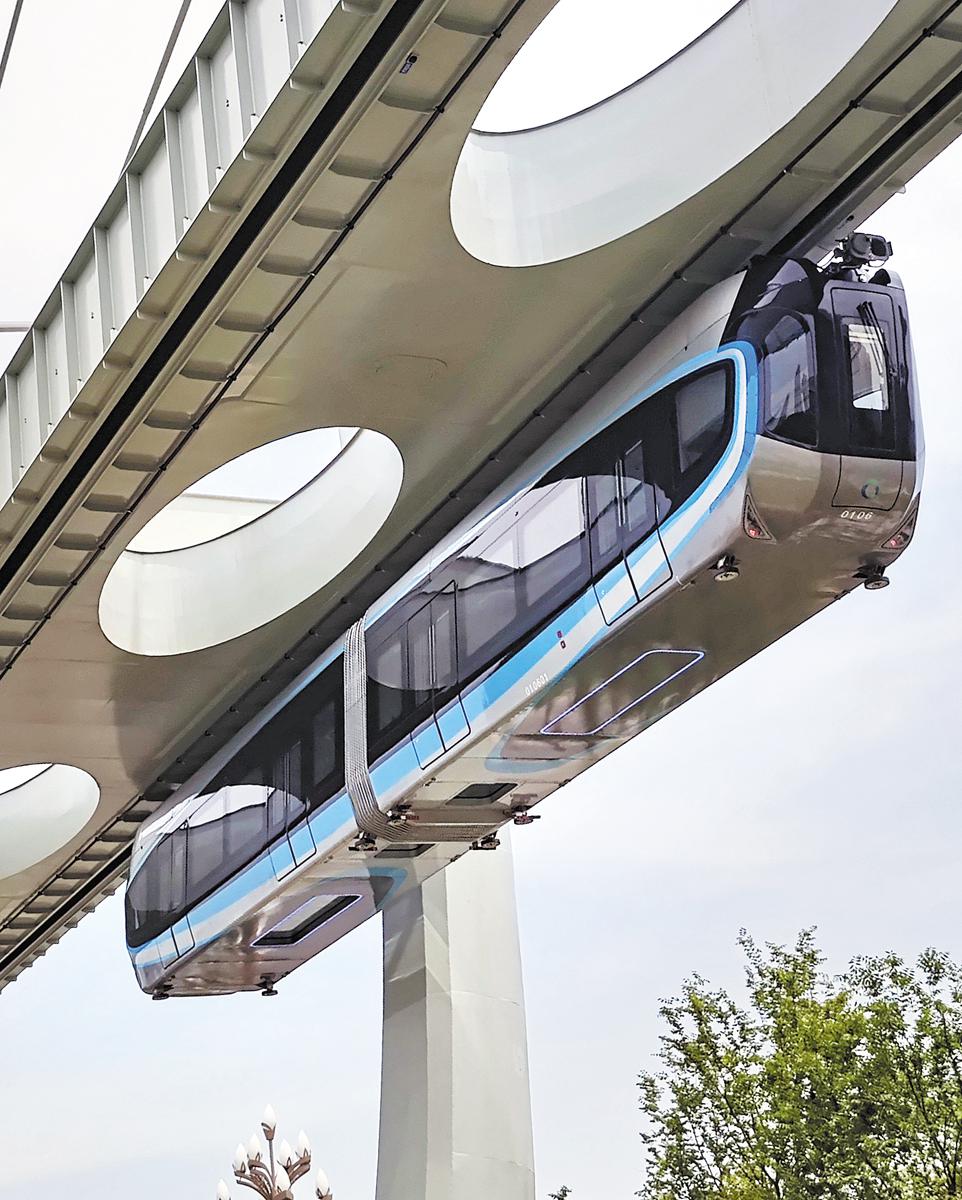 China's first commercial suspended monorail line opened to the public on Tuesday in Wuhan, the capital of Hubei province, offering commuters a surreal experience like riding a futuristic vehicle in a sci-fi movie.
Li Zhengying, a local resident who took the train on Wednesday, called her journey "extremely cool" and said she would bring her family for a ride the next time. "The view from the railcar was splendid. It was a fun ride," Li added.
The operational first phase of the project covers a total distance of 10.5 kilometers and has six stations in the Optics Valley of China, a national innovation demonstration zone in Wuhan, according to Optics Valley Traffic Company, the operator of the line. The maximum operating speed of the monorail train is 60 km per hour and the two cars have a joint passenger capacity of 220. The transparent glass floor offers commuters an aerial view of the city.
The line operates for 12 hours each day, between 8 am and 8 pm, with a train departing every 10 minutes. The entire operation process is fully automated and requires no human intervention, unless there is an emergency.
Wang Anjun, head of the equipment system division of the monorail, said the number of passengers on the first two days exceeded their expectations. The railway operator had to bring down the train departure interval to eight minutes to clear the rush. The interval will be further shortened to cope with the sea of tourists during the National Day holiday, Wang said.
Commuters can buy a monthly ticket with an unlimited number of rides for 120 yuan ($16). One-time and one-day tickets cost 30 yuan each till Oct 6, the end of the National Day holiday period. The one-day and one-time ticket fares after the holiday are yet to be announced.
Wang Honggang, chief designer of China Railway Fourth Survey and Design Institute Group, one of the construction companies involved in the project, said the monorail route is very scenic as it links parks, lakes and hills in the Optics Valley.
Wang Kecheng, senior designer at CRRC Qingdao Sifang, another company involved in the project, said the monorail uses multiple shock absorbers to increase the stability of the railcars and offer passengers a smoother ride.
The railcars are made of light aluminum alloy to reduce weight, and boasts flywheel energy storage system, which converts electrical energy into kinetic energy for reuse during braking, the senior designer said.
Huang Yingru said she brought her son from Shenzhen, Guangdong province, to Wuhan for a monorail ride during the trial runs in summer. "My son had seen videos of the suspended train online and wanted to take a ride. He was so excited and happy during the whole journey, especially because he could see the city through the glass floor. It was an amazing experience for both of us," she added.