China backs box-office beast
By Xu Fan | China Daily | Updated: 2019-05-23 07:52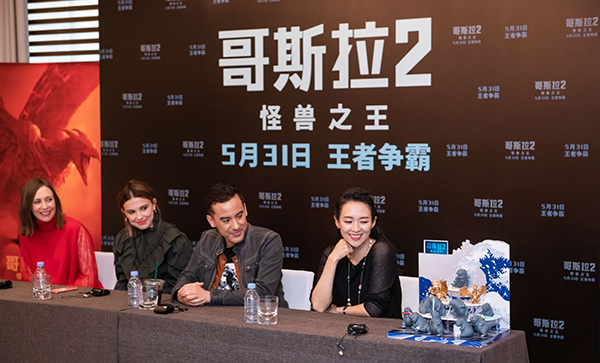 Actress, location and investment make up Chinese contribution to latest Godzilla film, Xu Fan reports.
Before Zhang Ziyi started filming for Godzilla: King of the Monsters, the top Chinese actress had expected to see the titular character, or at least, a life-size puppet.
But even until the last day of shooting, she hadn't "seen" the 108-meter-tall fantasy creature brought to life by Hollywood's advanced computer technology. Nevertheless, human actors and actresses have to use their imagination while performing scenes when they share screen space with the creatures.
Zhang first saw international fame with Ang Lee's Oscar-winning martial arts film Crouching Tiger, Hidden Dragon in 2000 and became better known globally after Memoirs of a Geisha (2005), which was produced by Steven Spielberg. Now she says the latest special effects-driven Godzilla film has provided her with a fresh perspective of Hollywood.