Young culture fans dress to impress
By He Qi in Shanghai | China Daily | Updated: 2020-08-11 07:01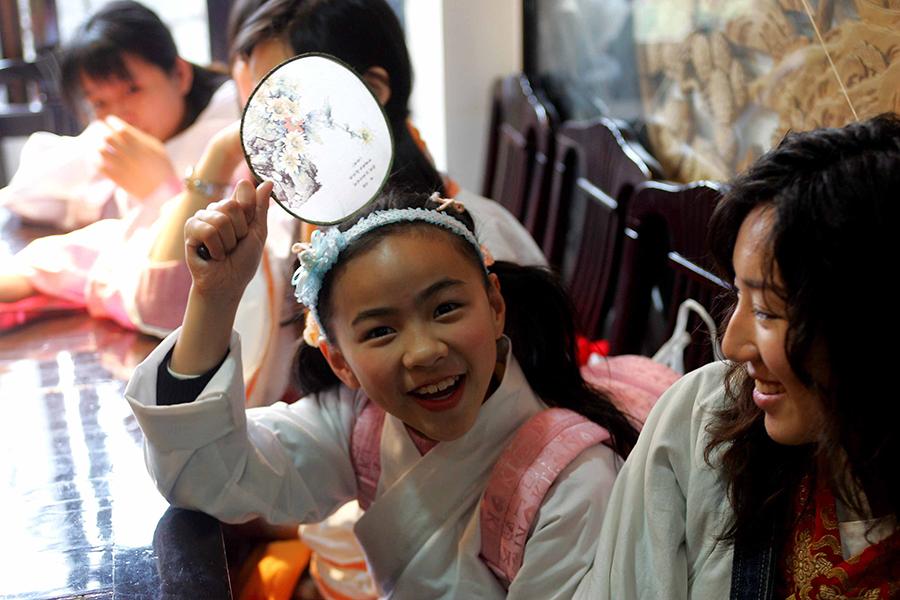 Wen said these enthusiasts not only want to be seen wearing beautiful clothing, but also wish to identify with traditional culture.
"Young people have a growing sense of cultural identity, while environmental improvements and better living conditions have given them a sense of superiority. They don't feel that wearing period clothing is unfashionable. Instead, they are proud to do so," Wen added.
Hanfu enthusiasts refer to themselves online as tongpao, which literally means wearing the same type of gown as a symbol of comradeship. Most tongpao love traditional culture and see the use of hanfu items as the most important symbol of the group's identity. They also attend hanfu festivals and travel while wearing the clothing.
According to the CBN Data and Tmall report, there were 2,000 hanfu cultural organizations worldwide last year, up from more than 1,300 in 2017.
Deng said she wants to help promote hanfu culture so that more people can acquire accurate information about it and experience its charm.
She said that after years of increased understanding and development, young people's choices and attitudes toward hanfu have changed greatly.
"For example, when I was in high school, we only thought we needed to look good while wearing hanfu, and didn't care whether we were wearing it correctly or about its history," Deng said.
"But after starting university, students tend to develop a more rational and deeper understanding of hanfu. In addition to looking good, we care about the practical aspects of wearing the clothing in daily life and have adopted a more professional approach to this," she added.
The Donghua University hanfu club now boasts more than 100 members. It organizes activities every three weeks for people to learn about the culture, while holding events such as traditional dancing, readings and tea art presentations every week.
Deng said: "I've seen obvious changes and trends in recent years. For example, clubs and groups for hanfu, chess, tea art and ancient poetry now have stronger links with each other. More people have begun to develop a consensus on all traditional cultures."