Young culture fans dress to impress
By He Qi in Shanghai | China Daily | Updated: 2020-08-11 07:01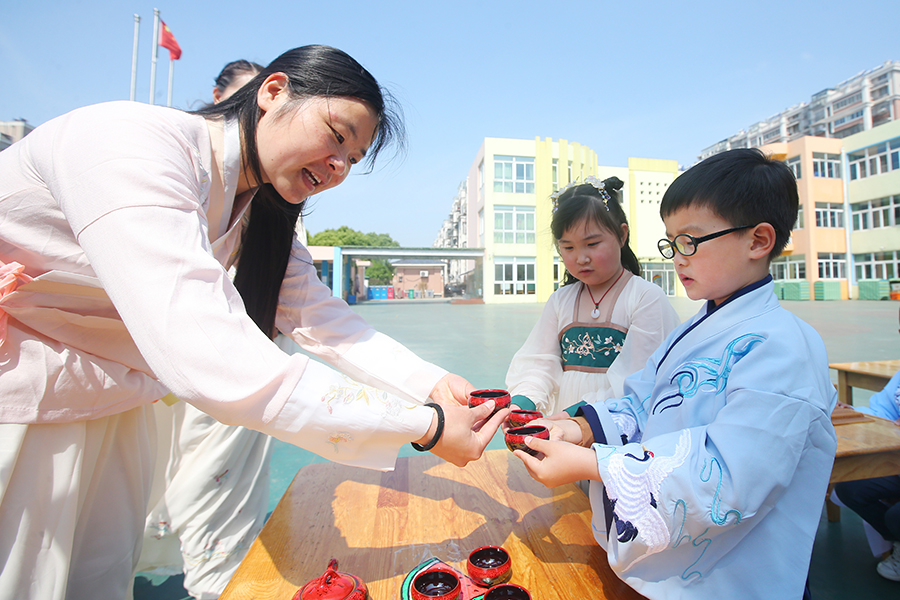 Wen Run, professor of textile design and industrial economics at Donghua University, said hanfu is totally different from Western attire, as it is part of "the national clothing system".
"Chinese fashion emphasizes implicitness-an inclination to hide the body in clothing, especially for women. Western fashion tends to emphasize the strength of muscles and curves, highlighting these through the tailor's cut," Wen said.
The main features of hanfu include collars, upper garments in the style of a skirt, jade ornaments and a sash, according to Wen. Materials such as brocade and yarn, along with traditional craftwork, including embroidery, are also hallmarks of the attire.
Guo Xiaoxiao, a leading designer in Shenzhen, Guangdong province, said the hanfu cultural phenomenon emerged from the continuous integration and evolution of a number of ethnic costumes. Those from the Han group comprise the main type.
There were more than 2 million hanfu enthusiasts in China in 2018, according to a survey by the market consultancy iMedia Research, a year-on-year rise of nearly 73 percent. The total value of the hanfu industry exceeded 1 billion yuan.
A report released jointly by CBN Data and Tmall said hanfu sales revenue last year rose by more than 200 percent year-on-year.
Meanwhile, the number of online hanfu stores on the Taobao shopping platform last year reached 1,188, a rise of nearly 46 percent compared with 2018, according to the 2019 Hanfu Industry Report by Hanfu Information.
The report also said that last year hanfu items were mainly bought by young people, including students, with nearly 75 percent of buyers in the 16 to 24 age group.
Popular dramas
Many hanfu enthusiasts, including Deng from Donghua University, first learn about the culture from television and films.
The attire features in popular period dramas such as Nirvana in Fire and Ten Great III of Peach Blossom, which are set against a backdrop of ancient Chinese culture.
Many young people record themselves wearing hanfu clothing and accessories, sharing the footage with friends on the Bilibili platform.